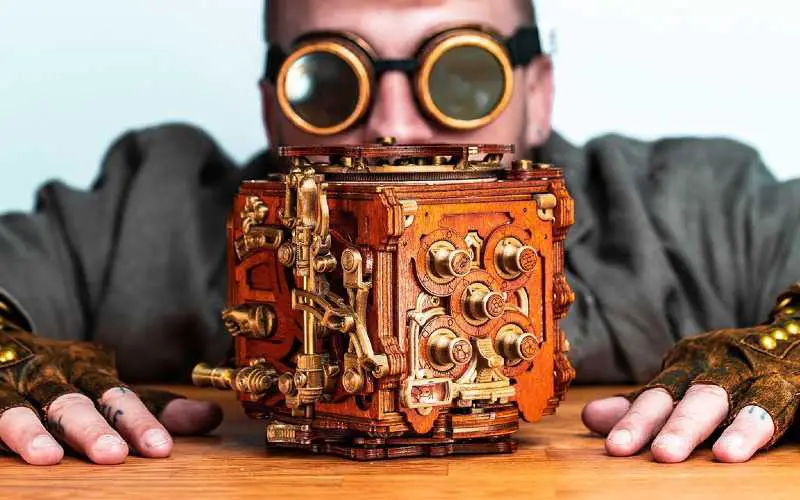 steampunker.co.uk is a participant in the Amazon Services LLC Associates Program and other affiliate advertising programs designed to provide a means for us to earn fees by linking to Amazon.com and affiliated sites. Affiliate links may be used on this page and in steampunker.co.uk articles, but they do not impact on the price that you pay and they do help me to get this information to you for free. Read my privacy policy for more information regarding affiliates.
Christmas is approaching and steampunk puzzles make fantastic gifts. Here are some of our favourites that you can buy online…
Steampunk wooden clock puzzle (3D Amazon's choice)
The Steampunk Clock 3D Wooden Puzzle from UGears is an ideal gift. It is a detailed figure a small, wooden clock. The clock itself has a mechanism that allows for its gears and clock hands to move. The plywood used is durable as well as eco-friendly and are laser cut making it safer when handled by young children. The clock isn't too difficult to assemble and is expected to be complete in around an hour even by an inexperienced puzzle completer. When fully constructed, the clock can also be used as a decorative piece and can be put on display.
Cryptex
The Cryptex puzzle was made popular after the release of 2003 film 'The DaVinci Code'. The function of the puzzle is similar to a combination lock for a bicycle. Small discs must be positioned in the correct order so that a word is spelt out. If the word chosen is incorrect, a vial of vinegar is released making the note unreadable. As well as being a solvable puzzle, once solved, the container can be used to store important objects such as notes, jewellery or keys.
Steampunk Airship 1000 piece puzzle
This 1000 piece wooden steampunk airship jigsaw puzzle was created by Family Tree Tees. It is designed as an advanced challenge and, when completed, will show a beautiful image of a steampunk airship with dimensions of 20 x 30 inches. The pieces are well-made making them durable and easy to use. The backside of each piece is split into sections and labelled either 'A' or 'B' which makes the challenge ever so slightly easier.
Blimp Airship wooden 3D puzzle
Similar to the 3D wooden clock, another excellent puzzle is the 3D wooden mechanical airship. After following the instructions and constructing the puzzle, you are left being transported back the industrial revolution with a stunning blimp airship. When constructing the puzzle, you will not only need a good level of attentive but also a lot of patience Of course, when completed, the builder will feel a great feeling of accomplishment.
Steampunk Robot battle 1000 piece jigsaw puzzle
Another brilliant jigsaw puzzle is the robot battle warrior 1000 piece puzzle. On completion of this jigsaw, you are rewarded with a stunning image of a house after a robot battle has taken place. The pieces are durable, non-toxic and larger making them easier to use. The puzzle is a very effective thing to use to calm younger children down as well as help for relaxation of adults. The picture itself was carefully designed by artists and photographers.
3D puzzle Treasure Box
The 3D wooden treasure box by Robotime is perfect for someone who enjoys hands-on work. The puzzle is very well designed and mechanisms fit together without the use of glue or chemicals. Thanks to the laser cutting technology used in the manufacturing process, the pieces are easily removed and the wood is smooth. This puzzle is brilliant for placing on your desk as, due to its visual appeal, people can't help but play with it and try to figure out how to solve it.
Steampunk Wolf Jigsaw puzzle
Another stunning jigsaw puzzle is the 1000 piece steampunk wolf jigsaw puzzle from Lplpol. This puzzle is recommended for anyone aged 8 and above making it a brilliant choice for family fun. This puzzle is again a brilliant choice for relaxation and contains well-made, non-toxic pieces.
Build your own Wooden Music Box
In addition to the 3D wooden treasure box, Robotime also created a 3D robot space vehicle consisting of 164 plywood pieces. A twist to this puzzle as the space vehicle design is also a working music box. You simply wind it up after completion and the music will play. The puzzles melody is called 'Cycle of Happiness' which can be played at any time after the puzzle is complete. The puzzle also contains moving gears and is recommended for ages 10 and above.
3D Wooden Puzzle box with Amber inlay
Also from UGears, we have the 3D wooden puzzle box which features and amber inlay. Known as the amber box, the puzzle has some amber cleverly built into it making the puzzle-solving experience ever so slightly more exciting. Piece by piece, the box can become a beautiful container for jewellery or any other items. The box is easy to assemble and comes with a small, wooden construction kit. No glue or extra tools are required to build it.
Escape Room Puzzle
Finally is this escape room jigsaw puzzle from Ravensburg. Not only do you get a 759 piece puzzle but also an instructions booklet and a sealed white envelope containing the final solution. There are 6 possible escape rooms that can be played; Space Observatory, Witches Kitchen, Submarine, Vampire's castle, Forbidden Basement and Curse of the Wolves. This puzzle is perfect for any social events as teamwork is a big part of it.
If you want some further recommendations then check out these fabulous steampunk board games.