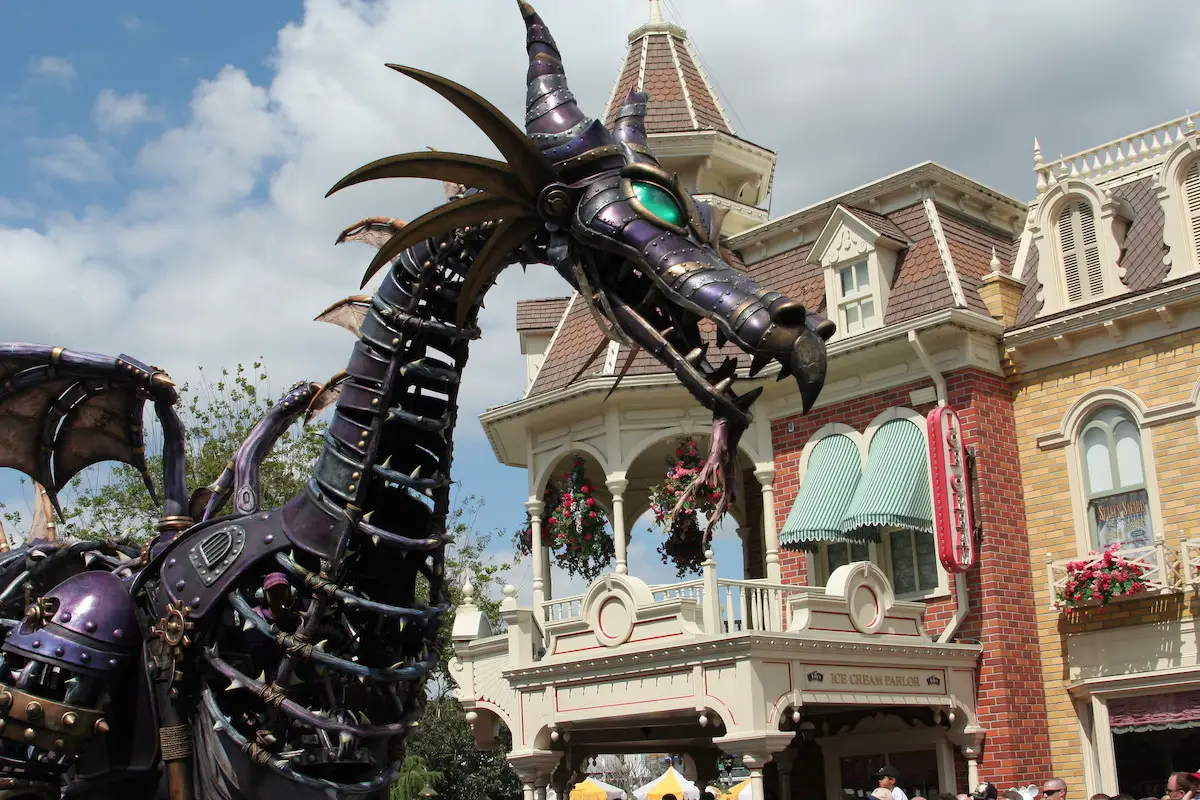 steampunker.co.uk is a participant in the Amazon Services LLC Associates Program and other affiliate advertising programs designed to provide a means for us to earn fees by linking to Amazon.com and affiliated sites. Affiliate links may be used on this page and in steampunker.co.uk articles, but they do not impact on the price that you pay and they do help me to get this information to you for free. Read my privacy policy for more information regarding affiliates.
You may not realise it, but Steampunk Disney is everywhere! There are elements of steampunk in Disney movies such as Malificent, cosplay including steampunk Alice in Wonderland and of course in the Disney Parks – the original Disneyland in Anaheim, California being my favourite. I hope you love our steampunk Disney guide as much as my aunty Deb – she is the BIGGEST Disney fan I know!!!
Mad Hatter Top Hat Standard
Disney Kingdoms Figment 5: Journey into Imagination
Mad Hatter Top Hat Standard
Disney Kingdoms Figment 5: Journey into Imagination
20,000 Leagues under the Sea
One of the most well-known steampunk movies of all time is actually a Disney movie. Based on the novel by Jules Verne, 20,000 Leagues Under The Sea was released by Disney in 1954. The plot consists of an expedition to find a dangerous sea monster after a cancelled voyage but the sailor's ship is damaged and they are taken aboard a submarine. The storyline features a highly advanced submarine decades ahead of its time in terms of technology and design. The vessel, Nautilus, is the invention of Captain Nemo who created the submarine to hide away from civilization to conduct his scientific experiments. Not only does the steampunk theme run through the movie in terms of the advanced submarine but the storyline makes links between historical events and fictional locations. The movie has gone on to be an attraction at four different Disney parks over the years.
Steampunk Disney
Steampunk Mickey
Whilst steampunk began in Disney with 20,000 Leagues Under The Sea, Disney itself began with a mouse. Mickey Mouse to be exact. Over the years, Mickey has explored various genres, cultures and costumes, including steampunk. Mickey's steampunk attire has a classically beautiful, mad scientist look in his haute couture outfit and his friends can also be seen in matching attire.
Pirates of the Carribbean
Even though Mickey looks dapper in his steampunk outfit, we couldn't discuss steampunk Disney without mentioning Pirates of the Caribbean. With stunning bronze elements, intricate medallions and crazy binoculars, the aesthetic pirate style goes hand in hand with steampunk fashion.
Alice in Wonderland
But there is a Disney character who fits the genre even better. Enter, The Mad Hatter. Alice In Wonderland is a storyline which has a steampunk element running through as although it doesn't feature the mechanics and technology, it does feature a Victorian girl in a fantastical world with nonsensical creations. With the most recent adaptation of Alice In Wonderland the vision of Tim Burton, Alice In Wonderland is more steampunk than ever. The Mad Hatter is as crazy as any of steampunk's mad scientists and has the most incredible costume. In recent years, Alice herself has also been give a steampunk makeover by enthusiasts.
Steampunk Tinkerbell
And Alice isn't the only character to get a steampunk makeover as Tinkerbell is popular with enthusiasts too. Tinkerbell is a feisty little character so a makeover with a steampunk edge is perfect for her. The character is incredibly popular for steampunk cosplay and has been the subject of many incredible, unique costumes. One of the places she is most popular is at Mickey's Not-So-Scary Halloween Party at both Disneyland and Walt Disney World.
Disneyland 
Walt Disney's original Disneyland park opened in Anaheim, California in 1955. Walt was quoted as saying 'Disneyland will never be finished as long as there is imagination left in the world'. With so much imagination in every corner and every moving part of Disneyland, it is no wonder that steampunk came with it.
20,000 Leagues under the Sea
20,000 Leagues Under The Sea was a Disneyland attraction in Tomorrowland from 1955 to 1966. It was a walkthrough exhibit of sets and props from the film of the same name. The attraction was later reimagined as attractions at other Disney park.
Steampunk Disney Trading Pins
After disappearing for a number of years, steampunk eventually reappeared at Disneyland in the form of trading pins. Disney Pin Trading is a very popular hobby amongst Disney fans and when the first steampunk pin collection 'Mechanical Kingdoms' was released as a limited edition in 2010, it completely sold out. 
No products found.
Mechanical Kingdoms Art Exhibiton
Mechanical Kingdoms was later expanded from pins to an art exhibit at The Disney Gallery which opened in 2014. The exhibit featured Disney Imagineer concept art from Tokyo Disney Sea, Disneyland Paris and EPCOT which all expressed the steampunk style. 
Steampunk Soiree
Then, in 2017, Disneyland Park presented 'A Steampunk Soiree', an event celebrating and exploring the fantastical, mechanical world. The event featured decor, food, music, dancers and actors all with a steampunk edge to tell the story.
But Disneyland is not the only Disney Park to explore steampunk.
Walt Disney Park
Like Disneyland, Walt Disney World has also explored the world of steampunk. Disneyland's 'A Steampunk Soiree' was followed up a year later by 'Steampunk Day' at Disney Springs which was a similar celebration. However, Walt Disney World has more of a steampunk history than the West coast park.
Discovery Bay
Discovery Bay was a proposed land in Walt Disney World's Magic Kingdom which sadly, never came to fruition. The land was envisioned in the late 1970's and had a distinct steampunk design. The land was to be set in a technologically advanced late 1800's San Francisco with attractions based on Disney's steampunk movies.
Whilst the land was never built, steampunk themed attractions have lived at the Magic Kingdom. 20,000 Leagues Under The Sea: Submarine Voyage featured at the park until 1994 based on the film. Also at the park was The Timekeeper in Tomorrowland, a 360° film. The Timekeeper had strong influence from steampunk and was a highly entertaining show described as Jules Verne meets Robin Williams. 
EPCOT – A Journey to Imagination
Another steampunk attraction is still thriving at Walt Disney World today. EPCOT's mascot, Figment, was brought to life in the attraction A Journey to Imagination which has been through three reincarnations and is now Journey into Imagination with Figment. A character featured in the attraction, Dreamfinder, was a recycled idea from the unbuilt Discovery Bay. Based on their original idea of Professor Marvel, Dreamfinder is an eccentric, bearded inventor who has a pet dragon and collects dream and ideas in his flying machine. 
There is a fantastic comic for sale on Amazon based on the A Journey to Imagination ride at EPCOT!
But there are Disney parks which delve even further into steampunk!
Disneyland Paris
Discoveryland in Disneyland Paris is pretty much a steampunk version of Tomorrowland in the other parks. With many themed attractions, the land makes an incredible, mechanical, vintage world.
Hyperspace Mountain
The main feature of Discoveryland is Hyperspace Mountain. Although it has recently been rethemed as a Star Wars attraction, Hyperspace Mountain still retains a steampunk design and is one of the most photographed parts of the park. In the water just below Hyperspace Moutain, you will also find Les Mystères du Nautilus. This is one of the attractions based on 20,000 Leagues Under The Sea and is a reimagined version of the original attraction at Disneyland. Then, just next to those attractions, you will also find Orbitron. Orbitron lets you pilot your very own spaceship in a steampunk themed flying saucer attraction.
Cafe Hyperion
But its not just the attractions at Disneyland Paris with a steampunk theme. You will also Cafe Hyperion at the resort. The futuristic home of the airship Hyperion is a quick service cafe in Disneyland Park with a gorgeous steampunk theme.
And if Disneyland Park wasn't enough then Tokyo Disney Sea is the ultimate steampunk land.
Tokyo Disney Sea
At Tokyo Disney Sea, you will find Mysterious Island which is the crown jewel of steampunk. The land is a beautiful rebuild of a variety of Jules Verne novels including 20,000 Leagues Under The Sea, Mysterious Island and Journey to the Centre of the Earth.
Mediterranean Harbour sits within Mysterious Island and is home to Fortress Explorations. The fortress is clockpunk science with an entire astronomical room which would make Da Vince proud. Also in the harbour is Magellan's, a clockpunk restaurant with an enormous globe as the centrepiece to the room.
Port Discovery also features a futuristic steampunk design and is home to Tokyo's version of the 20,000 Leagues Under the Sea attraction. Not only that but the sixteenth anniversary imaging of the park featured Mickey and friends as mad scientists with Port Discovery as a backdrop.
You might also like to read about the steampunk era.