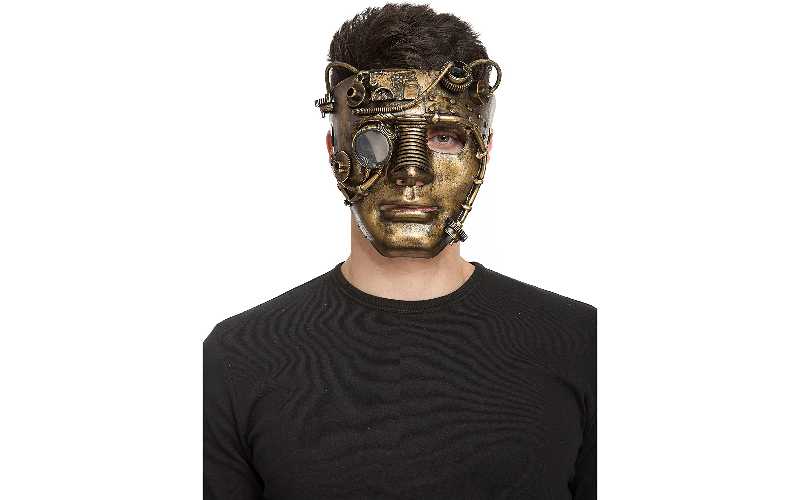 steampunker.co.uk is a participant in the Amazon Services LLC Associates Program and other affiliate advertising programs designed to provide a means for us to earn fees by linking to Amazon.com and affiliated sites. Affiliate links may be used on this page and in steampunker.co.uk articles, but they do not impact on the price that you pay and they do help me to get this information to you for free. Read my privacy policy for more information regarding affiliates.
Cool Steampunk Mask Men Masquerade Skeletal Spike Half Face Skull Mask Costume Cosplay (Black)
Cool Steampunk Mask Men Masquerade Skeletal Spike Half Face Skull Mask Costume Cosplay (Black)
Steampunk half masks have a link to Victorian masquerade balls. The half masks often worn at Steampunk conventions aesthetically look similar to the Victorian era masquerade masks, but they also frequently have Steampunk designs added to them such as cogs/gears. If you're looking for some Steampunk half mask inspiration, look no further, this article will provide you with some of the best Steampunk half masks available right now.
No products found.
This copper coloured half mask has a Phantom of the Opera look to it. The bottom part of the left side of the face is missing and there is gear at the nose. Around the missing eye hole is a copper pipe that connects to the gear on the nose. On the right hand side the mask is slightly more busy. There are two jigsaw pieces on the forehead, next to more gears. The eye hole is covered with metal mesh wire, and there are two larger gears on the temple that connect by a pipe to another gear on the cheek. This mask is most definitely Steampunk and it will be sure to spice up your next convention outfit.
No products found.
This mask is technically a full mask that looks like a half mask by making the left hand side of your face look as though it is turning robotic. There are tubes and pipes on this mask, some of which protrude from the mask itself and make the overall effect even more enticing. The right eye socket has a monocle over the top of it and there are gears all over the design. Once again, this design screams Steampunk and it will look great at a Steampunk convention. What better way to combine the Victorian era with science fiction than with a robot-esque mask. 
This mask only covers the bottom half of your face. It is definitely more gothic in style, being made of what appears to be black leather in the shape of a skull's jaw. There are also metal spikes and studs sticking out of the mask. It may be less obviously Steampunk, but due to the gothic elements it will definitely go well with a gothic Steampunk outfit at your next convention.
No products found.
This copper mask only covers the right hand side of your face and the top part of your left hand side. The design features many cogs with tubes sticking out the sides of the mask. However, the main component of this mask is the fact that it combines wearing a mask with that of Steampunk goggles. The right hand eye has a goggle covering the eye hole and it really adds to the overall Steampunk vibe. We all know that Steampunk goggles are one of the most iconic accessories within the Steampunk community, and the incorporation of Steampunk goggles in this mask is definitely unique and stands out.
No products found.
This mask is intense – it looks like it covers the left hand jaw and cheek. It features a skeleton-like jaw with bullets for teeth, many gears, some bullet holes and a chain that hangs over the cheek area. It is definitely unique and most certainly has a Steampunk vibe, so why not give it a try at your next convention.
No products found.
Another fairly popular choice is a leather face mask that covers the bottom half of your face. This mask has a sort of Hannibal Lecter appearance. It is made of what looks like brown leather and it has copper studs and spikes on the front. This is a more subtle Steampunk accessory and it will look great paired with a more bold Steampunk outfit.
This mask is similar to the first one on this list, although it is silver and contains more metal plates bolted onto the mask than gears and pipes. Gears are still obvious components of the mask however, and they add to the Steampunk effect that this mask gives. It looks great and it will definitely spice up your Steampunk outfit.
No products found.
This mask covers only a quarter of your face, the top of the right hand side. It is silver in colour with a rustic appearance and contains large gears and tubes that span across the whole of the mask. Once again, the standout feature is the eye goggle. Goggles are a super important part of Steampunk fashion, so the inclusion of a goggle eye on this mask looks great and will definitely make even a simple outfit Steampunk. 
If you enjoyed this article you might also like to read about Steampunk Belts