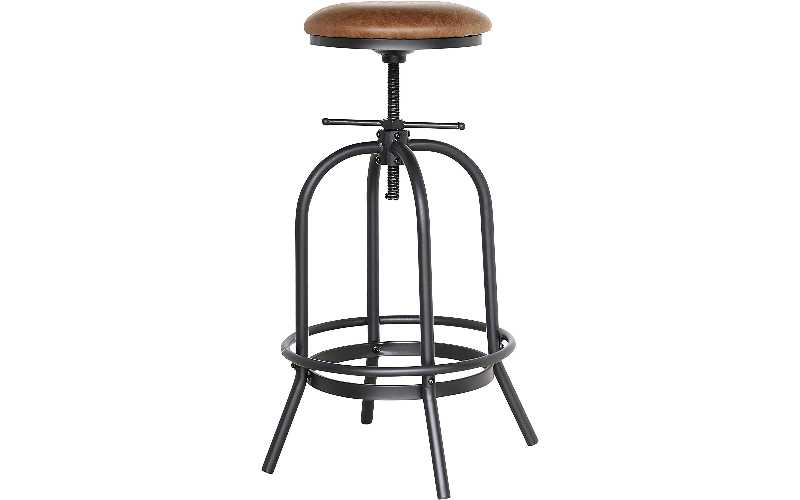 steampunker.co.uk is a participant in the Amazon Services LLC Associates Program and other affiliate advertising programs designed to provide a means for us to earn fees by linking to Amazon.com and affiliated sites. Affiliate links may be used on this Corset Dress Steampunk article and in steampunker.co.uk articles, but they do not impact on the price that you pay and they do help me to get this information to you for free. Read my privacy policy for more information regarding affiliates.
KingSaid Vintage Industrial Metal Tractor Seat Bar Stool, Swivel Height Adjustable Cast Iron Industrial Chair
Holdfiturn Breakfast Bar Stools Adjustable Wooden Stool Swivel Wooden Bar Stools Perching Stool Kitchen Breakfast Bar for Counter Breakfast Bar Cafe Pub
ASVP Shop Industrial Bar Stool Set of 2 With Rustic Metal Pipe Shelving Legs Adjustable Height Perfect Bistro Vintage Styled Stools for Bars, Pubs, Home Kitchen and Restaurants
Topower American Antique Vintage Industrial Barstool Solid Wood Water Pipe Fire Hydrant Design Cafe Coffee Industrial Bar Stool (Aged White, 2)
KingSaid Vintage Industrial Metal Tractor Seat Bar Stool, Swivel Height Adjustable Cast Iron Industrial Chair
Holdfiturn Breakfast Bar Stools Adjustable Wooden Stool Swivel Wooden Bar Stools Perching Stool Kitchen Breakfast Bar for Counter Breakfast Bar Cafe Pub
ASVP Shop Industrial Bar Stool Set of 2 With Rustic Metal Pipe Shelving Legs Adjustable Height Perfect Bistro Vintage Styled Stools for Bars, Pubs, Home Kitchen and Restaurants
Topower American Antique Vintage Industrial Barstool Solid Wood Water Pipe Fire Hydrant Design Cafe Coffee Industrial Bar Stool (Aged White, 2)
If you're looking to transform your home into a Steampunk abode, then you might be looking to buy some Steampunk bar stools for around your table or for at your in-home bar. This article will showcase some of the best Steampunk bar stools available to you.
Steampunk thrives on being unique and this bar stool is most definitely that. The seat of the stool is in the shape of a tractor seat with many holes in it that give it a more modern and Steampunk appearance. Steampunk is vastly about the homemade and this chair definitely looks like that. The chair is all black cast iron and the foot rest is in a swirled form. The feet of the chair has an extremely elegant Victorian style that adds to this bar stools Steampunk design.
Sale
Holdfiturn Breakfast Bar Stools Adjustable Wooden Stool Swivel Wooden Bar Stools Perching Stool Kitchen Breakfast Bar for Counter Breakfast Bar Cafe Pub
[Sturdy and Durable]The bar stool is made of a heavy metal frame, high-quality steel pipe, baking paint process, not easy to rust and deform, the seat cushion is made of wooden powder coating process with fine workmanship. The wooden seat has a thickness of 2cm and a diameter of 30cm.
[Anti-Slip Bottom]The feet of the retro chair is equipped with rubber, which is non-slip and avoids scratching the floor. Suitable for wood floors, marble floors, tile floors, and carpets. Beautiful and elegant with retro and industrial design.
[Lift Adjustment]The adjustable height of the garden bar stool is 62cm-82cm. Adjustable height provides mobility and convenience for children and adults.
[Personalized Design]The outdoor bar stool has a fashionable and simple design style, with neat lines, a combination of fashionable and classic elements, a triangular stable design, and a strong bearing capacity.
[Wide Application]Wooden home bar furniture is suitable for various scenarios, such as retro kitchen, breakfast table, dining room, living room, balcony, cafe, counter, bar, etc. The compact and elegantly designed bar stool is a lovely treat to add to your modern kitchen.
Although fairly simple in style, this stool definitely has an industrial style that the Victorian era is famous for. The chair has a circular wooden seat that sits atop a black metal frame that is in the shape of most bar stools. The colours and minimalism of this stool is what really brings the Steampunk impression out and it will look perfect in your Steampunk kitchen.
No products found.
These bar stools are in a set of two and have a vintage pub look. The seat has a black leather effect circular seat with copper studs around the edges. The stool also has a small dark wooden back that supports the small of your back. On the dark wood there is a black leather patch with studs around the edges, adding to the Steampunk vibe. The bottom of the stool is similar to that of a hairdressing stool, with a triangular footrest and a lever to adjust the height.
ASVP Shop Industrial Bar Stool Set of 2 With Rustic Metal Pipe Shelving Legs Adjustable Height Perfect Bistro Vintage Styled Stools for Bars, Pubs, Home Kitchen and Restaurants
INDUSTRIAL BAR STOOLS: Our set of 2 bar stools are just perfect to get that rustic vintage look for your kitchen, home or to get that industrial look for your restaurant or bar. Very easy to assemble.
ADJUSTABLE HEIGHT: Our stools can be adjusted in height between 77cm and 92cm to ensure they can be sat on perfectly for a counter top height to sit at the bar
PIPED LEGS: We have used many rustic piping for the legs to fit with the industrial bistro look and have included circled shelving to ensure you can comfortably place your legs on the stool
COMFORTABLE SEATING: We offer a choice of a rustic dark wood seat or a faux leather seat with a tainted rustic look, both look amazing to fit the style you going for and even more important they are comfortable to sit on with swivel functionality
GREAT FURNITURE: At ASVP we pride ourselves on stylish looks with great quality we can assure you will be pleasantly surprised with the look, comfort and the value of our chairs
This bar stool has a dark brown leather seat with a worn appearance. The frame has an unusual appearance unlike anything I have ever seen before. The seat can be raised or lowered by turning a bar. The legs of the chair are notably wide and give the stool its unusual appearance. The frame is made from what looks like pipes and gives the stool its industrial and Steampunk vibe.
Topower American Antique Vintage Industrial Barstool Solid Wood Water Pipe Fire Hydrant Design Cafe Coffee Industrial Bar Stool (Aged White, 2)
STYLISH DESIGN - Hydrant stylish design and classic accessory to enhance industrial stylish decor, or a vintage home .
HIGH QUALITY WOODEN SEAT - Using natural pine wood seat, more can ensure the quality and appearance
SET OF TWO FULLY ADJUSTABLE HEIGHT BARSTOOLS - The ample height and ability to swivel 360 degrees offers both children and adults mobility and convenience. Smoothy swivel for 15cm height adjustable and screw to immobilize
STURDY & DURABLE - Solid heavy duty pipe come with solid cast iron connector full weld by welding robot make it to a strong durable stool , feel easy to seat on it . weight capacity 200kg .With footrest to put your feet ,looks rustic but comfortable &anti scratch
Product specification - Chair size:33 * 33 * 60-75cm / 13 * 13 * 23.6-29.5in. Seat Size: dia 33 * 3cm
This is an extremely different and unique design. The circular seat has a natural pinewood finish and it sits atop a worn white structure in the shape of a fire hydrant pipe, with pipes for legs and a hydrant wheel to adjust the seat. It is an extremely unique bar stool and will definitely stand out amongst your interior.
Same as the stool described above, this one has a bronze frame instead with a lighter shade of natural wood for the seat that sits atop a bronze structure in the shape of a fire hydrant pipe, with pipes for legs and a hydrant wheel to adjust the seat. The bar stool is most definitely unique and the bronze finish adds to the Steampunk aesthetic that the stool gives off.
This bar stool has an effective simplistic design, the circular seat of the stool is made from a beautiful dark wood. The stool has four pipes protruding from the bottom of the seat that connect to four pipe shaped ends that hold the chair up. The pipes give an industrial aesthetic and will definitely look incredible in your Steampunk themed room. What is great about Steampunk bar stools is that you can mix and match as the Steampunk aesthetic allows for the bizarre and unique. So from this list if there are many different designs that you like, you can buy one of each to turn your home into a unique Steampunk haven.