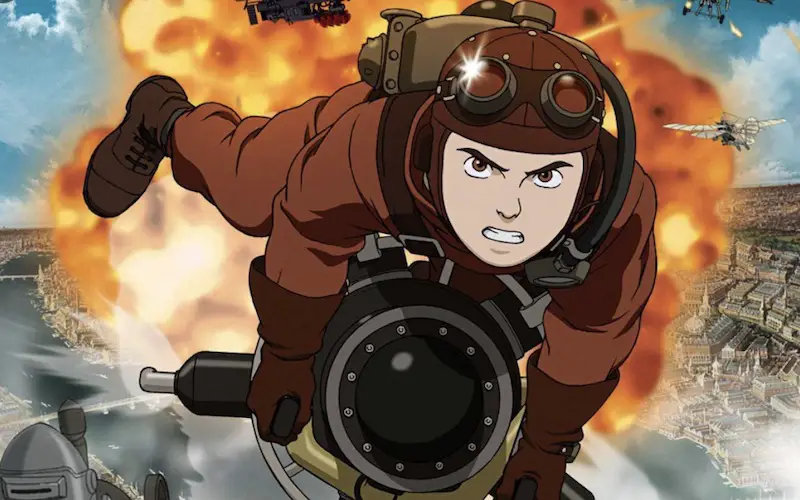 steampunker.co.uk is a participant in the Amazon Services LLC Associates Program and other affiliate advertising programs designed to provide a means for us to earn fees by linking to Amazon.com and affiliated sites. Affiliate links may be used on this page and in steampunker.co.uk articles, but they do not impact on the price that you pay and they do help me to get this information to you for free. Read my privacy policy for more information regarding affiliates.
How are you all doing steampunkers? Today's blog is all about my favourite steampunk movies, including one of my favourites – Miyazaki's Howls moving castle!
Steamboy
'Steamboy' is, as the title suggests, a film which contains a lot of steam. This anime film, set in 1860s England, follows a young inventor called Ray who wishes to follow in the footsteps of his father and grandfather, Eddie and Lloyd Steam. His grandfather gives him a mysterious and mechanical ball which very quickly changes his life. It seems many others want the power of the ball but not all of them have such good intentions. This film was directed by Japenese director, Katsuhiro Otomo who also created the story.
No products found.
Hugo
Next, we have 'Hugo' from 2011 which is based on the novel 'The Invention of Hugo Cabret' by Brian Selznick. The 3D historical drama takes place in France in the 1930s. It follows the protagonist, Hugo, who is an orphan living in the walls of a train station. When he makes a discovery about his late father, he is thrown into a mystery involving his deceased relative and a robot. The title role is played by Asa Butterfield and features other cast members such as Chloe Grace Moretz and Sacha Baron Cohen. 'Hugo' was directed by Martin Scorsese.
No products found.
The Golden Compass
In 2007, we saw the release of 'The Golden Compass' which was adapted from Phillip Pullman's novel of the same name. The story centres around Lyra Belaqua who has escaped the orphanage she lived in to travel to the North Pole alongside Gyptians as well as an armoured Polar Bear called Iorek. Her reason for this expedition is to save her best friend and other children after realising they have been kidnapped. The film starred Dakota Blue Richards as Lyra as well as other actors such as Daniel Craig and Nicole Kidman. The film was directed by Chris Weitz and went on to win the BAFTA Award for Best Special Visual Effects.
No products found.
Howl's Moving Castle
Studio Ghibli is a well-known animation company with various films already produced. One of these films is 'Howl's Moving Castle' which was released in 2004. Sophie, who is played by Emily Mortimer has, up until now, lived a boring and uneventful life taking care of her late father's hat shop. However, this changes when Sophie meets Howl, a wizard played by Christian Bale, who lives in a flying castle. They befriend each other but the antagonist of the film, the Witch of Waste (Lauren Bacall), casts a spell on Sophies which causes her to age and look older. The wizard, Howl, must use all of his magic and power to defeat the evil witch and restore Sophie to her younger self. This film was directed by Japanese director, Hayao Miyazaki.
No products found.
Treasure Planet
Ron Clement and John Musker's 2003 animated film, 'Treasure Planet' was loosely based off the novel 'Treasure Island' by Robert Louis Stevenson. However, this film features a more steampunk vibe with Victorian clothing and a space pirate ship since the film is set in space instead of the ocean. Joseph Gordon-Levitt plays a young teenager, Jim Hawkins, who joins the pirate space ship as a cabin crew member before finding out that a friend of his is actually a scheming pirate. The film also stars Brian Murray and Emma Thompson and was narrated by Tony Jay.
No products found.
Van Helsing
One of my favourite gothic steampunk movies is 'Van Helsing'. Directed by Stephen Sommers, this film was based on Bram Stoker's 'Dracula' and sees the legendary monster hunter, Van Helsing, travel to Transylvania to try and stop Count Dracula from realising his sinister motives. The film also features well known contemporary horror literature characters such as Mr Hyde, The Wolf Man and Frankenstein's Monster. 'Van Helsing' starred Hugh Jackman in the titular role as well as other actors including Kate Beckinsale and David Wenham.
Mortal Engines
A more recent one of my favourite steampunk movies is 'Mortal Engines' from 2018 which was based on a novel with the same name by Phillip Reeve. The film is set in a post-apocalyptic world where cities are robots on the move who must consume other cities in order to survive. Two strangers must unite to stop a sinister and destructive plot form taking place. The film was directed by Christian Rivers and stars Robert Sheenan, Hera Hilmarsdottir and Hugo Weaving.
No products found.
Lemony Snicket's Series of Unfortunate Events
In 'Lemony Snicket's A Series of Unfortunate Events' from 2004, we follow the Baudelaire family, Violet, Klaus and Sunny, in a Gothic Neo-Victorian world as they try to escape the evil Count Olaf played by Jim Carrey. The film was based on the novel by Daniel Handle also known as his pen name, Lemony Snicket. The film was directed by Brad Silberling and also stars Billy Conolly, Jude Law and Meryl Streep.
No products found.
Atlantis: The Lost Empire
Gary Trousdale and Kirk Wise's 2001 animated film 'Atlantis: The Lost Empire' is considered to be a Disney classic. The film centres around Milo Thatch, a young explorer who finds a map to the lost city of Atlantis. With the map in hand, he and his crew venture out in a submarine to find the ancient city. However, they are met with many obstacles along the way as well as on their return. Michael J. Fox stars as the protagonist in this film alongside other actors including Cree Summers and Claudia Christian.
No products found.
Sherlock Holmes
Finally, we have 'Sherlock Holmes'. This film is without a doubt a worthy member of the list as, through the victorian style top hats and coattails, there is a steampunk vibe all throughout. Guy Ritchie's 2009 film, featuring Robert Downey Junior as Arthur Conan Doyle's famous detective, sees Sherlock and Watson send serial killer, Blackwood, to his grave before finding out that he in fact and alive and terrorising once more.
No products found.
If you enjoyed this blog on steampunk movies, you might also like to read about my 10 best steampunk novels.