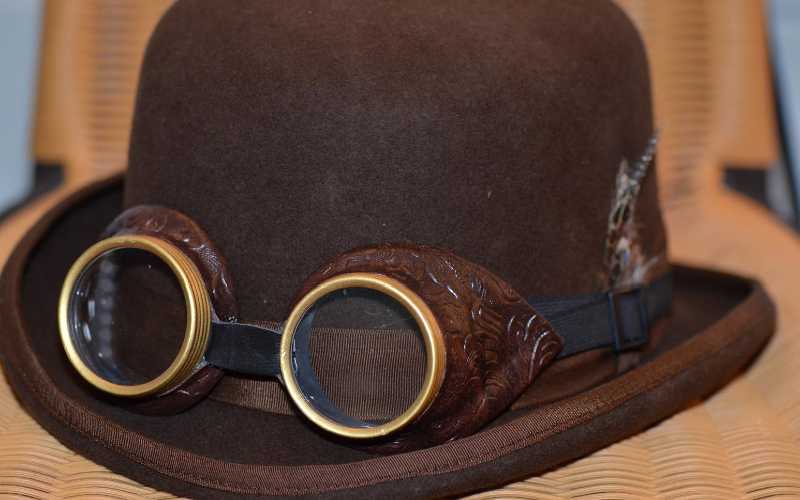 steampunker.co.uk is a participant in the Amazon Services LLC Associates Program and other affiliate advertising programs designed to provide a means for us to earn fees by linking to Amazon.com and affiliated sites. Affiliate links may be used on this page and in steampunker.co.uk articles, but they do not impact on the price that you pay and they do help me to get this information to you for free. Read my privacy policy for more information regarding affiliates.
A lot of steampunk fans consider the top hat to be a classic, and it does certainly point to the Victorian influences in steampunk. But it's not the only option, and many steampunkers prefer to switch it up with a bowler for something that's close, but still original. There's loads of choices for men, women and they can work well with all kinds of different costumes. We've compiled our favourites to help guide you through some great options.
https://www.etsy.com/uk/listing/525642248/bowler-hats Let's start with something classic, simple and still thoroughly steampunk. This bowler wouldn't look out of place at an acoustic open mike night, but the goggles really give it that special twist. They're spiky, which gives the look more edge (almost literally) and they're a great shade of bronze that's worked into so many steampunk outfits. 
https://www.etsy.com/uk/listing/646384673/the-bowler-i-the-derby-i-wool-or-fur Are you a fan of Steampunk, but don't like the Victorians? This bowler feels much more 1920s, and we love that! It could easily be incorporated into a steampunk-flapper combination that opens up the ideas of steampunk to the jazz age. Steampunk trumpet, anyone? It's not just for women, though: a bowler and a nicely waxed mustache might usually be a hipster look, but with the right tailcoat and goggles could be a steampunk classic
https://www.etsy.com/uk/listing/513146290/reduced-vintage-bowler-hat-large-size-7 Are you looking to add a little punk to your steampunk? Try this bowler! It would work well with a coordinated outfit with matching studs, and it would be easy to organise these into similar shapes for a unique look. Goggles are also often covered in studs, and you could switch up the sames and colours or make them correspond in a variety of shapes and patterns for an optical illusion magician steampunk 'fit
 https://www.etsy.com/uk/listing/839172149/steampunk-hat-with-goggles Are you looking for something completely and unapologetically original? This might be exactly what you're looking for. The creator makes different designs each time, so this piece is entirely unique. It's also covered in details – did you notice the little owl?- that makes it intricate, delicate and very special. The burnished and smudged colours are great too, and give the hat an autumnal feel. Pop this on, add a tailcoat and imagine you're in the steampunk novel of your choosing!
https://www.etsy.com/uk/listing/865664967/steampunk-bowler-hat Could you be a steampunk character and run an aviary? If there are semi-mechanical people, could there be semi-robotic birds? Would you like to co-ordinate with a feather boa? Great! This hat has obvious steampunk influences, but the most striking thing about it is the feather fan on top. Match it with a customised falconer's glove if you're really committed to the look, and know that nobody's doing it quite like you!
https://www.etsy.com/uk/listing/721208968/hessian-bowler-hat-steampunk Steampunk meets boho chic? Yes, PLEASE. If you're looking for something more femme – but not fatale – this is perfect. Match it with a softer dress and see if you can work in butterflies somewhere else, like jewellery or as a print on a scarf. Play up the steampunk with goggles (worn over the eyes or around the neck) and possibly something laced up. This might be our prettiest option, and we love it.
https://www.etsy.com/uk/listing/846253260/ladies-steampunk-bowler-hat Sometimes, it's fun to be excessive. We're not talking about bathing in champagne, but instead a hat that's decadent, regal and literally covered in peacock feathers. There are also silk flowers, which you could easily match with a boutonnière or a bouquet, and clockwork accents to finish off the steampunk feel. 
We're big fans of hats. They can cover up hair that doesn't work with the rest of your look or accent it, and you can easily build a whole outfit around the right one. These hats stray from the norm because of their design, but we like them more for it and know they'll help someone find their perfect steampunk style.