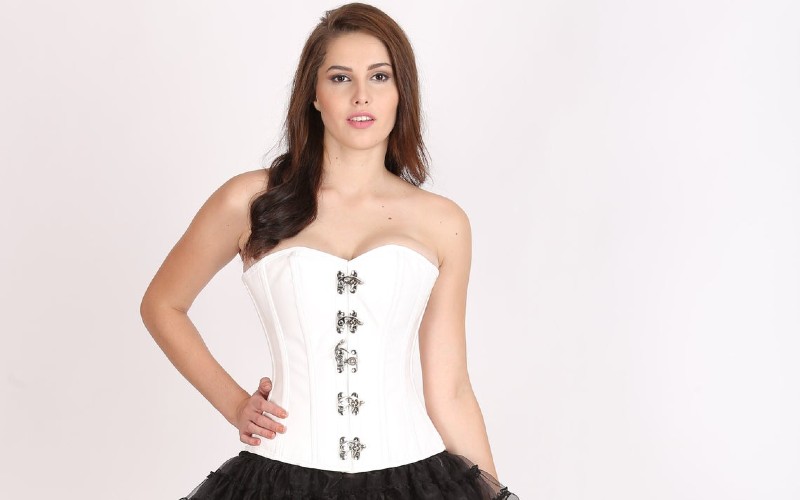 steampunker.co.uk is a participant in the Amazon Services LLC Associates Program and other affiliate advertising programs designed to provide a means for us to earn fees by linking to Amazon.com and affiliated sites. Affiliate links may be used on this page and in steampunker.co.uk articles, but they do not impact on the price that you pay and they do help me to get this information to you for free. Read my privacy policy for more information regarding affiliates.
White corsets are a must have wardrobe item, they are versatile with the ability to be paired with a variety of outfits. Corsets were popularised in the 1500s, although there is evidence that suggests them dating back to Crete in the early Minoan period. Corsets appear to have started as sleeveless, upper parts of a dress, and evolved into primarily undergarments that shape your waist. In the 19th Century many women stopped wearing corsets due to the belief that they were a symbol of oppression that damaged women's bodies. They became a matter of choice due to this movement, and the design was also remodelled in order to not cause harm. 
In the Steampunk aesthetic, corsets are primarily used for aesthetic purposes, with many wearing the corset over the top of other clothes. The corset works as a stylish accessory that really brings forth the Victorian era's fashion. Most Steampunk corsets are based on the Victorian era style, the corset became popular in that era. The wearing of a corset really highlights your naturally beautiful figure and is an important, timeless item that plays a popular role in women's Steampunk fashion. Although men can also rock a corset. Steampunk corsets have a unique look, they have evolved from the traditional Victorian era corsets, but often have a Steampunk twist – with added features such as buckles, lace detailing, ruffles, chains, and other decorative features. Corsets are an elegant, sexy, and badass piece of clothing that is sure to make your outfit more interesting. 
When buying a corset, you want to make sure that you buy the right size so that it accentuates your body in all the right areas. A good size guide is to go for a waist size that is 4 inches smaller than your own waist. Make sure that you value comfort and quality over size. Getting the right size for you will pay off and you will look incredible in it. 
Purchasing a white corset will really be taking a note from the Victorian era's fashion book. White corsets were popular back then, and there is a reason for that. The white showed up incredibly in the sepia-coloured photographs. A lot of people automatically assume that black corsets are perfect for Steampunk fashion, however, a white corset is a basic necessity for any Steampunk woman, whether it be for weddings, halloween, or Steampunk festivals, a white corset will be a worthy purchase.
This corset has an elegant design that will look perfect as part of a Steampunk wedding dress. The ribbon and frilled edges give the corset a traditional but stylish look. The bust has quite a rounded/arched cup to emphasise your chest area. The detail on this corset is beautiful and subtle, with the pattern taking on a slightly shinier appearance than the rest of the corset.
Similar to the prior corset, but with more lace. If you are somebody who prefers lace, then this corset could be your match. It has 12 bones, a ribbon, and frilled edges – all of which making the corset an elegant looking fit. The lace detailing is a beautiful feature, while also not jumping out too much. The materials blend really well, giving a sophisticated but sexy look.
Sleeves on a corset might be your preferred option, especially if the purpose of the corset is to be the top half to your Steampunk wedding dress. This satin corset is elegant and traditional looking with frilly sleeves that really add to the overall design of the corset. The sleeves on this give the extra wow factor to this corset, and the cups are not arched or highlighted much. This is perfect if you are somebody who wants to put emphasis on your body outline rather than on your bust.
Perhaps an under-bust corset is more your style, in which case this one is perfect. The simple but effective style will accentuate all the right areas. Not to mention, the detailing of the pattern is delicate and pretty. This corset will look great in combination with a white shirt. A long sleeved shirt with more puffy sleeves will look great with this under-bust corset.
This is a very plain looking corset with a longer front, highly representative of traditional Edwardian corsets. The corset is sleeveless and doesn't have much shape to the top, meaning it does not have arched edges or frills. This corset will work great with a skirt on the bottom, and with a detailed shirt.
More modern looking corsets are also an option, this corset is made from faux leather and has large silver locks down the front as part of the design. If you want to style your outfit with a modern, futuristic twist, then this is the corset for you. The chunky locks are identifiably Steampunk in style, mixing the old with the new. This corset has a slight arch at the top, but nothing too drastic, it is still relatively plain in comparison to other more detailed corsets. The colour of this corset is also notably bright white, whereas most people tend to go for something a little more faded. 
This is another modern looking corset, it is made of rice leather and features black leather piping along the edges, adding extra detail to the design of this modern-look corset. The design is very simple in style, but elegant, and features a very slight arch at the top. Again, the colour is notably bright white, it depends on whether you are looking for something more vintage looking or not.
This vintage style, cotton corset is a simple yet elegant design that will look great paired with a variety of items. The slight frilled edges add some extra shape to this, otherwise reliant on your natural shape, corset, while the arch is very slight. Sometimes less really is more depending on the rest of your outfit. 
If you are interested in learning more about corsets, take a look at our other articles here: