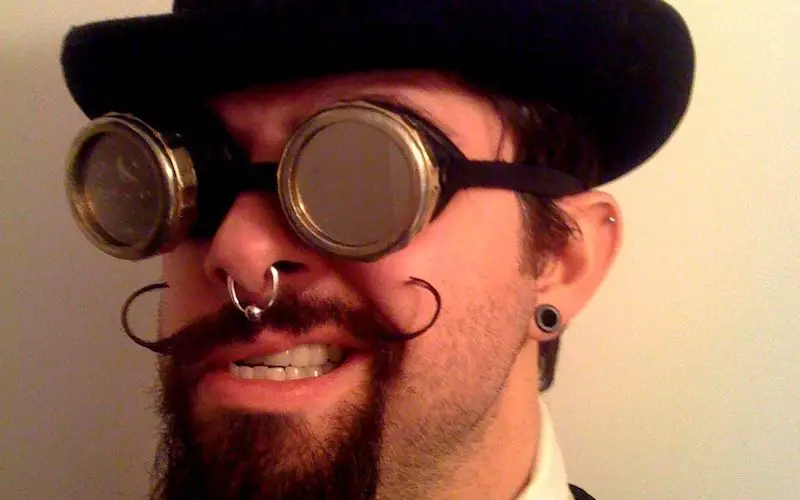 steampunker.co.uk is a participant in the Amazon Services LLC Associates Program and other affiliate advertising programs designed to provide a means for us to earn fees by linking to Amazon.com and affiliated sites. Affiliate links may be used on this page and in steampunker.co.uk articles, but they do not impact on the price that you pay and they do help me to get this information to you for free. Read my privacy policy for more information regarding affiliates.
Goggles are an absolutely essential part of steampunk fashion, to the point that most looks aren't really complete without a pair. Steampunk's history has always involved goggles because of their associations with industry, aviation and invention. They can be as elaborate or simple as you like, but we'd really recommend looking through our top picks to see what you'd want to incorporate into your next steampunk look as the perfect finishing touch or a starting point to build your outfit around. 
1)  UMBRELLA LABORATORY Steampunk Victorian Style Goggles with Compass Design
We're starting this list with a look we love. These Umbrella Laboratory steampunk goggles are decorated but they aren't excessive: you have the double ocular loupe (which you can remove if you want); the little compasses on either side and the leather padding to build the steampunk feeling. They're also coloured in bronze and blue, which works well together and combines a colour often found in steampunk attire with something a little more unusual. 
2) Weichuan Vintage Steampunk Goggles
Our next option is much less busy. These Weichuan Vintage steampunk goggles will work well with both simple and elaborate outfits and the burnished bronze probably won't clash with anything else you're wearing. The fun part is that you can remove one lens- or both- and customise them as you like. You can also wear these over your eyes, on your head (if you're creative, you can work them into a hairstyle) or on your hat.
3) https://www.amazon.com/Lelinta-Victorian-Steampunk-Goggles-Accessory/dp/B07KC2PBTV
These goggles are ten levels past extra and we love them for it! Although steampunk might embrace clockwork and cohesion, we feel that this level of chaos is more than appropriate for a post apocalyptic society- or to be honest, the last few years. The details and accessories are astounding and can be moved, removed or adapted as you like. If you're going for a mad inventor look, we think these would be perfect for you.
4) Skeleteen Steampunk Goggles
We're back to a much more simple look for our next pair of goggles. These Skeleteen steampunk googles are a burnished copper/bronze that's so classically steampunk, but they aren't covered in accessories. The overall look is understated, simple and more detached. If you wanted to wear a steampunk accessory without drawing attention to it, this would be perfect. 
5) Lelinta Rainbow Crystal Steampunk Glasses
Steampunk colours are often pretty subtle and understated: bronzes, bottle greens, the occasional red. If you're looking to change things up, why not try these rainbow glasses? They shine different colours, depending on the light, and change when you move. This makes them truly eye-catching. Additionally, the lenses are great fun: if you look through them, you'll see a kaleidoscope of prisms. You can remove the lenses if you like, or wear them on top of your head.
6) Barbed Wire Welding Goggles
The next goggles are interesting, because they're a clear return to a traditional look that's very specific: these are barbed wire welding goggles! They're blue tinted on a bronze base- as discussed, this is a brilliant combination of colours – with netting over the lenses to protect them, finished with two small torches either side. These would be perfect for anyone looking to cosplay as an engineer, and it would be easy and great fun to create a whole character and look around these.
7) Victorian Steampunk Rave Goggles
I love all of the different goggles here, but I feel like these unique Victorian Steampunk rave goggles might be my favourite. They're utterly eccentric, mismatched and glorious: the colours are great, the gems compliment the bronze excellently. The patterns are intricate and detailed, and the accessories call clearly to the mechanised clockwork we see constantly in steampunk but in an original way. They're described as aviator goggles, and the little compasses absolutely help support that, but they'd be a great addition to any steampunk outfit.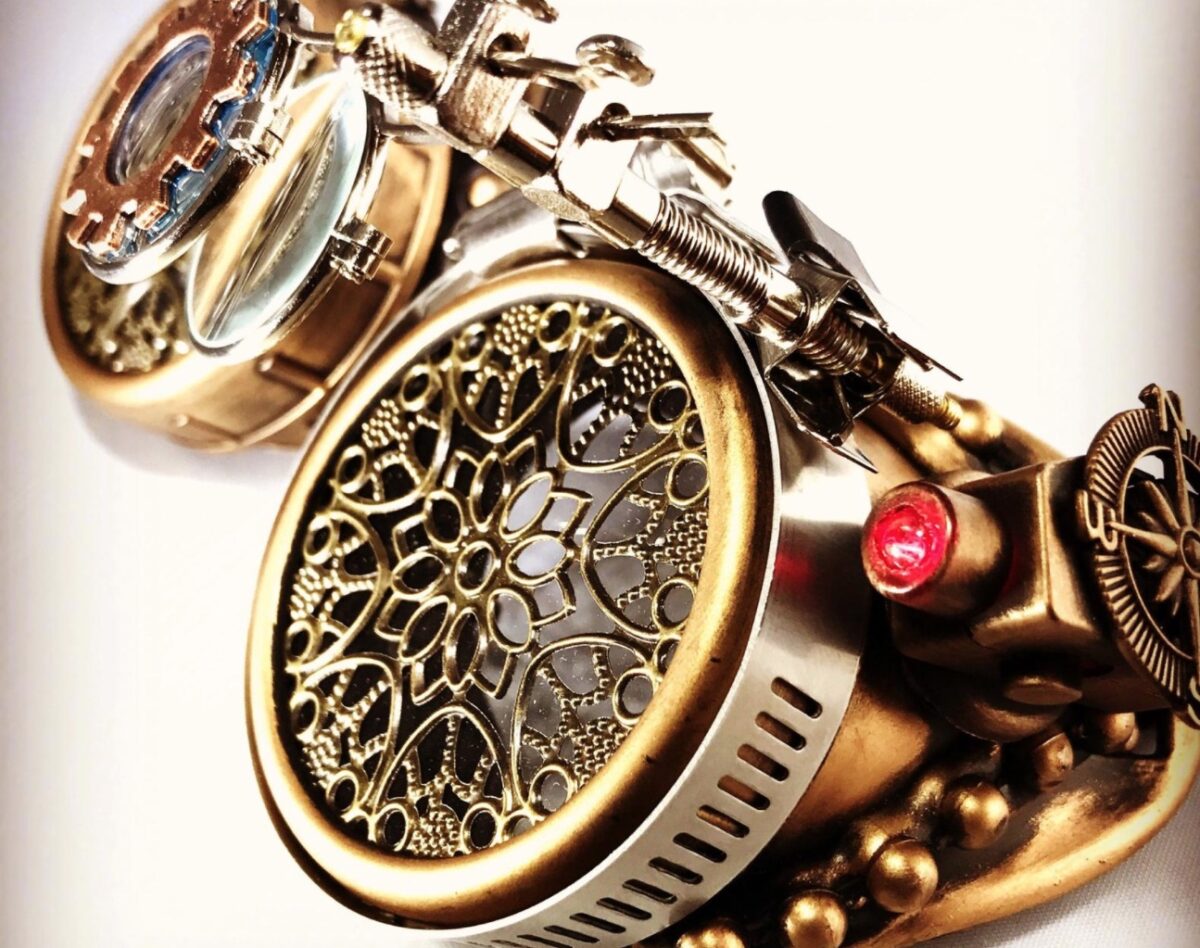 We hope you've found something you like. There are a load of different ways to wear and experience steampunk: from outfits and accessories to home decorations to literature, music and film. Goggles are found throughout and they're almost synonymous with the movement. A good steampunker will never have too many pairs! They're great for people who've been involved in the steampunk movement for years and anyone just getting started.