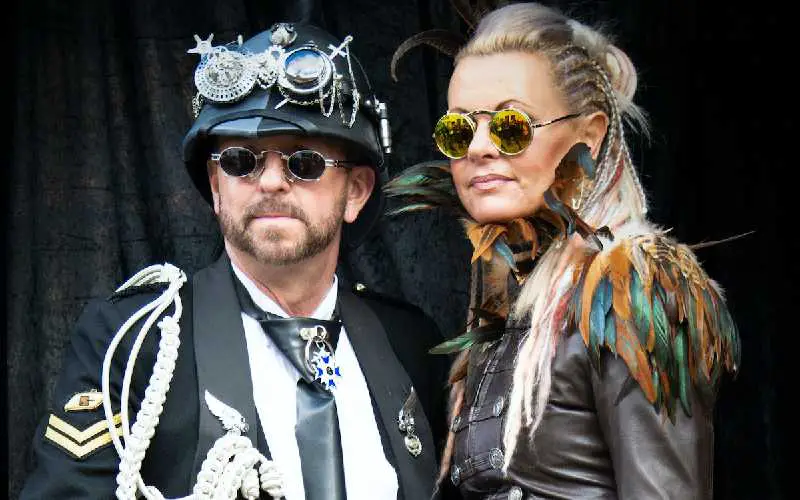 steampunker.co.uk is a participant in the Amazon Services LLC Associates Program and other affiliate advertising programs designed to provide a means for us to earn fees by linking to Amazon.com and affiliated sites. Affiliate links may be used on this page and in steampunker.co.uk articles, but they do not impact on the price that you pay and they do help me to get this information to you for free. Read my privacy policy for more information regarding affiliates.
Steampunk originally started in the 1970s as a sub-genre of science fiction that incorporated aspects of the Victorian era (1837-1901) into novels based in an alternative reality. Although people now date the Steampunk genre as starting further back, with some including authors such as H.P. Lovecraft and Mary Shelley due to their obvious contribution to the inspiration for the Steampunk genre. Today's blog is all about how to dress steampunk.
MOONIGHT Women's Steampunk Midi Skirt for Women Tulle Multi Layered High Low Outfits Party Steampunk Skirt Costumes Brown
3 Pairs Lace Fingerless Gloves Set Elbow Lace Up Steampunk Gloves Black Fingerless Bridal Lace Gloves
Bslingerie® Mens Steampunk Gothic Faux Leather Costume Corset Vest (L, Brown)
YSENTO Mens Lightweight Slim Fit Jackets Pilot Classic Outerdoor Cotton Windbreaker Jackets Coats(01Khaki,L)
MOONIGHT Women's Steampunk Midi Skirt for Women Tulle Multi Layered High Low Outfits Party Steampunk Skirt Costumes Brown
3 Pairs Lace Fingerless Gloves Set Elbow Lace Up Steampunk Gloves Black Fingerless Bridal Lace Gloves
Bslingerie® Mens Steampunk Gothic Faux Leather Costume Corset Vest (L, Brown)
YSENTO Mens Lightweight Slim Fit Jackets Pilot Classic Outerdoor Cotton Windbreaker Jackets Coats(01Khaki,L)
The Origins of Steampunk in Literature
Many Steampunk novels incorporate steam-powered machinery and technology into an aesthetically pleasing design. Novels such as Frankenstein envisioned what future technology may look like with the creation of the monster. Shelley's Frankenstein that was written in 1817 paved the way for the Steampunk sub-genre in the 70s. Despite the word 'steampunk' making its first known appearance in 1987. The multiple stories and artworks of the Victorian era particularly, in which futuristic technology is depicted with steam-powered mechanics is essentially the inspiration for the Steampunk genre and is therefore where Steampunk fashion originates. The fashion is that which combines the elements of the Victorian steam-powered and futuristic envisioning of technology with a post-apocalyptic alternate reality.
Over Time
Steampunk fashion is a post-apocalyptic aesthetic based on the Victorian era, combined with Steampunk fiction and their ties to each other. The Steampunk aesthetic became popular in the 20th century. In 2006 the first Steampunk convention was held, called SalonCon in which goers dressed up in Steampunk clothing and wore certain hairstyles, jewellery, piercings, and makeup. All of which reflects on the Steampunk aesthetic. Despite the popularisation of Steampunk fashion, it is unclear exactly when the fashion was started. It is clear however that the fashion started to gain popularity during the 1980s and 1990s along with the Cyberpunk aesthetic. 
Steampunk clothing is traditionally handmade, although nowadays due to the increased popularity of Steampunk fashion, companies became aware of the interest and so started to mass produce items of clothing, including jewellery etc. that fit in with the Steampunk aesthetic. 
Steampunk fashion has not evolved much over time, besides the addition of mass-production. Although societal changes have resulted in subtle changes over time. Including the addition of gadgets due to the advancement in technology.
How to Dress Steampunk – The Ultimate Guide!
Women's Steampunk fashion
Men and women's Steampunk fashion is not too dissimilar, although it is common for women to wear skirts or dresses with petticoats or corsets, they also frequently wear suits and vests with top hats and goggles, and so they wear trousers too. It is also popular for women to dress as pilots, pirates, and engineers etc. As for coats, women can be seen wearing pilot jackets, riding jackets etc.
Another important accessory for women in the Steampunk community is gloves, most commonly fingerless ones, but it is not uncommon to see somebody rocking elegant ones in the style of pride and prejudice.
3 Pairs Lace Fingerless Gloves Set Elbow Lace Up Steampunk Gloves Black Fingerless Bridal Lace Gloves
Package include: comes with 2 pairs of fingerless Short lace gloves and 1 pair of elbow lace up steampunk gloves in total, enough quantity and patterns to satisfy your diverse dressing needs
Soft material: these lace fingerless gloves are made of quality lace which is the soft fabric, comfortable to touch, durable and lightweight to wear, not easy to deform, can bring you a wonderful wearing experience
Diverse occasions: the lace makes these gloves full of attractive and beautiful feeling, you can wear them on Halloween cosplay party ,bridal shower, prom, engagement, wedding, costume, festival, tea party and other themed parties, you will catch people's attention and favor while you wearing them
Suitable size: short fingerless gloves are approx. 6.9 x 3.6 inches, short floral lace gloves are 6.1 x 3.5 inches, elbow lace up gloves are 14 inches in length, you can adjust its width through lacing up, with elastic features, they will be fitting closely but comfortably, won't bring tightness to your arms
Pleasant present: these lace fingerless gloves can easily obtain ladies' favor and expectation, a pleasant gift set for your mom, sister, girlfriend and friends, make them look exquisite, graceful and charming
Accessories are an important part of the Steampunk aesthetic and so women also wear pocket watches. Although due to the advancement in technology, many now wear wrist watches that contain exposed gears instead.
As well as accessories, headwear is also an important and commonly demonstrated addition to Steampunk fashion. There are many different styles of hat, some of which include top hats, bowler hats, crush caps, safari hats, and deerstalker hats.
Hair is also an important factor in the Steampunk aesthetic, often people take on the punk hairstyle rather than the Victorian era hairstyles. They do this by adding feathers and styling it in punk-like ways. 
Goggles are arguably the most important and most identifying feature of Steampunk fashion, this is because of their versatility within Steampunk fiction, the inspiration for the fashion.
No products found.
The variety of clothing that is available to women is encouraged by the Steampunk community due to it being a genre based on adventure. Exploring different clothing and characters within Steampunk fashion is encouraged by the origin of the fashion.
Men's Steampunk fashion
So many men want to know how to dress steampunk! Men within the Steampunk fashion community also take on different characters. The most common menswear are suits with vests, a hat (of which there are many different styles from bowler hats to top hats), gloves, and a long coat. This is often worn with leather boots. The hats are often crowned with goggles, an easy identifier of Steampunk fashion. Another common accessory in Steampunk fashion are pocket watches or as mentioned before, wristwatches in the Steampunk style. 
No products found.
If taking on a character such as an explorer, the fashion will differ in order to suit the character.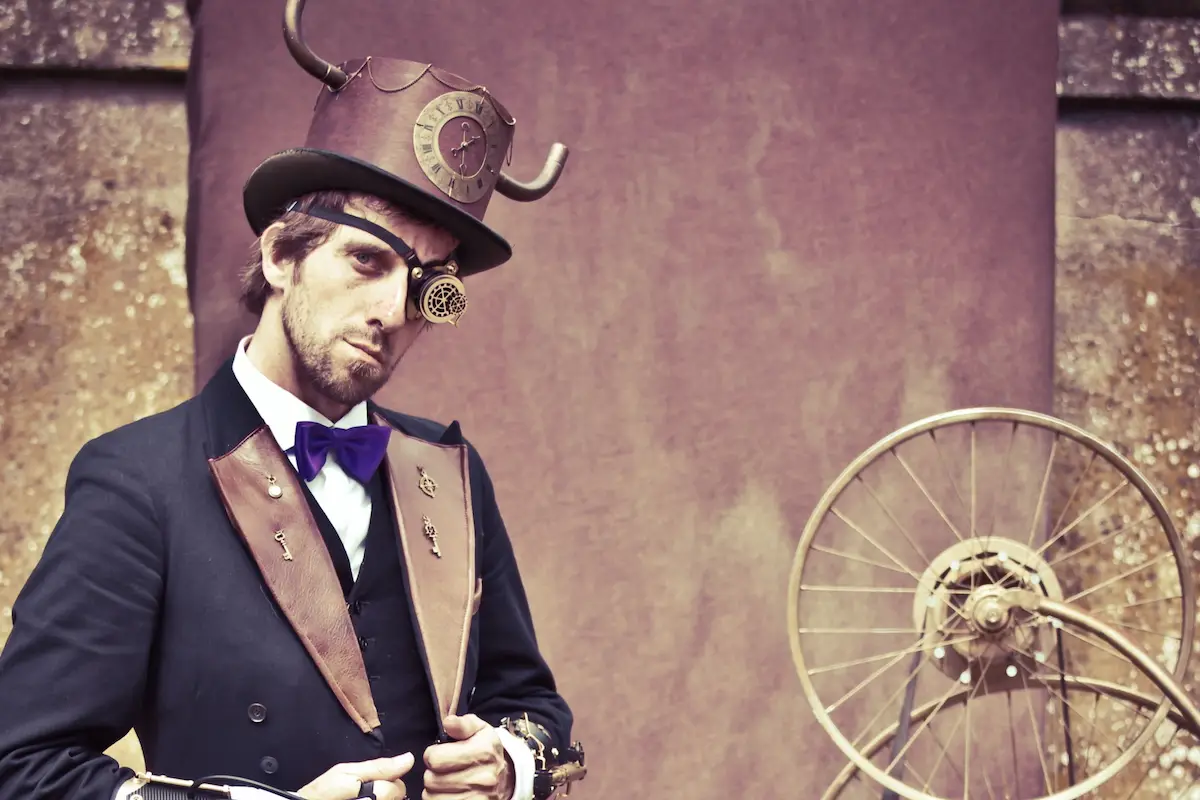 Explorers often dress in oversized clothing, this can include trousers (sometimes these will be ankle grazing trousers), a 'cowboy' style hat, a crush cap, or an explorers/safari helmet.
Aviators frequently wear military fatigue including bomber jackets, they may also wear leather clothing that is tight fitting, such as leather trousers.
Bslingerie® Mens Steampunk Gothic Faux Leather Costume Corset Vest (L, Brown)
Brand new
Made of PVC and PU
High Quality Faux Leather fabric. Color: Black. Brown. Red
Perfect Mens Halloween Outfit
BSLINGERIE is registered in the member states of EU, which includes United Kingdom, France and Germany. It is protected by Civil and criminal law in EU, please do not attempt to infringe our right otherwise legal action will be taken.
Identifying an air pirate is easy due to the accompaniment of feathers to their clothing. Air pirates commonly mix aviator and explorer clothing, with the addition of feathers and sometimes bandanas. Feathers are not only added to clothing, but to hair as well. It is also quite common for air pirates to add some colour, but not a lot as Steampunk fashion is aesthetically based around monochrome colours.
Steampunk Accessories
Steampunk accessories are often the identifiable feature of any Steampunk look, from essentials such as goggles or top hats, to pocket watches or boots. These items help to complete the Steampunk aesthetic. Without them, it is doubtful that your outfit will be considered as Steampunk fashion. The unique accessories within Steampunk fashion are arguably the most important part of any outfit, it's what makes it 'Steampunk'.
BOSHIYA Mechanical Pocket Watch Hand Wind Retro Hollow Roman Numerals Steampunk Black Pocket Watch with Chain for Men + Gift Box
【Vintage Unique Design】 Skeleton design, insight to the movement, Roman Numerals Dial design helps you read the time more easily. With mens watch chain to attach to your shirt or pants. Add undeniable style and class to your daily life and fashion.
【Good Quality Pocket Watch】 The steampunk pocket watch looks very awesome and cool using gear hollow cover which could look the self automatic gold gear mechanical movement. Unique case and long chain, excellent workmanship. (For safety, the front face is made of Acrylic).
【Mechanical Hand-Wound Movement】 This mechanical pocket watch does not use batteries. You just wind up the watch crown clockwise rotation about 25-30 turns. Advising wind up every morning. (Magnetic field / temperature and impact will affect the accuracy of the watch, daily manual winding and adjustment can reduce the deviation).
【Mechanical Pocket Watch Size】 Diameter: 1.77 inches; Thickness: 0.51 inch; Chain length: 14.17 inches; The watch sizes and chain length is very convenient to wear.
【Mechanical Pocket Watch for Gift】 BOSHIYA pocket watch comes with a classic gift box, perfect present for your family, friend and lover. Good present for families, friends or teachers. (Come with a exquisite gift box). We offer 90-day 100% MONEY BACK or REPLACEMENT, Please feel free to contact us if you have any question or problem.
Some items are essential for any Steampunk outfit, they are in many ways the identifiers of the Steampunk aesthetic.
A utility belt is a commonly used accessory within Steampunk fashion. It adds an extra something to your outfit and also gives you a place, or multiple, to store your other accessories.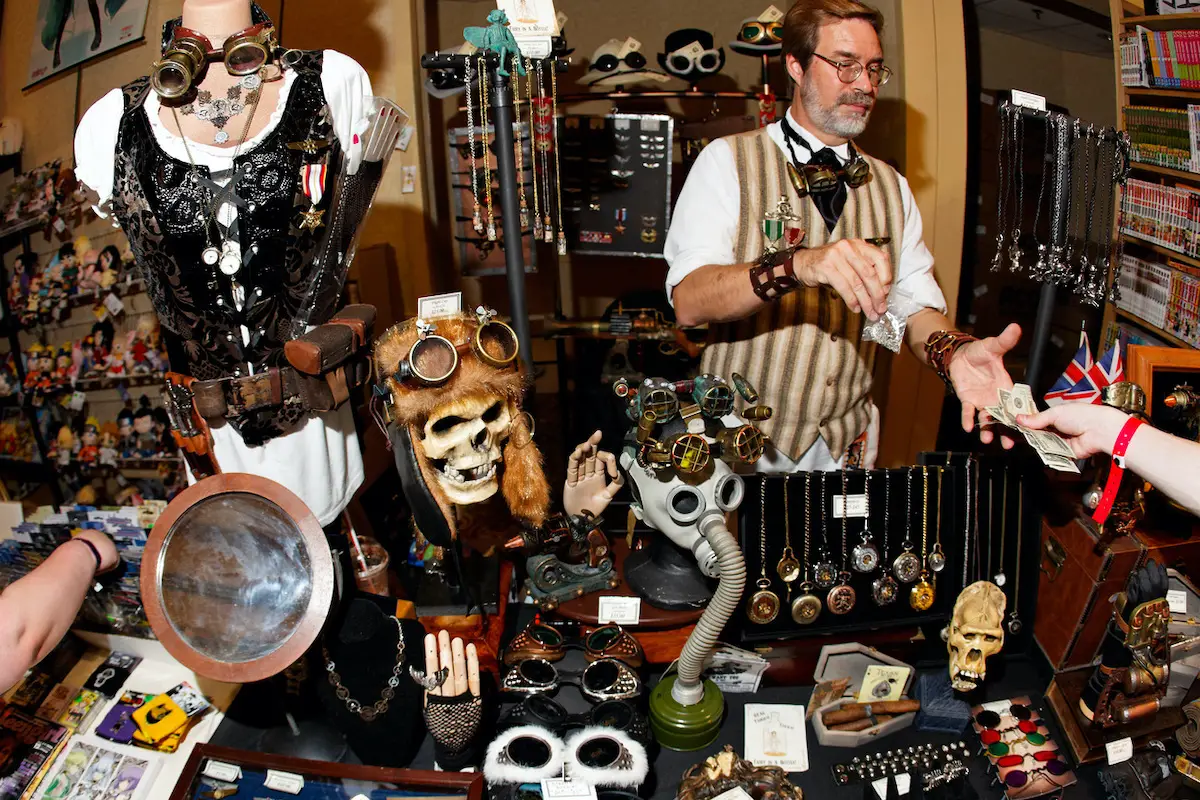 Another frequently seen accessory in the Steampunk world are boots. Boots are such a versatile accessory that come in many different styles. Whether it be military boots, cowboy boots, or Victorian boots. They look great with all outfits, even with dresses.
Hats are a very common and stylish accessory within the Steampunk community. There are many different styles of hat, your choice of course depends on your outfit. If you are dressed in military garments, then a crush cap may be what you are looking for. Or if you are dressed as an explorer, then a safari helmet will be your preferred choice. Hats are an important addition to your outfit; they truly add to your character and make your outfit seem more believable. The many different options of hats add to their importance due to the fact that whatever character you are portraying can be intensified by the addition of a hat.
Ms Steampunk Shoulder Messenger Bag Belt Bag Utility Backpack Leather Hiking Military Tactical Handbag Cycling Pack Gothic Drop Leg Bag
100% brand new-high quality materials, durable and comfortable to wear.
Material: PU leather + polyester lining, durable materials and processes can withstand daily wear and tear.
General purpose: waist bag, crossbody bag, shoulder bag. The wallet is small but powerful. Flexible main storage:
Steampunk style, punk / classic / punk waist bag, steam punk bag, waist bag, leg thigh bag, punk waist bag, fanny bag, wallet, purse bag, belt bag
Suitable for travel, work, study, mountain climbing, camping, cycling and other outdoor activities. If you are not satisfied with the product, please contact us. We will refund the full amount.
Similar to goggles, steampunk glasses can be an important addition to your outfit. Particularly when the sun is out. Steampunk glasses are perfect for when it is a nice day and your goggles don't offer UV protection, but they are also a stylish and casual addition to any outfit. 
Goggles are arguably the most important cog within Steampunk fashion. They are the main identifiable feature of the Steampunk aesthetic. They complete an outfit, whether it be an air pirate, or a pilot, goggles are an essential accessory.
Steampunk Accessories for Women
There are some essential accessories for the women in the world of Steampunk. As mentioned before, the accessories make the outfit. Here are some accessories that are typically seen on Steampunk women although they will look great on all genders.
Victorian style boots are popular among women, the many different styles make them appealing to all different Steampunk styles. For example, some come with a small and thin raised heel, whereas others are chunkier. The length of the boot also varies, this can be particularly appealing to your various Steampunk styles. Victorian boots will look great with a dress or skirt.
Sale
Ladies Lace Up Boots Calf Length Victorian Boots Women Leather Louis Heel Womens Vintage Boots Steampunk Gothic (6.5 UK, Brown)
Victorian Boots Women - Calf Length boots can beautifully embellished your leg shape. Vintage and elegant design perfect for fancy dress and special occasion.
To make sure you get the correct size, please refer to our own size chart instead of Amazon size chart, and you can find it in our pictures or from the description. (1 inch = 2.54 cm)
Suitable for party, holiday, dating, cocktail, club, daily wear and so on.
It is made of high quality materials, ultra comfortable and soft, mid louis heel design comfort enough for your daily wearing.
We are committed to providing each customer with the best quality products and good shopping experience. If you have any problem, please message us(SOOUICKER) 💌💌
Steampunk jewellery has many different options that you can choose, from fancy necklaces with elegant mechanisms, to rings with intricate detail and large gemstones, there is no doubt that there will be jewellery that fits your outfit. Jewellery is your chance to set you apart from the rest of the Steampunk community, it is what can add a little colour and add more character to your look.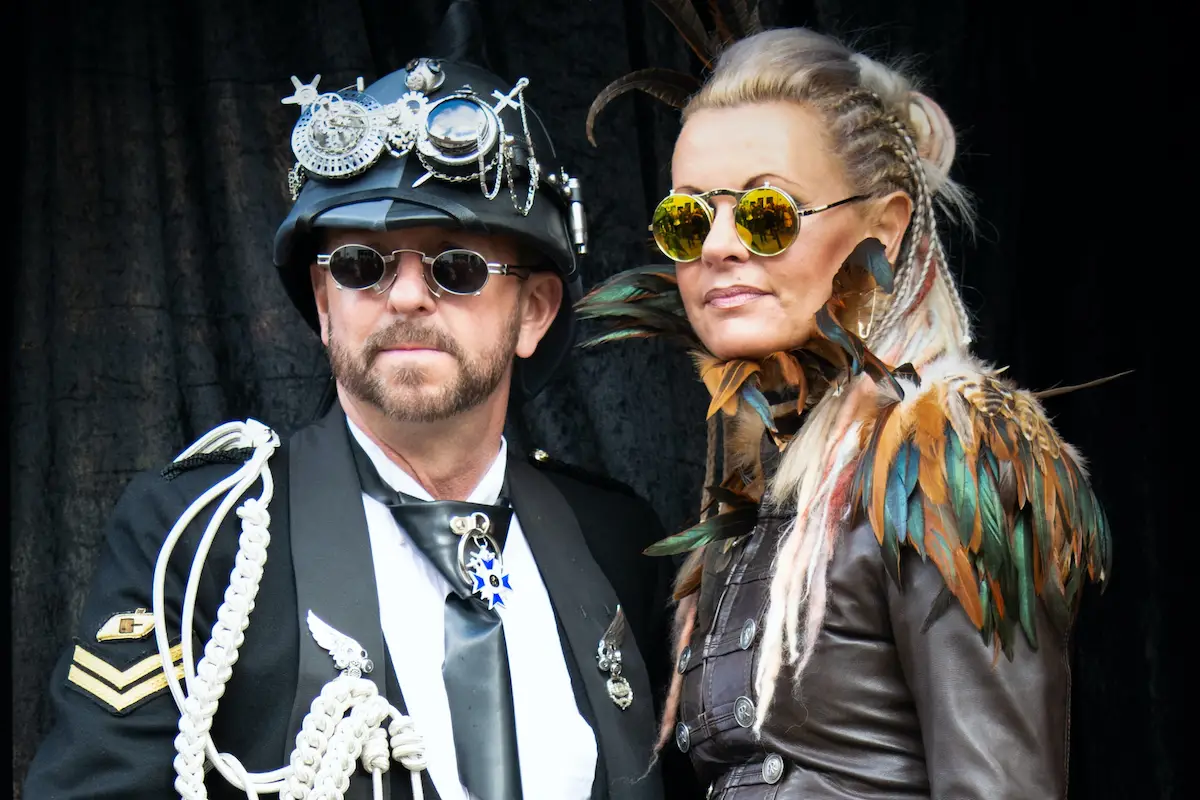 The addition of Victorian gloves to your outfit adds a certain amount of elegance, while also just looking really freaking cool. Gloves are a nice touch to make an otherwise pretty outfit look badass. 
Chokers are a common addition to gothic Steampunk fashion. They come in multiple styles, from the simple to the more intricately detailed. Either way, they are a simple way to make your outfit look even more Victorian in the Steampunk style. Chokers are another versatile accessory that suit all outfits and really bring out the 'do not mess with me' side of Steampunk fashion.
Steampunk Accessories for Men
There are many accessories that are traditionally worn by men, but they will look badass on all genders. 
Monocles or 'monoggles' are a perfect way to add more character to your outfit. They are frequently worn with villainous characters, although they are at times worn with heroic ones. Steampunk monocles are not always what you expect a monocle to look like, they are often tampered with in order to represent the Steampunk aesthetic even further. The addition of cogs and lenses are an inventive and fitting way to make your outfit undoubtedly Steampunk.
The many different styles of pocket watch are also a popular addition to your outfit. Pocket watches, like the monocles, are often tampered with in ways that show the complex pieces of machinery. The pocket watch is an excellent addition to outfits that need some elegance and are also a fitting addition to characters such as explorers. You can read all about how to wear a pocket watch here!
As mentioned in the unisex section, belts are commonly used in order to add something extra to an outfit. However, you can take a belt even further by adding a Steampunk belt buckle. You can buy buckles that fit the Steampunk aesthetic, they feature all sorts of designs such as the symbolic machinery cogs, or even Victorian portrait silhouettes surrounded by elegant designs. The little details can really add to your outfit.
Canes were a popular accessory among higher class men in the Victorian era, and they make a great addition to Steampunk fashion. As like all other Steampunk accessories, there are many different styles that will suit many styles. Canes are the perfect way to assert your characters power and elegance and the many different styles help to portray your chosen message. A plain and simple cane can portray elegance, whereas something such as a dragon or some other kind of monster will convey your power.
If you enjoyed this blog on how to dress Steampunk, you might also like to read about these fantastic steampunk underbust corsets.