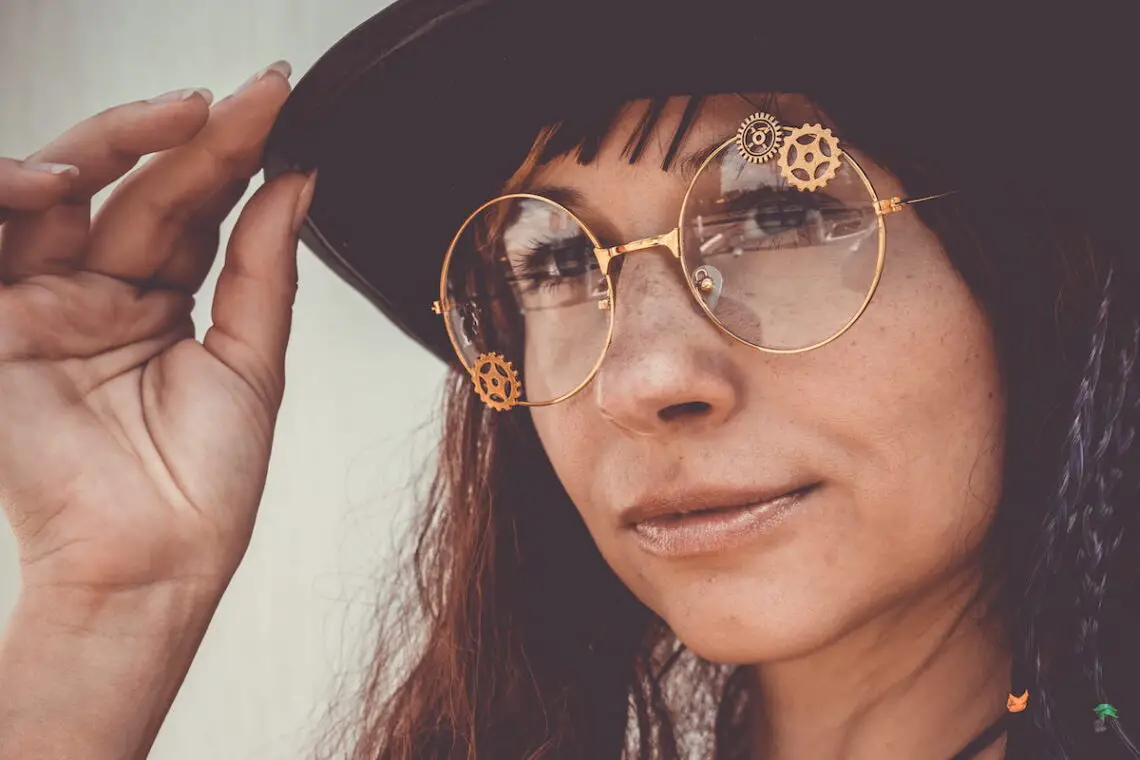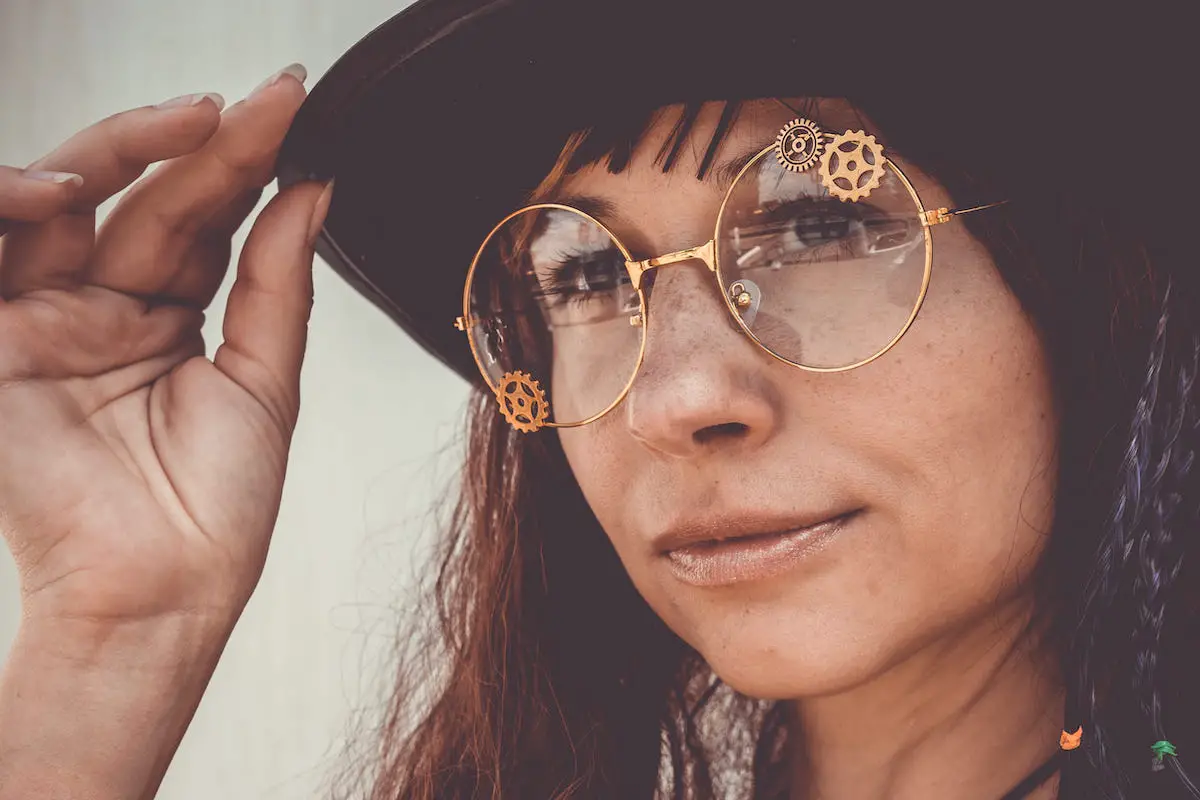 steampunker.co.uk is a participant in the Amazon Services LLC Associates Program and other affiliate advertising programs designed to provide a means for us to earn fees by linking to Amazon.com and affiliated sites. Affiliate links may be used on this page and in steampunker.co.uk articles, but they do not impact on the price that you pay and they do help me to get this information to you for free. Read my privacy policy for more information regarding affiliates.
Steampunk goggles and glasses are likely the most recognisable accessory of Steampunk fashion. They are the identifying segment of what makes the Steampunk aesthetic. That's why choosing the right pair is crucial to your outfit. Whether it be the traditional and bold goggles style, or the everyday pair of sunglasses. Your decision will be based on your purpose. There are many different styles of Steampunk glasses, they come in all shapes and sizes; round frames, rectangular frames, with side shields, without side shields, goggle style, flip ups, or the motorcycle style. There is no lack of choice, that's for sure. Since glasses are a crucial part of your Steampunk outfit, it's wise to make the right choice. Heck buy one of each and switch them around. 
History of Steampunk glasses
The Steampunk aesthetic is focused on the Victorian era mixed with futuristic, steam-powered technology. The type of technology that the Victorian era may have imagined us to have, if we lived in a post-apocalyptic world that is. Therefore, steampunk glasses have the 19th century as a focus for their look. In the Victorian era cinder goggles became mass produced, hence the inspiration for Steampunk goggles, but with slightly more accessories added to them such as spikes and other cool additions. However, most goggles such as the aviator and motorcycle types were introduced in the early 20th century. Goggles, however, are most fitting for conventions and special occasions, Steampunk glasses are more suited as everyday wear and they look darn cool. Sunglasses were first referenced within the Victorian era and the typical styles were round, oval, rectangular, with side shields, without side shields, and goggle style, some even had four lenses. The frames were typically made of metal which of course is also present in Steampunk glasses today.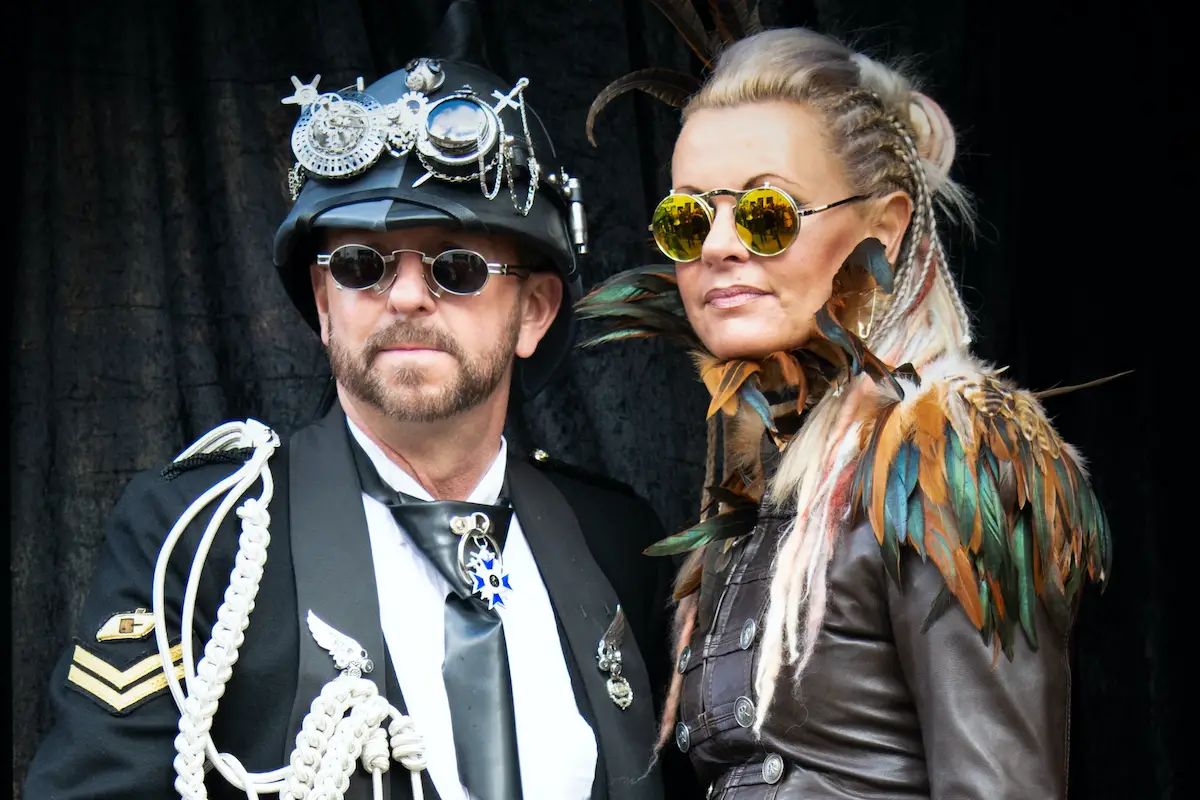 Different types of Steampunk glasses
As mentioned, the type of glasses you are looking for all depends on the purpose. If you are using them for a convention, then goggles will look amazing. However, if you need cool everyday sunglasses then goggles may not be the best choice. There are many different types of sunglasses, some of which include; round, oval, rectangular, with side shields, without side shields, flip ups, goggle style, and biker style. I recommend that you always buy a pair with UV protection. The round style of glasses is perhaps the most commonly found style due to their simple but effective design and… John Lennon. Oval glasses are very similar to the round style, but they offer a slightly less common alternative. Rectangular glasses can range in style, from futuristic to elegant, they are an appealing option to consider. Glasses that have side shields look very dark and mysterious, yet also elegant. The addition of side shields adds to the designs of the glasses, creating a more interesting look. Flip up glasses are also an option, the flip up lenses give an extra bonus as they are essentially two different styles in one. It is even possible for flip up glasses to have sunglasses on the outer lens and then normal prescription glasses on the inner lens. The goggle style glasses are perhaps the most recognised form of Steampunk fashion. They are what outsiders will automatically acknowledge and associate the Steampunk community with. Goggles in my opinion, look the eldest fashioned out of the styles. They come in a range of styles and you can even tamper with them yourself through DIY. Motorcycle goggles are essentially ski goggles. They are large and cover most of your face, this can be a good look depending on your outfit.
Where can you get Steampunk glasses?
You can purchase Steampunk glasses from many online stores such as Amazon, however, marketplaces such as Etsy have incredible options, some of which have been made by people within the Steampunk community. There are even marketplaces on Etsy that take custom orders. 
WearMe Pro-Metal Steampunk Glasses
This round style pair of glasses are very simple and elegant in design. The bridge at the nose is engraved with what looks like Victorian era engraving, fitting for the Steampunk aesthetic. The glasses have coils connecting the rims to the frames, a very futuristic and scavenged look. These glasses may be simple, but they offer a very cool and elegant look.
Red Lensed Vintage Steampunk Glasses
The red lenses of this pair of round sunglasses with side shields offer a unique and dark look, along with the black frames. However, there are other colours available. The sunglasses even have UV protection, bonus. Again, the style is quite simple, but the bold colour will make you stand out from the crowd.
Kaleidoscope Goggles
If you're looking to stand out from the crowd, these Kaleidoscope Steampunk goggles are bound to separate you from the rest. They are colourful and bold with an oil effect covering the frames and spikes, the oil effect perfectly captures the mechanical element of the Steampunk aesthetic. The goggles even have kaleidoscope lenses that are removable, a perfect addition to the sci-fi side of the Steampunk world.
Flip Up Steampunk Sunglasses
These flip up sunglasses are UV protected and provide another simple option. The bridge between lenses is unusually thick and shaped differently to other glasses of the style. The bridge between the nose creates a Steampunk look by appearing almost homemade. 
Polarised Steampunk Sunglasses
This style of glasses almost combines goggles and glasses with the addition of leather side shields. They almost have a military look to them which is perfect if your Steampunk outfit is military inspired. 
Etsy Steampunk Goggles
These steampunk goggles are customisable by an Etsy seller. The images show a few custom-made creations that have been made in the past and they all look incredible. The detail makes them look so professional and accurate. They are also made from strong materials and look sturdy. If you have always wanted to create your own pair but are useful with that sort of thing, these will be a good option for you. 
Etsy Authentic Soviet Aviation Goggles
If the motorcycle or aviator look is your preferred style then look no further, these goggles are perfect for you, particularly if your outfit is based around military garments. These authentic aviation goggles are accurate and believable because, get this… they are authentic. They are actually from the warehouse of the Soviet army. You can't get a more authentic military outfit than from buying from the military itself. 
Sqaure Blue or Red Tint Sci-Fi Glasses
Finally, if rectangular lenses are what you are looking for then these red or blue tinted square sci-fi glasses are perfect. They have a unique design that makes them look like something from the sci-fi genre, while also maintaining elegance and class. They also offer UV protection. These glasses will even zazz up an everyday outfit.