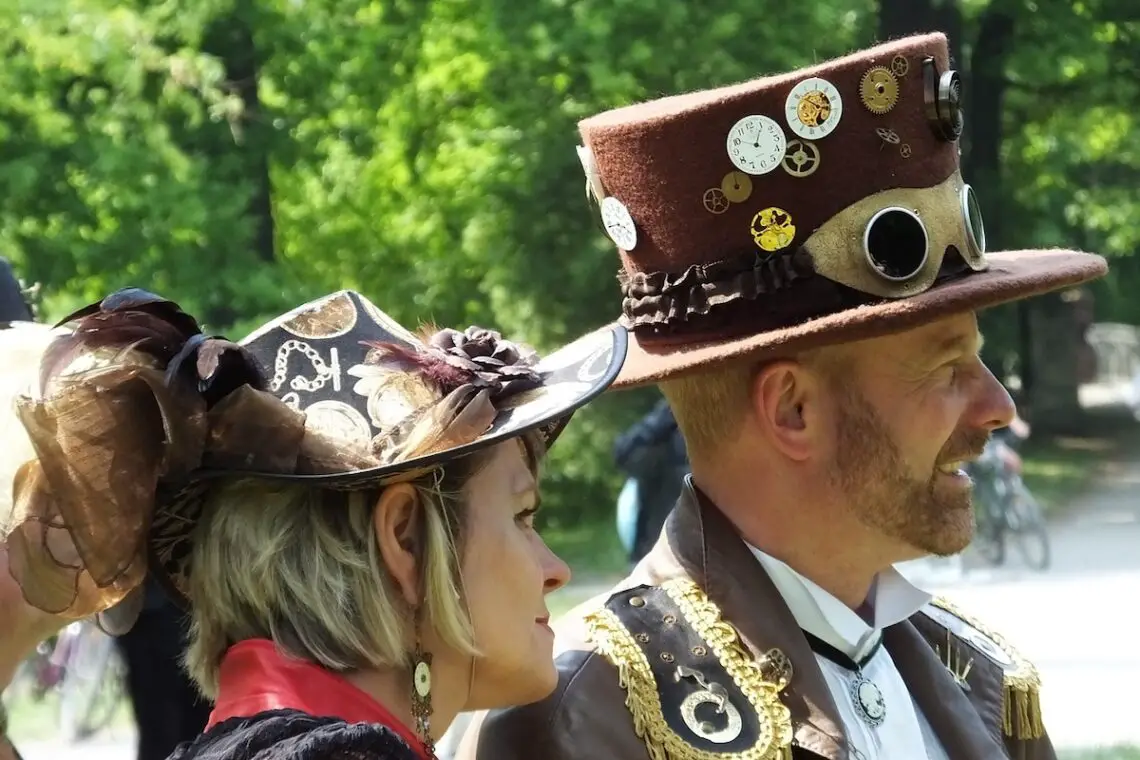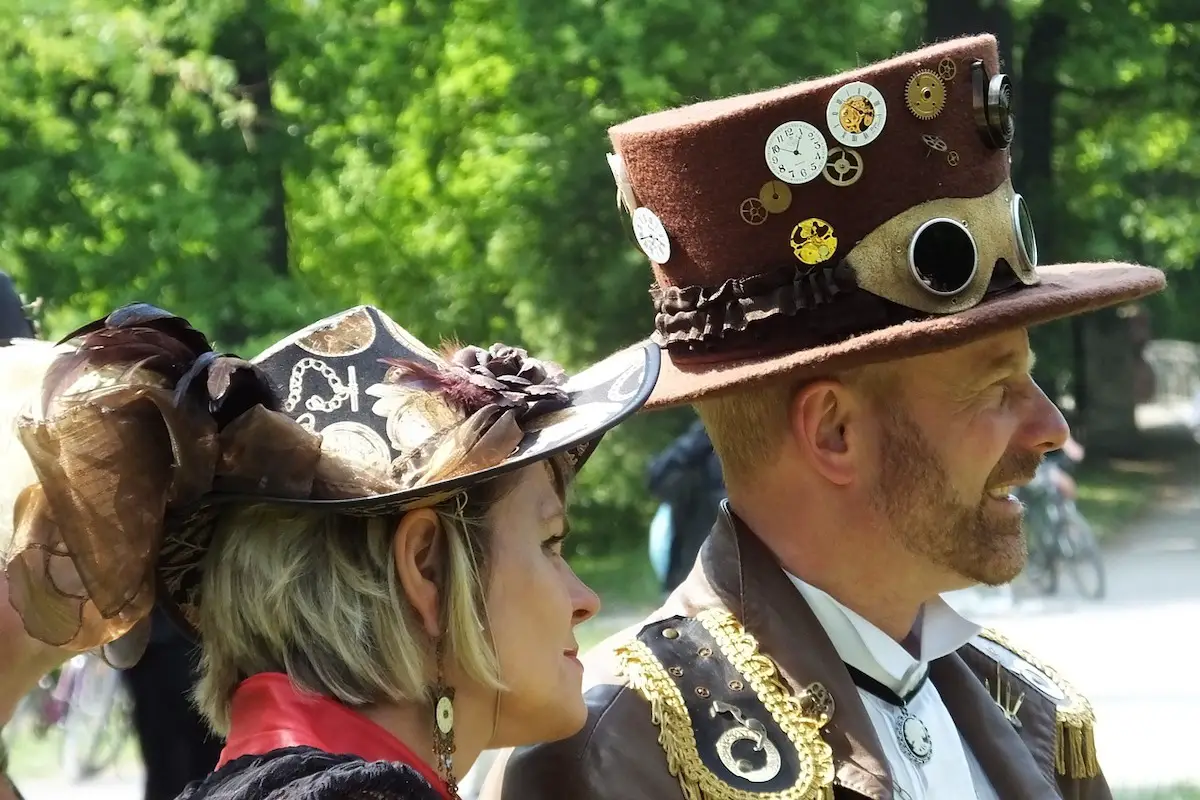 steampunker.co.uk is a participant in the Amazon Services LLC Associates Program and other affiliate advertising programs designed to provide a means for us to earn fees by linking to Amazon.com and affiliated sites. Affiliate links may be used on this page and in steampunker.co.uk articles, but they do not impact on the price that you pay and they do help me to get this information to you for free. Read my privacy policy for more information regarding affiliates.
Steampunk fashion is heavily influenced by Victorian, neo-Victorian and Industrialist styles. These may not necessarily be historically accurate- it seems unlikely that a Victorian gentleman in a top hat would also need a pair of goggles- but the fantasy elements combined with 'steampunk jobs' mean that these often collide and create the most recognisable elements of steampunk fashion. Some of the steampunk hats come with the other 'staple', namely steampunk goggles. There are several fun options: either you can have steampunk hats with integrated goggles, wear a hat with separate goggles or wear a hat with integrated goggles and wear separate goggles over your actual eyes! Creativity is an essential part of the steampunk community and finding new ways to mix up your look is bound to get you noticed.
We've got some great hats here to help you find the perfect finishing touch to your steampunk cosplay.
This hat isn't as tall as a typical top hat, but this makes it much less cumbersome for the wearer. It's got all the elements one would hope for in a steampunk hat- specifically, studded goggles- and has fun detailing with cogs and feathers. It's also easy to customise, so you can try adding some more things too!
Again, this hat is more of a bowler hat than a top hat but that doesn't mean it isn't great! The accessories are much more concentrated, which builds a more authentic mechanical look. The other details are skulls, chains and goggles: steampunk staples, and in dull bronze will coordinate well with the rest of your outfit.
Don't be put off by the lack of goggles on this hat- you can wear some over your eyes instead! This is a very different take on a traditional steampunk hat, but there are some clear advantages. Firstly, it's much easier to put on and keep on. If you've got a big or small head, hats are often a nightmare, so having something that fits in with a hairpiece makes things much easier. Secondly, this can be incorporated into a hairstyle without flattening it, and finally, this is much easier to keep in place and you won't have to worry about it slipping off to one side. This hat also has all the typical steampunk pieces you'd hope for: feathers, top hat and sequins.
One of the great steampunk 'jobs' is aviator, and that's often partially credited for the popularity of goggles. This hat is perfect for any kind of steampunk pilot and looks super comfortable, too! The earflaps are nicely lined and the front patch matches nicely. It'd be easy to wear a pair of goggles with this hat to complete the look, but it would work perfectly without them too.
This item seems like a clear return to the 'normal' steampunk wear: it's a nice hat, solid and structured like a tophat, with goggles, cogs and feathers as part of the design to make it even more steampunky. But don't put it on your head yet, because it's actually a decoration and comes with the skull model attached! This would make a great decoration for a halloween or steampunk themed party, or just a fun way to brighten up your room.
If you like symmetrical patterns and uniformity, this hat might be perfect for you! The design is somewhere between trilby and top hat, which gives it a nice halfway height and a good rim. The goggles are included and have even, matching spikes in a punky/steampunk manner. Finally, the details include cogs and chains organised very neatly. The two at the front look a little like smiley faces, giving the hat a friendly feel.
This is an interesting hat because it's both clearly steampunk and relatively minimalist. There is a chain, cogs and lacing on the side, but it's done in a fairly unshowy manner. It works well with what it's got. This hat is much more masculine-seeming than some of the other hats.
Although a lot of steampunk pieces are heavily influenced by Victorian fashions and the Industrial revolution, it's often fun to dip into other eras. This hat has a clear roaring '20s look, and we love it! The colours and details are very obviously typically steampunk, but the shape and big bow make it more flapper than industry titan. It's also much smaller than you might expect- it could technically be classified as a fascinator instead of a hat. There are two small clips underneath so you can position it as you like, which gives you the option of doing all kinds of different things with your hair as well.
This hat has one of the elements that you don't often see in steampunk, but has the potential to become much more popular: compasses! In a movement defined by its relationship to mechanical engineering and exploration and aviation, it seems odd that this doesn't crop up more often. If you'd like to start to make this a bigger part of the movement, try this little hat! Much like the one above, it's really small and you can position it how you like and still have your hair as extravagant as you desire. In fact, if you wanted to really go overboard you could look into organising some kind of beehive and sticking both hats in there! This hat also has the typical steampunk details: feathers, cogs and chains, and is a nice top hat shape.
Finally, we have a comical hat. This isn't your typical steampunk wear, but it is a lot of fun! Inspired by Lewis Carroll's Alice in Wonderland, this hat takes elements from the original illustrations and the later Disney adaptations. If you're looking to cosplay as a specific character this could be perfect, but there's no reason that it couldn't work for a more generic steampunk look too. It doesn't have any cogs or goggles, but there is a feather which gives it a much more steampunky feel.
If you enjoyed this blog on steampunk hats you might also like to read about: