steampunker.co.uk is a participant in the Amazon Services LLC Associates Program and other affiliate advertising programs designed to provide a means for us to earn fees by linking to Amazon.com and affiliated sites. Affiliate links may be used on this page and in steampunker.co.uk articles, but they do not impact on the price that you pay and they do help me to get this information to you for free. Read my privacy policy for more information regarding affiliates.
Steampunk jewellery is a lot of fun. It can be dramatic and gothic or mechanical and play into the clockwork preoccupation of steampunk. There are a few classic pieces that we think every steampunkess should have and other, more unique items that'll make you really stand out. There's so many different places to search for that perfect piece, from big names like Amazon to smaller, more boutique shops with independent craftspeople who hand make every artisanal piece. Cogs and gears are always popular, and mythical beasts add a fantasy touch to any look. You could even move towards something more gothic with a skeleton and a heart!
Joji Boutique Steampunk Collection: Antiqued Mix-Tone Gear & Cog Circle Drop Earrings
JewelryWe Vintage Heart Locket Style Steampunk Pocket Watch Pendant Long Necklace 31.5 Inch Chain (with Gift Bag)
BestTungsten 8mm Silver/Black Tungsten Rings for Men Women Wedding Bands Steampunk Gear Wheel Blue Purple Carbon Fiber Inlay Beveled Edges Comfort Fit
Joji Boutique Steampunk Collection: Antiqued Mix-Tone Gear & Cog Circle Drop Earrings
JewelryWe Vintage Heart Locket Style Steampunk Pocket Watch Pendant Long Necklace 31.5 Inch Chain (with Gift Bag)
BestTungsten 8mm Silver/Black Tungsten Rings for Men Women Wedding Bands Steampunk Gear Wheel Blue Purple Carbon Fiber Inlay Beveled Edges Comfort Fit
Steampunk Earrings
Let's start with these cog and gear steampunk earrings on ETSY. A lot of craftspeople have interpreted cog and gear earrings as dangling earrings where each cog only touches the next. That's lovely, but consider this: a peek inside the machine at the cogs working together as they're supposed to. There's something much more naughty or intimate in this: imagine a child finding a secret machine made by a mysterious figure. On a much more practical note, these are covered in clear plastic so there's no chance of getting them tangled up in hair that covers earlobes. They're gender neutral and add a great touch to any steampunk attire. 
I also totally love these cog and gear earrings on Amazon. They're from Joji Boutique steampunk collection and 1inch golden circle with gold, silver and bronze coloured cogs.
Mechanical Brooches
This Mechanical heart brooch is a really interesting piece from HandmadeSteampunkJewellery.co.uk. It gives the appearance of being clockwork whilst only containing one tiny clog. Everything else is classic steampunk- the nib, the clock, the key. It's made of antique bronze and has a wonderfully gothic feeling.
Steampunk Necklaces
Mechanical heart necklace:
Mechanical hearts are, in a way, the heart of the steampunk movement. If fantasy asks us where machines and humans overlap there's nothing that fundamentally encapsulates this idea better than something so strongly associated with emotion (a heart) and something utterly mechanical, like cogs.
This mechanical heart necklace from Kinky Angel does so with beautiful simplicity- mechanical hearts can become heavy and overlarge at times, but this cuts to the essence: clockwork on the inside, clockwork outside. There's a crystal, too, which makes this more of a classic necklace, and then an attachment at the middle of the chain which gives it an unusual shape. The wearer could easily layer this with other necklaces but it works perfectly alone. Adjust it to fit so it falls just above the corset of a full steampunk outfit or wear it with your everyday clothes to add a personalised twist. 
Skeleton Key Necklaces
For a darker steampunk look try incorporating skeletons somewhere. The skull key can be a fun way to develop a backstory for a steampunk persona, and this is a great way to point to it. These necklaces are available on Amazon.com. They have a brass feel and will go with all of your steampunk outfits.
My favourite is this map skeleton key necklace which is great for travellers. It would go perfectly with nautical or aviation steampunk cosplay.
Steampunk Pocket Watch necklaces
Pocket watches are always fun and are a top feature in steampunk jewellery. They crop up constantly in steampunk, fantasy and SciFi media, and now you can have one without the hassle of a waistcoat. This Kinky Angel pocket watch necklace is heavily influenced by fantasy with a dragon on the front, but still operates as a fully functional watch. It's a great and classic accessory to complete any steampunk outfit.
I totally love this steampunk style vintage heart pocket watch necklace available on amazon.co.uk.
JewelryWe Vintage Heart Locket Style Steampunk Pocket Watch Pendant Long Necklace 31.5 Inch Chain (with Gift Bag)
【Delicate Design】vintage bronze tone with love heart shaped,hollow flower pattern cover,nice weight and comfort fit.A lovely gift for women girls.
【A Working Pocket Watch】this heart pocket watch with chain use the quality precise quartz movement,battery included! It is a functional pocket watch with the exquisite appearance.Press the crown at the top of watch, the front plate will open; Pull the crown away from base of the watch and turn the crown clockwise until reaching the exact time.The time is set up.
【Ideal Gift for Her】delicate design and high standard workmanship,make this love heart pocket watch necklace a great gift.Ideal as birthday present, wedding, anniversary, party, Valentine's Day, Christmas gift etc.
【Specification】Pocket height: 4cm; width: 4cm, thickness: 1cm;Weight: 47g. Chain length: 80cm; Perfect gift for teengirls, ladies, women and mother.The chain is easily removed and replaced with the other chain as you like.
【Well Packing】including one blue velvet bag printed "JewelryWe" on it.It's already well packed and ready to gift! If any question,please do not hesitate to email us .We will do our best to assist you!
Victorian Style Chokers
The choker is an underrated part of steampunk style. There's a lot of different options for pocket watches and goggles, but chokers are both gorgeous and fairly unusual. This particular one is detailed and intricate and would work excellently with a corset of a similar colour. The high neck is evocative of highly strung Victorian women but the lace is sexy and the jewel decadent. It could be worn with many different outfits for a fun clash or an extension of the look. 
Steampunk Bracelet
This Steampunk Bracelet also dives into the fantasy element of steampunk: from cthulhu to the kraken, the horrors of the sea have always been a fascinating part of steampunk. This type of steampunk jewellery could be worn as part of a sailor/pirate look. Steampunk engineers are often interested in ships because they call back to the industrial/Victorian transport, so there is a clear nautical element to many steampunk fashions. The bracelet's colour is also great for steampunk: bronze tends to work well with brown silk corsets and skirts.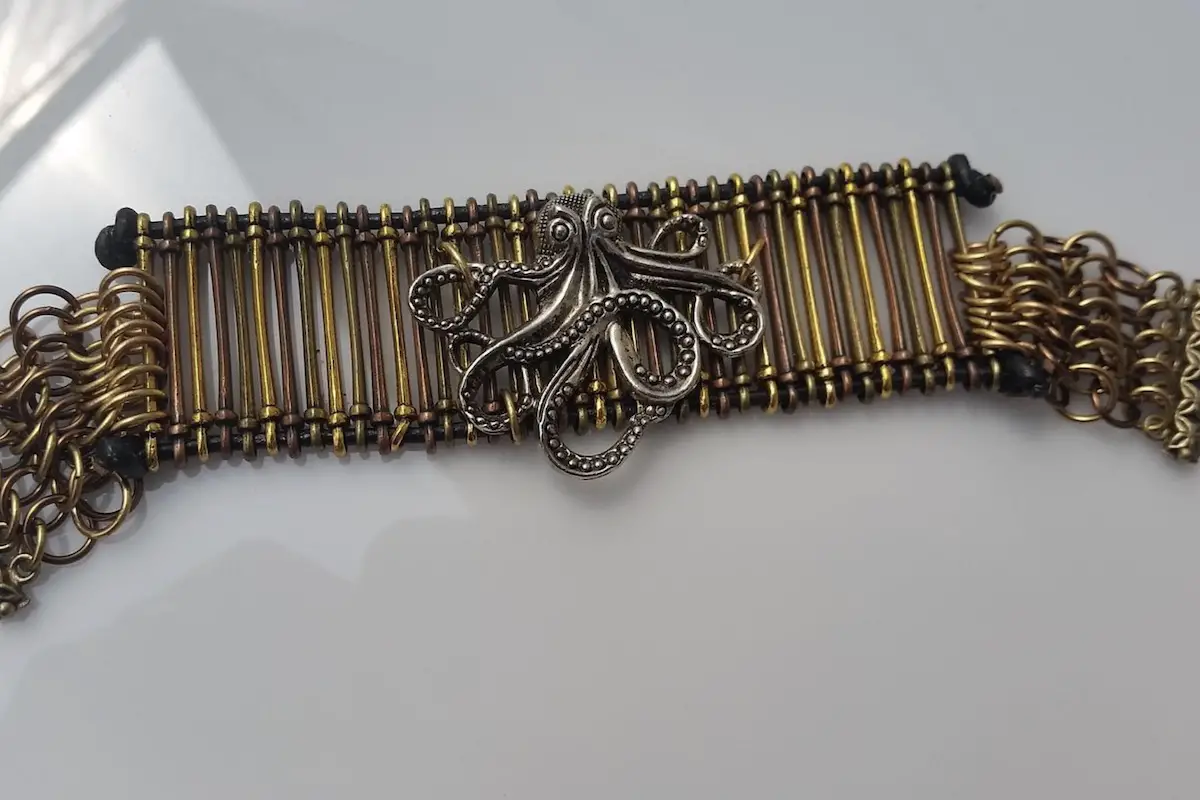 Steampunk Ring
Another classic piece is a ring. This makes a wonderful gift for a steampunk friend or loved one, but you might want to keep it for yourself! The colours are lovely and slightly unusual- you don't often find blue in steampunk jewelry- and complement each other perfectly. It's also shiny and catches the light, but is durable and won't scratch easily. You can wear this ring on any finger and there's a range of sizes to choose from.
BestTungsten 8mm Silver/Black Tungsten Rings for Men Women Wedding Bands Steampunk Gear Wheel Blue Purple Carbon Fiber Inlay Beveled Edges Comfort Fit
Crafted from Genuine Tungsten Carbide. Scratch Resistant, Never Tarnish, Great Weight, Exquisite Craftsmanship, Ideal Rings for Wedding, Anniversary, Engagement, Party, Birthday, Valentine's Day, Mother's Day, Father's Day, Thanksgiving Day and Christmas Day.
Treat Each Client As Our Friend, This is the Way We Do Business! Please Do not Hesitate to Contact Us if You Have Any Issues after Purchasing, We Will Definetely Provide You Perfect Solution Until You Feel 100% Satisfactory With Us.
"BestTungsten" is Operated by Professinal Tungsten Ring Manufacturer Directly, That's Why Our Price is Much Lower than Other Vendors. If you Would Like to Wholesale Our Products, Please Contact Us. We Promise We Are Able to Provide Your Company the Most Competitive Price in the Market that Any Other Suppliers Can Not Beat!
International products have separate terms, are sold from abroad and may differ from local products, including fit, age ratings, and language of product, labeling or instructions.
Steampunk Cufflinks
These steampunk cufflinks are wonderfully versatile. They're advertised as wedding cufflinks, which is certainly accurate, and they'd be a great gift for a steampunk groom on his wedding day, but they can also be worn with any suit or to a steampunk convention. The red stands out nicely as a detail within a detail and could easily be matched with a waistcoat or flowers. 
Other Steampunk Accessories
Remember that accessorising Steampunk style isn't just about jewellery. How about a leg belt harness or a plague doctor mask?!
If you're a keen wearer of hitched skirts or trousers, there's always something fun in garters and leg harnesses. Some people might like them as a fun detail or as a place to store a little accessory. This steampunk leg harness from Etsy is adjustable and you can add chains, cogs or mechanical hearts to the ring. It adds a slightly more kinky/gothic feeling to an outfit and can be displayed or hidden as you prefer.
In the past year (even pre-pandemic) there's been an online swell of love for plague doctors. The attempts at hazmat suits and masks are in turn hilarious and ridiculous, whilst reminding people of the darker times they're associated with. If you're committed, you could try a plague doctor mask.
PartyHop Plague Doctor Mask Brown Leather Long Nose Bird Beak Steampunk Masks Costume Props for Masquerade Halloween Party Carnival Cosplay
【SIZE】One size fits most children and adults. You can adjust the belt to make it fit your head.
【MATERIAL】The transparent and anti-fog lens give you a good sight. The environmental-friendly and non-toxic PU leather ensure your health, no strong odor,last longer.
【BREATHABILITY】The ventilation holes ensure the comfortable breathe. Better breathability also ensures less fog on the lens.
【DEFORMATION】If the beak can not hold the shape, you can stuff some paper(or something others) in it.
【NOTE】Only 1 mask is for sale. The wand and hat will not come with the mask.
If you enjoyed this blog on steampunk jewellery, you might also like to read our article on steampunk accessories and gothic jewellery.