steampunker.co.uk is a participant in the Amazon Services LLC Associates Program and other affiliate advertising programs designed to provide a means for us to earn fees by linking to Amazon.com and affiliated sites. Affiliate links may be used on this page and in steampunker.co.uk articles, but they do not impact on the price that you pay and they do help me to get this information to you for free. Read my privacy policy for more information regarding affiliates.
Steampunk accessories are often the identifiable feature of any Steampunk look, from essentials such as goggles or top hats, to pocket watches or boots. These items help to complete the Steampunk aesthetic. Without them, it is doubtful that your outfit will be considered as Steampunk fashion. The unique accessories within Steampunk fashion are arguably the most important part of any outfit, it's what makes it 'Steampunk'.
Ellie Shoes Men's 1" Heel Knee High Boots(Sizes) M BKBN
GRACEART Victorian Steampunk Top Hat (Women), Head circumferences-58CM, Style-12
Ellie Shoes Women's 253-SARAH Mid Calf Boot, Black, 6 UK
BOSHIYA Mens Vintage Skeleton Pocket Watch Steampunk Windup Half Hunter Mechanism Gear Cover with Chain
Ellie Shoes Men's 1" Heel Knee High Boots(Sizes) M BKBN
GRACEART Victorian Steampunk Top Hat (Women), Head circumferences-58CM, Style-12
Ellie Shoes Women's 253-SARAH Mid Calf Boot, Black, 6 UK
BOSHIYA Mens Vintage Skeleton Pocket Watch Steampunk Windup Half Hunter Mechanism Gear Cover with Chain
Essential Steampunk Accessories
Some items are essential for any Steampunk outfit, they are in many ways the identifiers of the Steampunk aesthetic.
Utility Belt
A utility belt is a commonly used accessory within Steampunk fashion. It adds an extra something to your outfit and also gives you a place, or multiple, to store your other accessories.
GearDuke Halloween Steampunk Retro Motorcycle Bag Lady Bag Retro Rock Gothic Goth Shoulder Waist Bags Packs
[ Special Design ] Cool out looking. And you can ware it on your waist, It's cannot be very big on your waist but not enough enough for a phone, keys, wallet and a larger compartment that you could put some more things things into.
[ Adjustable Strap ] There is a max and a min the straps can adjust to. It can be adjusted to fit your body perfectly.
[ Easy to wear with instruction ] The bag seems a little complex, but super easy to figure out how to wear it. Please take a little time to check the instruction images. You will know how to wear it. And it's very comfortable on your leg or waist.
International products have separate terms, are sold from abroad and may differ from local products, including fit, age ratings, and language of product, labeling or instructions.
Steampunk Boots
Another frequently seen accessory in the Steampunk world are boots. Boots are such a versatile accessory that come in many different styles. Whether it be military boots, cowboy boots, or Victorian boots. They look great with all outfits, even with dresses.
Ellie Shoes Men's 1" Heel Knee High Boots(Sizes) M BKBN
MENS HALLOWEEN COSTUMES - Male Costume Boots for Steampunk, Victorian, Time Traveler, Reinaissance, and Vintage Dancer costumes
MENS BOOT SIZING - Small 8-9, Medium 10-11, Large 12-13, X-Large 14
BOOT MEASUREMENTS - 1" Heel, Shaft measures 16.5" from the arch and Circumference measures 14" around
STEP BACK INTO TIME - Victorian Steampunk boots are costume essentials to designing your Time Traveler to Renaissance DIY costume
ELLIE SHOES COSTUME COLLECTION - This line of shoes will put you into full character by adding that final touch to your costume creating the look you want
Steampunk Hats
Hats are a very common and stylish accessory within the Steampunk community. There are many different styles of steampunk hats, your choice of course depends on your outfit. If you are dressed in military garments, then a crush cap may be what you are looking for. Or if you are dressed as an explorer, then a safari helmet will be your preferred choice.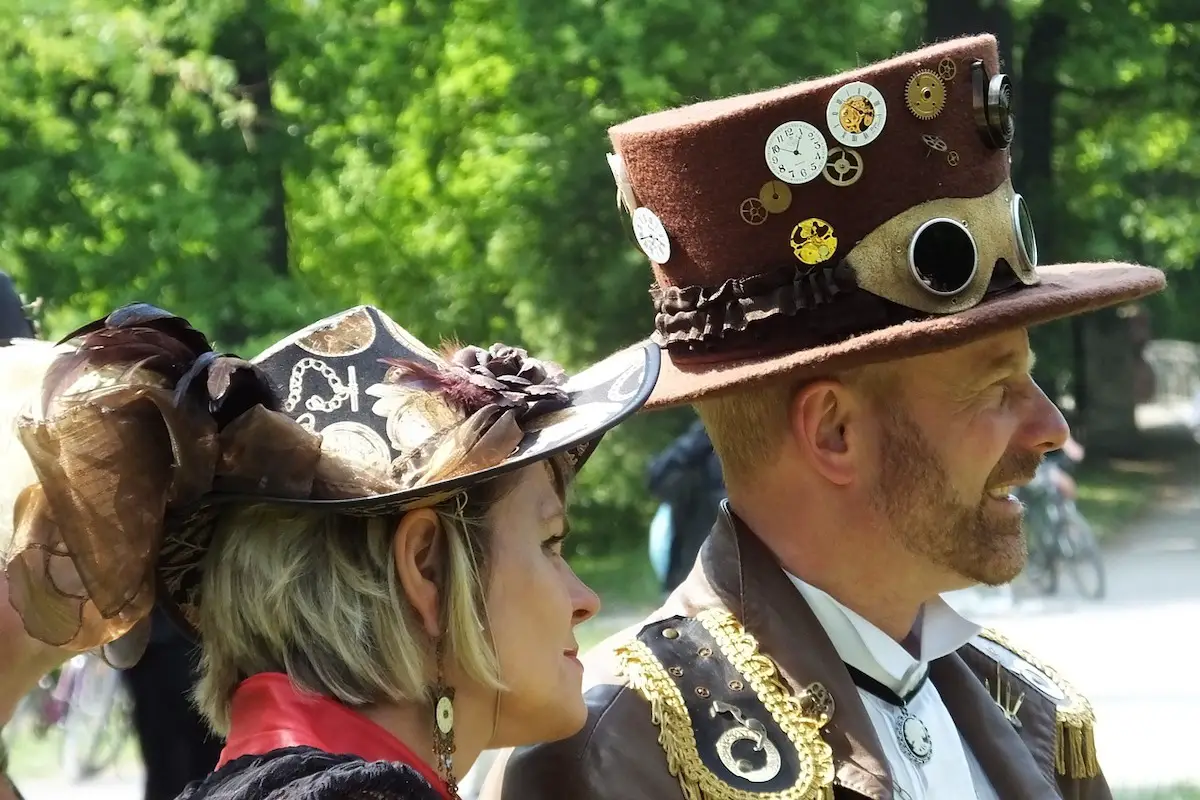 Hats are an important addition to your outfit; they truly add to your character and make your outfit seem more believable. The many different options of hats add to their importance due to the fact that whatever character you are portraying can be intensified by the addition of a hat.
Steampunk Goggles
Goggles are arguably the most important cog within Steampunk fashion. They are the main identifiable feature of the Steampunk aesthetic. They complete an outfit, whether it be an air pirate, or a pilot, steampunk goggles are an essential accessory.
Lelinta Victorian Style Steampunk Goggles Ocular Loupe Eyewear Costume Accessory - - Adjustable
THE MOST DISTINCTIVE STEAMPUNK GOGGLES:Unique Clothing Accessories - Lelinta steampunk goggles,retro Victorian style,double magnifier + adjustable rubber band,as the picture shows.
INTERESTING COLORED LENSES:yellow lenses,green lenses,pink lenses give you a colorful world.Combine the old silver and red-brown frame to make you truly return to the Victorian era and feel the steampunk together!
UNIVERSAL SIZE:Adjustable elastic headband made of rubber makes it more comfortable to wear,can be adjusted according to your own size,whether it is men,women,children,the elderly,role-players - because it is suitable for everyone size !
DECORATE YOUR PERSONAL IMAGE:You can wear a variety of carnival glasses on your glasses or on your head or neck.Cool goggles provide a satisfying score for your personal look.
APPLICABLE SCOPE:Ideal For Fireworks,Halloween,Music Festival ,Firework Shows,Carnivals,Concerts,Edm Festivals,Science Class,Holiday Led Show,Gothic Costumes,Women/Men's Accessories,Gothic,Carnival Masks,Lasers,Burning Man.
Steampunk Glasses
Similar to goggles, steampunk glasses can be an important addition to your outfit. Particularly when the sun is out. Steampunk glasses are perfect for when it is a nice day and your goggles don't offer UV protection, but they are also a stylish and casual addition to any outfit. 
Dollger John Lennon Round Sunglasses Steampunk Metal Frame, Black Lens/Gold Frame, Round sunglasses
★STYLISH&COOL DESIGN-Round Retro Look Glasses. Groovy John Lennon style makes you more attractive and eye-catching in outdoor activities or in the party, and enjoy the gushing compliments when wearing these celebrity sunglasses.
★ STEAMPUNK METAL TEMPLE-These temples are made with metal with reinforced "Flex Fit" metal hinges. AND this great shape suits any face and is perfect for women who are looking for that sophisticated yet timeless pair of shades.
★MIRROR ROUND LENS -The black Steampunk glasses blocks harmful UVA & UVB Rays, restores true color, eliminates reflected light and scattered light ,protecting eyes perfectly.
★PREMIUM PACKAGE – Comes with Brand Gift Box, Sturdy Case,Authentic Pouch, Soft Cleaning Cloth, Small screwdriver key chain to fix, help you to carry everywhere you go and long time keep.
★LIFETIME BREAKAGE WARRANTY ON FRAME & LENS -In case any broken problem happens, Dollger provides lifetime after sale service for all products.
Popular Steampunk Accessories for Women
There are some essential accessories for the women in the world of Steampunk. As mentioned before, the accessories make the outfit. Here are some accessories that are typically seen on Steampunk women although they will look great on all genders.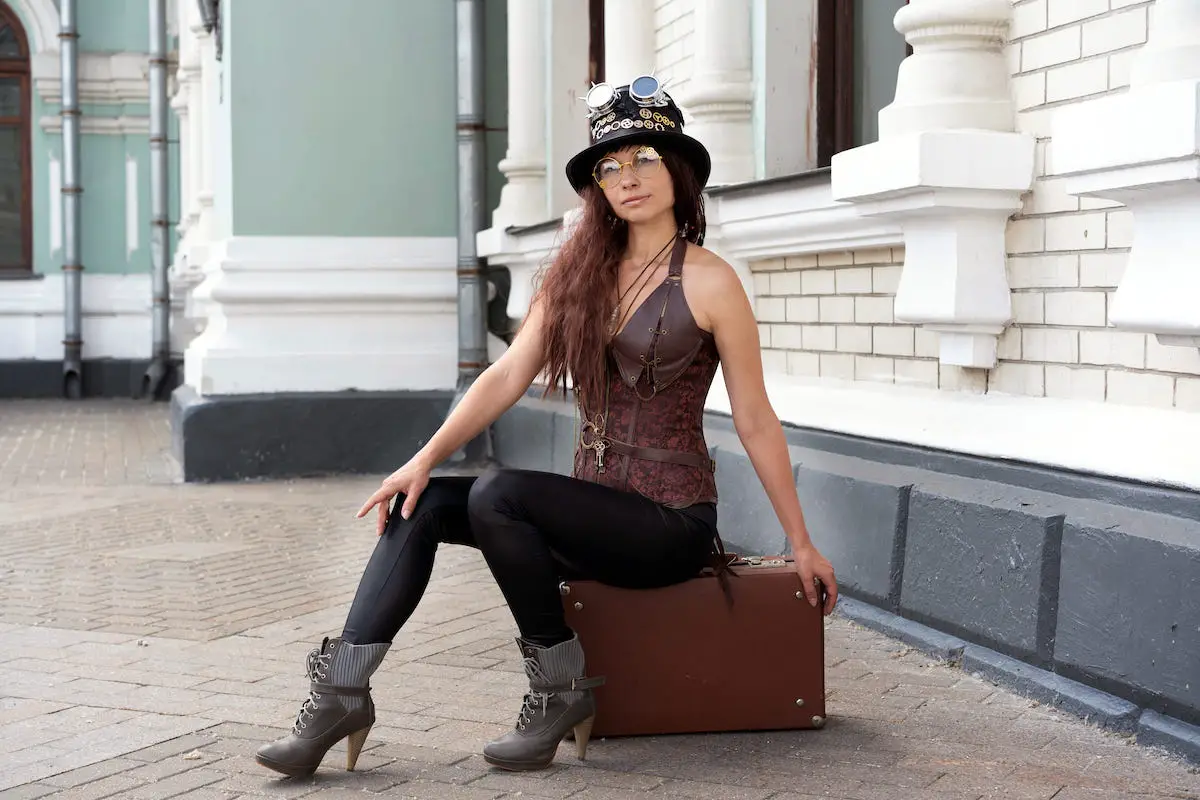 Victorian Boots
Victorian style boots are popular among women, the many different styles make them appealing to all different Steampunk styles. For example, some come with a small and thin raised heel, whereas others are chunkier. The length of the boot also varies, this can be particularly appealing to your various Steampunk styles. Victorian boots will look great with a dress or skirt.
Steampunk Jewellery
Steampunk jewellery has many different options that you can choose, from fancy necklaces with elegant mechanisms, to rings with intricate detail and large gemstones, there is no doubt that there will be jewellery that fits your outfit. Jewellery is your chance to set you apart from the rest of the Steampunk community, it is what can add a little colour and add more character to your look.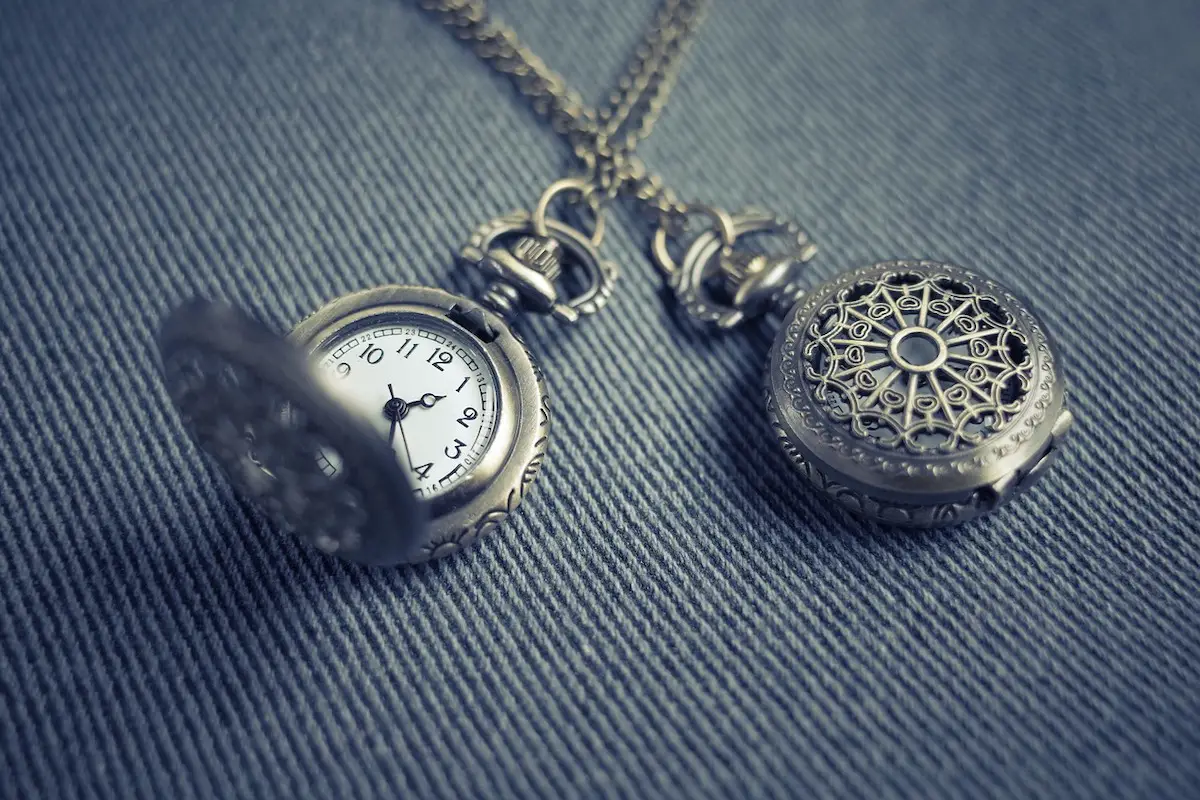 Victorian Chokers
Chokers are a common addition to gothic Steampunk fashion. They come in multiple styles, from the simple to the more intricately detailed. Either way, they are a simple way to make your outfit look even more Victorian in the Steampunk style. Chokers are another versatile accessory that suit all outfits and really bring out the 'do not mess with me' side of Steampunk fashion.
Victorian Gloves
The addition of Victorian gloves to your outfit adds a certain amount of elegance, while also just looking really freaking cool. Gloves are a nice touch to make an otherwise pretty outfit look badass. 
SATINIOR Ladies Lace Gloves Elegant Short Gloves Courtesy Summer Gloves for Wedding Dinner Parties - Black - Medium
Material: made of nylon and spandex, which is silky and smooth with delicate floral pattern, looks lovely and fabulous; Elastic wrist comfortably fit most ladies
Spring and summer gloves: these gloves can protect your hands from sun exposure in the spring and summer effectively; These lace gloves can easily match with your different dresses
Meet your needs: the gloves have many colors of gloves, they are white 1, white 2, black 1, black 2, please read product description and pictures carefully, include flouncing wrist which adds femininity and cuteness and flat wrist which is formal and easy to match
Classic and elegant: these short lace gloves seems simple, however, decorated with lace, increasing beautiful presence to make you more attractive
Application: these dressy lace gloves are suitable for various occasions, such as church, tea parties, opera, concerts, banquets, prom, Halloween costume, Easter, baptism and more
Popular Steampunk Accessories for Men
There are many accessories that are traditionally worn by men, but they will look badass on all genders.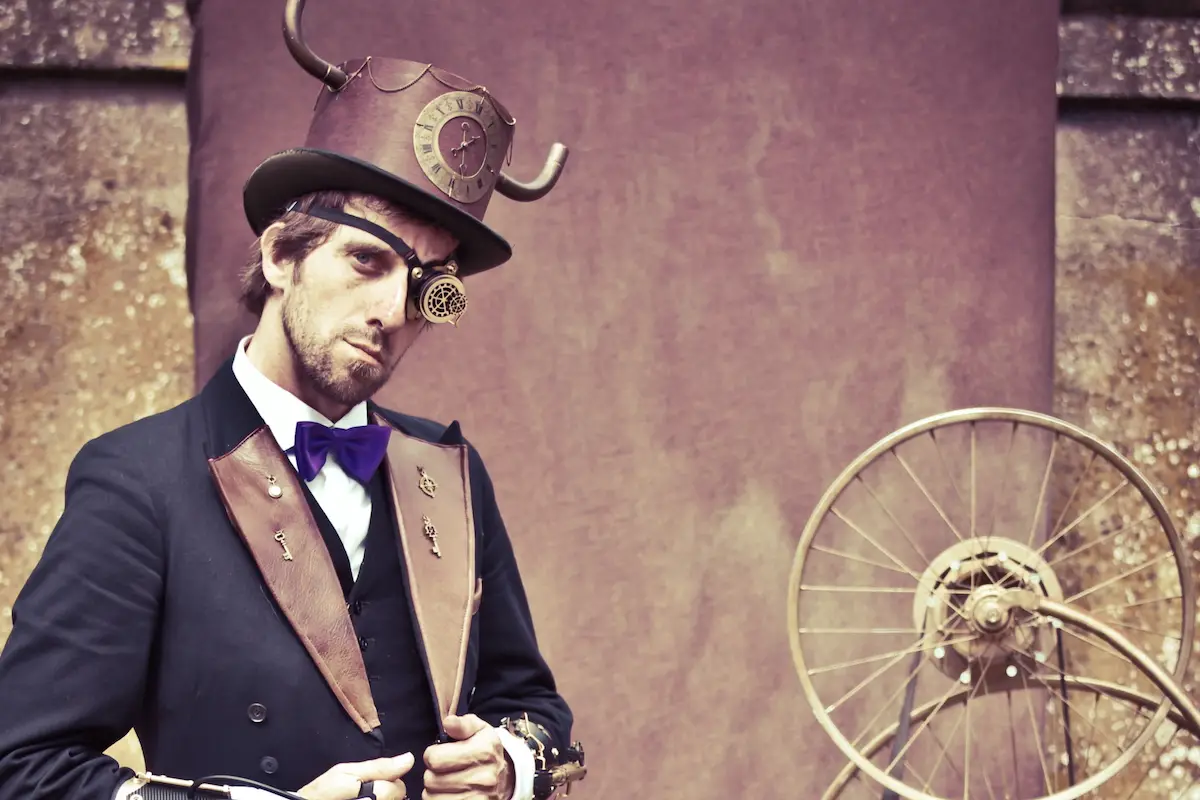 Monocles
Monocles or 'monoggles' are a perfect way to add more character to your outfit. They are frequently worn with villainous characters, although they are at times worn with heroic ones. Steampunk monocles are not always what you expect a monocle to look like, they are often tampered with in order to represent the Steampunk aesthetic even further. The addition of cogs and lenses are an inventive and fitting way to make your outfit undoubtedly Steampunk.
Glasses Gizmo
A simple loop of metal and lens fit justly for the Steampunk gentlemen.
A simple loop of metal and lens fit justly for the Steampunk gentlemen.
Pocket Watches
The many different styles of pocket watch are also a popular addition to your outfit. Pocket watches, like the monocles, are often tampered with in ways that show the complex pieces of machinery. The pocket watch is an excellent addition to outfits that need some elegance and are also a fitting addition to characters such as explorers. You might like to read this article on how to wear a pocket watch.
BOSHIYA Mens Vintage Skeleton Pocket Watch Steampunk Windup Half Hunter Mechanism Gear Cover with Chain
❂ Coolest looking: The steampunk watch timepieces looks very awesome and cool using gear hollow cover which could look the self automatic gold gear movement
❂ Mechanical Timekeeper Dimension: Diameter:1.77 IN; Thickness:0.51 IN; Chain Length:14.17 IN; The watch sizes and chain length is very convenient to wear.
❂ Easy to Set Time: Please pull the crown away from the base of the watch and turn the crown clockwise until reaching the exact time, then press the crown back to its original position.
❂ User-friendly Wind-up Watches: Do NOT have battery. You just wind up the watch crown clockwise rotation about 25-30 turns. Advising wind up every morning.
❂ Gift Box Package: The vintage steampunk pocket watches is accompanied by a gift box. Best Present for Birthday, Wedding, Christmas, Holloween and Memorial Day gifts.
Belts
As mentioned in the unisex section, belts are commonly used in order to add something extra to an outfit. However, you can take a belt even further by adding a Steampunk belt buckle. You can buy buckles that fit the Steampunk aesthetic, they feature all sorts of designs such as the symbolic machinery cogs, or even Victorian portrait silhouettes surrounded by elegant designs. The little details can really add to your outfit.
Walking Canes
Canes were a popular accessory among higher class men in the Victorian era, and they make a great addition to Steampunk fashion. As like all other Steampunk accessories, there are many different styles that will suit many styles. Canes are the perfect way to assert your characters power and elegance and the many different styles help to portray your chosen message. A plain and simple cane can portray elegance, whereas something such as a dragon or some other kind of monster will convey your power.
Amscan 8400280 Steampunk Plastic Cane, 40" | Costume Accessory | 1 ct.
Package includes: 2 skull earrings and 1 black choker
These earrings and choker have one size. Fits most teens and adults
These item set is perfect for halloween parties, costume parties, or stage performances
These items features two skull earrings printed on multicolor design with a rose and 1 black choker with a red rose on it
Steampunk Weapons
Steampunk weapons are bound to make any outfit more exciting. Your choice of weapon will essentially depend on your character. Swords, truncheons and steampunk guns finish off steampunk cosplay outfits perfectly. You can DIY your own steampunk gun by making it from things you find around the house or spray painting a NERF gun!
If you enjoyed this blog you might also like to read all about steampunk clothing and steampunk masks.