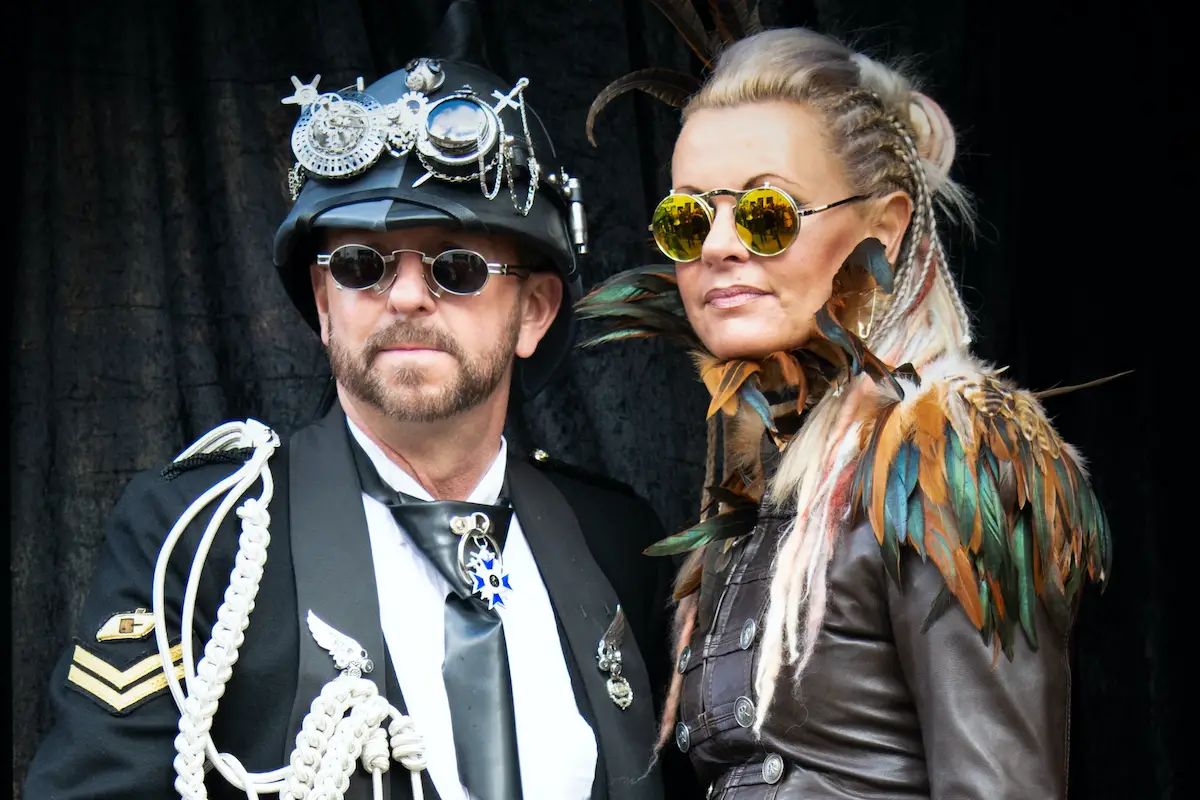 steampunker.co.uk is a participant in the Amazon Services LLC Associates Program and other affiliate advertising programs designed to provide a means for us to earn fees by linking to Amazon.com and affiliated sites. Affiliate links may be used on this page and in steampunker.co.uk articles, but they do not impact on the price that you pay and they do help me to get this information to you for free. Read my privacy policy for more information regarding affiliates.
Fashion is a core part of the steampunk movement. Steampunk clothing is often inspired by the industrial revolution and combined with mock-Victorian fashion to create clothing that's full of nods to the upper class (top hats, silk dresses, waistcoats) and then pokes fun at the whole system by adding a punky, working class twist (goggles, work boots). We love to add a little steampunk fashion to our everyday attire, or dress up fully for steampunk conventions or parties, or just the hell of it! Here's our list of steampunk essentials, and what really makes them 'tick'!
Steampunk Clothing – Unisex
Let's start with the unisex stuff:
Firstly, a classic: goggles!
Goggles really pay homage to steampunk's industrial roots and are so deeply associated with the movement that a good pair is enough to turn most ordinary outfits into a steampunk look. We like this pair because they're so extra: somehow, the designer has managed to put glasses, a telescope and a compass on these in a way that's exactly the right amount of cluttered. 
Next, the utility belt
Another big part of steampunk culture is the inventions. From airships to telescopes to things that look like guns but actually aren't, there's no end to fun little creations. Utility belts are a great place to store any of these, or the tools to make them. Plus, you could slip your phone/wallet/car keys in the utility belt without it looking too strange. This belt works with trousers (more on them later) and has a garter-style attachment with lots of buckles and clips. 
Steampunk Clothing for Men
Moving onto men's clothing. 
A lot of steampunk hats are fedoras, which gets a little repetitive after a while. This is a top hat, which is much more Victorian/Industrial and is much easier to associate with some kind of Dickensian conman. The leather strings at the back could coordinate nicely with a corset if you're going to a convention as a couple and want to match, and the note decoration is great if you want to develop a musical character to cosplay as.
Who says women should have all the good options for chest pieces! Waistcoats again call back to Victorian fashion and can really improve an outfit. Try to find one that fits nicely and has some other steampunk elements, like buckles or clips, and enjoy! This waistcoat has a unique asymmetrical shape, a splash of colour and fits nicely to the wearer's body. It's also got great little details that make it interesting as well as eye-catching.
Obviously, no outfit is complete without a jacket. These are great for outdoor gatherings in colder months, but more importantly it's another layer of decoration. Make sure you find a jacket that works well with the rest of your ensemble, and look at the colour combinations. Also, if you've got a decorative waistcoat you might consider a plainer jacket to highlight it and avoid overwhelming the outfit; alternatively, a flashy jacket can liven up an otherwise less-steampunk look.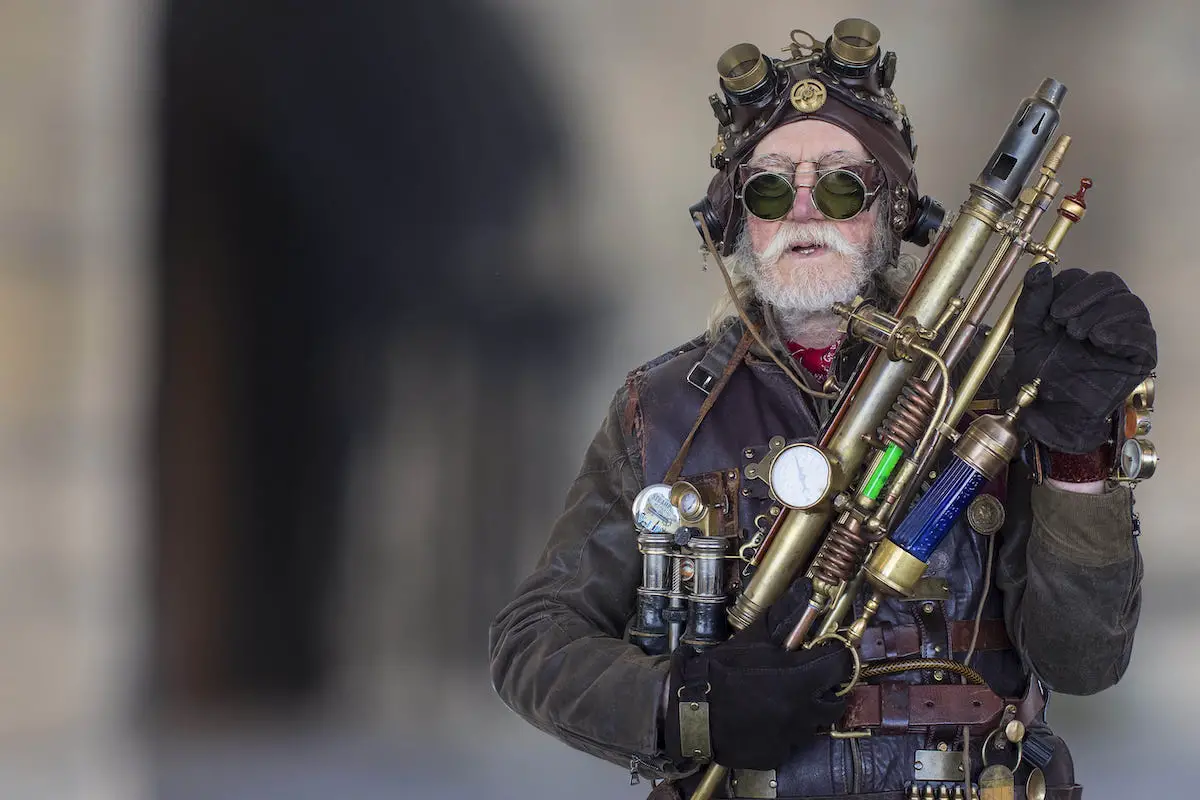 Try this jacket: it's nicely tailored to emphasise the wearer's shape and has circus-inspired tailcoats for a gothic ringmaster feel. It's available in different colours so you can match it to other items or deliberately clash them for a more chaotic, eclectic look. Finally, there's all the buckles and buttons that you'd expect from a steampunk jacket and reminds one of the industrial influences found throughout. 
Steampunk trousers can usually be split into two categories: leather pants with a more overtly kinky feel for bad boys and rockers, and pinstripe cotton for fallen gentlefolk. Which you end up with is entirely based on your own preferences. Either can be great. 
These trousers are definitely in the former category. With a Keith Richards-eque vibe you could probably get a job as an extra in both Pirates of the Carribean or Carnival Row in these. They've got fun lace-up inserts and enough elastic to keep them movable. They're also suitable for vegans!
Steampunk Clothing for Women
Let's switch to women's clothing: 
Steampunk dresses are often sold as two separate pieces, as the top is usually a corset and therefore has to be properly fitted. They'll very clearly match and be worn as one dress, usually with a tight bodice and looser skirt. This is often nice and comfortable, although do make sure that the lace doesn't chafe! 
This dress has a very clear gothic look: between the lace and the dark colour it's sexy and alluring. The shorter part of the skirt would lend itself to garters with guns or knives (not real ones!) and the longer part moves nicely or can be gathered up dramatically. 
If you'd prefer to buy different dress parts separately for an unconventional look (even for Steampunk!) try looking specifically at corsets. Corsets are gorgeous, otherworldly and epitomise steampunk more than most other items. Some come with chains, buttons and buckles to give a clockwork impression over the top; others add colour to outfits and enhance the overall impression. The above corset has lacing at the back and sides for a better fit and a nod to other 'lace up' clothing that's enduringly popular in steampunk fashion. It's an underbust corset so it'll be great for people who aren't used to them and it will pair nicely with a soft blouse. 
You'll need some shoes to finish your steampunk look off. The women's shoes are often a hard return to the industrial side of steampunk, so many are based on Doc Marten style work boots. Some come up the calf a little higher, and some have heels (which, with your corset, will make your posture gorgeous) but they're usually durable, sturdy and much less detailed than other steampunk clothes. These boots have laces so you can change them to coordinate with the rest of your outfit or leave them as simple as you like.
Steampunk skirts are often a lot of fun, especially if you like something with a lot of material that really swishes. Consider which shirt/corset will work best with what you choose and if there are any leg accessories you'd like to highlight.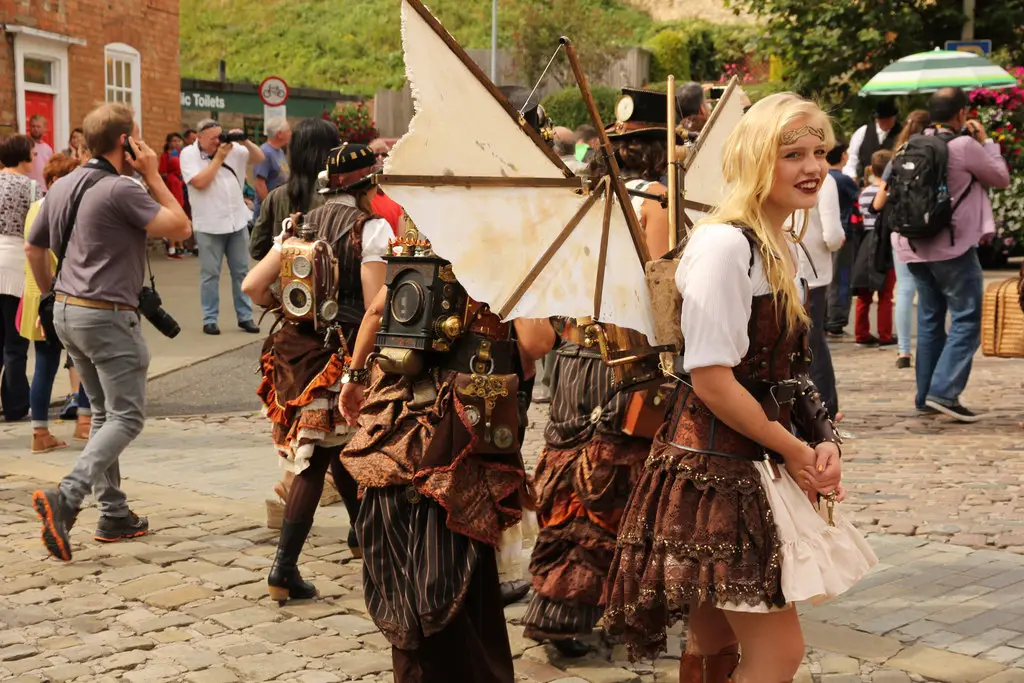 The skirts are often high at the front and low at the back, which jokes slightly about the Victorian element of steampunk: there's no way they would have gone for this, and it adds an element of scandal and fun to the look. This skirt is great: it combines some muted colours and the pinstripes which are both steampunk staples; there's interesting details around the waist and it can either be hitched, hitched on one side or unhitched completely depending on your preference. 
Steampunk corsets are great and a lot of fun, but they're not for everyone. If you're down for a challenge, try putting together an outfit without one! A blouse of any shape can look great, and if you tuck it into a high waisted pair of leather trousers it can bring a pirate-like feel to a steampunk look. This blouse is very boho and could work as part of a steampunk outfit or just alone. It's gently fitted and shouldn't get hot or uncomfortable, and comes in a range of colours to coordinate with whatever you'd like it to. 
If you enjoyed this article on steampunk clothing you might like to read: