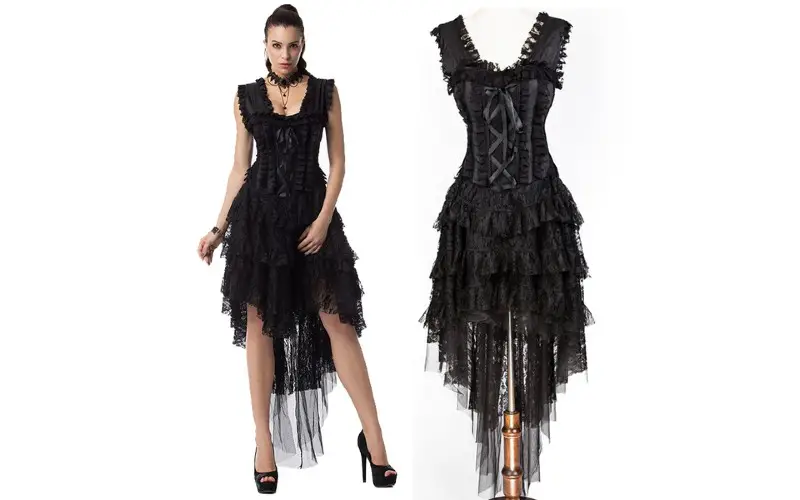 steampunker.co.uk is a participant in the Amazon Services LLC Associates Program and other affiliate advertising programs designed to provide a means for us to earn fees by linking to Amazon.com and affiliated sites. Affiliate links may be used on this page and in steampunker.co.uk articles, but they do not impact on the price that you pay and they do help me to get this information to you for free. Read my privacy policy for more information regarding affiliates.
Gothic clothing is a fashion style focused on dark clothing, dark hair, boots or creepers, cloaks, studs, buckles, corsets, gloves, bustiers, and dark make-up. Silver jewellery is also common within the style. The styles of Gothic clothing vary, although the Victorian and Elizabethan periods are frequently inspiration for Gothic fashion. The fashion seems to have derived from the Victorian era when mourning was a popular practice. Religious, Pagan and occult themes can also be seen frequently in Gothic items, perhaps this is due to the religious links to mourning and death. There are certain items/materials that are considered must-haves in Gothic fashion; velvet, lace, corsets, gloves, leather, and fishnet. 
The colour black is of course popular within Gothic fashion, although it is not necessarily the only option. Goths also wear crimson, purple, and other dark and elegant colours. The Gothic fashion is often confused with the Punk fashion due to the many similarities between them. Both of which embrace make-up. It is common for men to wear thick, black eyeliner, lipstick, and paint their nails black, just as it is common among the women. Tattoos and piercings are also seen commonly on those who wear Gothic clothing. Many Goths choose Celtic tattoo designs, due to Celtic mythology's influence in the Gothic genre.
The Gothic subculture was formed in the late 70s' with the emergence of Gothic rock, then becoming more popular in the 80s'. Gothic rock was a product of post-punk, some of these bands include Siouxsie and the Banshees, Joy Division, and The Cure. The sound is more dark in comparison to post-punk, and frequently had depressing and morbid themes, often influenced from 19th-century literature and horror. The Goth scene is thus centred on music, clubs, fashion, and festivals. 
The atmosphere of bands such as Siouxsie and the Banshees was defined as 'Gothic' in the 70s', although Bauhaus's single, 'Bela Lugosi's Dead', released in 1979, is widely considered the beginning of the Gothic rock genre. The emergence of the Gothic rock genre brought many fashion inspirations, Siouxsie Sioux, lead singer of Siouxsie and the Banshees, was particularly influential in setting the fashion for the Gothic rock scene. Siouxsie Sioux was known for her dark eye make-up, dyed black messy hair, black clothing, wearing leather, wearing fishnet, and also for wearing Gothic jewellery such as cuffs and other jewellery that features silver and studs.
The Cure's Robert Smith was influential to men's Gothic fashion at the time. His dark eye make-up, lipstick, dyed black messy hair, and black clothing is an iconic look that has inspired many. 
Black, extravagant clothing pretty much sums up the Gothic style. The styles vary between men and women though. Men's Gothic fashion, although different to women's in many ways, is often very feminine. Basics of men's Gothic fashion include tight leather trousers, black shirts, hats, boots, and long leather coats. Creepers are also a popular choice of footwear. Silver jewellery is also worn by men, as well as chokers, and leather cuff bracelets. Make-up is a common feature within Gothic fashion, dark eyeliner is most common among men, although nail polish, eyeshadow, and lipstick is also frequently styled. Hair is also important when thinking about your Gothic style, Goths often dye their hair, most commonly black although some go for more colourful options. Hairstyles tend to be long for men, and include fringes or messy styles.
Women's Gothic fashion is very similar to men's fashion. Their hair is frequently messy, and fringes are very common, as well as hair dye being almost a necessity. Tight black trousers are also seen on women, although women also wear fishnets, skirts, and other types of leggings/tights. Boots or creepers are seen as a go-to, and on top women tend to wear black ripped t-shirts, corsets, shirts, and sometimes dresses. The corsets, shirts, and dresses of course have hints of the Victorian and Elizabethan elements that inspired a vast part of Gothic fashion. Women also wear silver jewellery, chokers, and cuff bracelets in order to highlight the often pale skin. Make-up is frequently used to make skin paler, as well as being used for dark eyeliner, lipstick, eyeshadow, mascara, and nail varnish. 
If you are looking to achieve the Gothic style, why not try some of these:
These fishnet tights are perfectly Gothic, the fishnet with the religious crosses hint at the traditional Gothic style while being versatile. These tights will be able to go with almost anything, they will look great with some chunky boots or creepers. The style of them will also suit a skirt or shorts. 
These satin, lace, fingerless gloves look extremely elegant and Victorian-esque. They will look great with any style, whether it be with a dress, or with a hoodie, these gloves are bound to add something extra to your outfit. 
This stylish corset is a must, with buckles that highlight the Gothic style, and the silver detailing that will match your accessories. The satin-look ribbon is also perfect for matching with the rest of your Gothic outfit.
This western corset dress is an elegant choice for special occasions. The lace detailing adds to the overall look of the dress, and the satin-look ribbon around the neckline also provides a pleasant look. 
These boots are a must need for your wardrobe, they are thigh high and chunky, with silver detailing around the boot. Just make sure that you practice walking in them. 
This Gothic coat is perfect for men's Gothic fashion. The long faux leather coat is a must for any wardrobe and will look great paired with some Gothic boots and silver jewellery. 
These Gothic cargo trousers have plenty of Gothic features, such as the silver detailing and the many buckles. These trousers will give an otherwise plain outfit an extra something. 
Dr. Martens are popular among the Gothic community, due to their traditional, chunky dark style. These unisex boots will look great paired with a variety of outfits. You can never have too many boots as part of your Goth wardrobe.
To learn more about different Gothic genres, such as Gothic Steampunk, please click here.