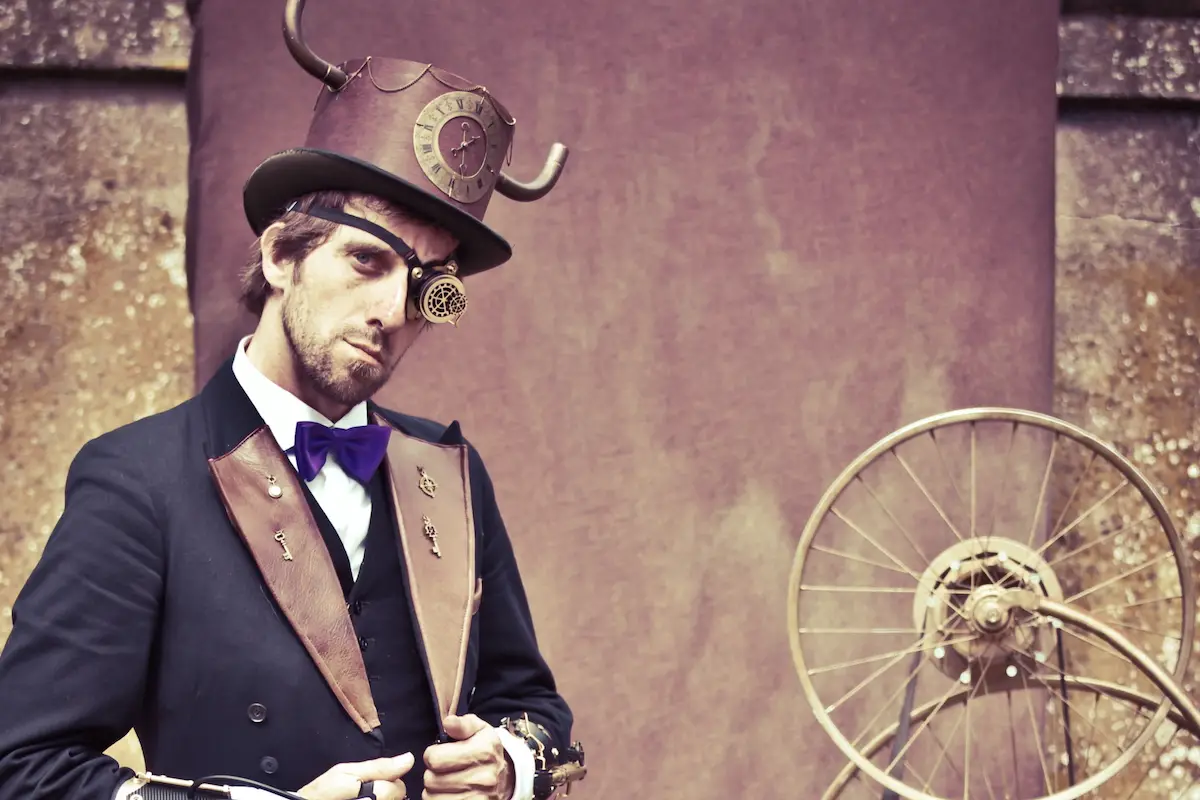 steampunker.co.uk is a participant in the Amazon Services LLC Associates Program and other affiliate advertising programs designed to provide a means for us to earn fees by linking to Amazon.com and affiliated sites. Affiliate links may be used on this page and in steampunker.co.uk articles, but they do not impact on the price that you pay and they do help me to get this information to you for free. Read my privacy policy for more information regarding affiliates.
Steampunk is a relatively modern movement inspired by the mix of Victorian/Industrialist ideas with clockwork and mechanical elements from fantasy. Some of the ideas have been dubbed 'retro-futurism' because they're inspired by what Victorian people may have thought of as futuristic, like steampower. There are lots of different subgenres of steampunk, including gothic steampunk, clockwork steampunk, cyber steampunk and wild west steampunk. These often include jobs like pirate, engineer or aviator. 
Steampunk is a multi-faceted movement: there are steampunk books, inventions, conventions and fashions. The fashion is often the most known part of steampunk, and many people enjoy cosplaying as steampunk characters or creating their own. We've got some great suggestions for men, so have a look and see what you like!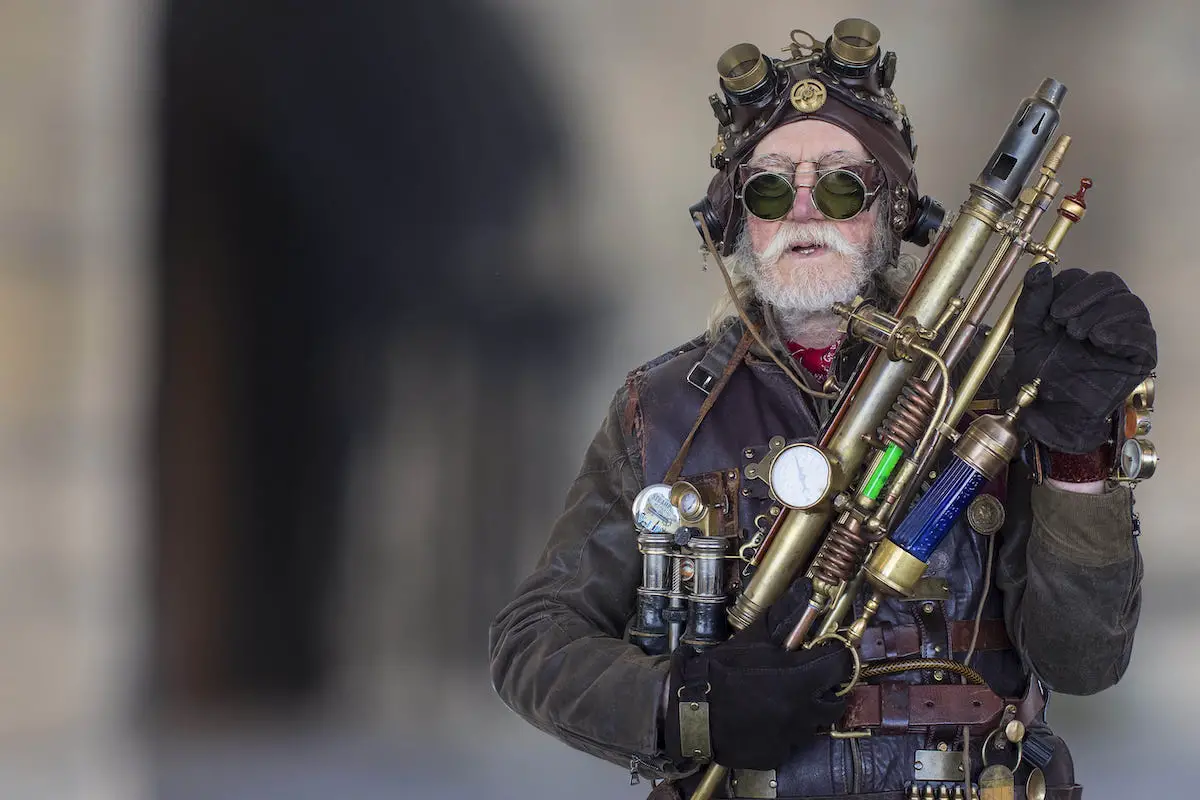 Steampunk Jackets
Let's start with some jackets. If you're developing a character with a particular job you might want to focus on that specifically, but these can work well with any look
BLESSUME Gothic Victorian Tailcoat Steampunk
This Gothic Victorian jacket looks directly at the Victorian roots of steampunk. There's a clear upper-class factory owner style here but it's enough of a blank canvas that you could make it kindly or villainous as you prefer.
Try reading/watching adaptations of Dickens for further inspiration and then consider how you'll add your steampunk twist. I'd recommend something mechanised. If you'd like to take this piece another way, consider how red coattails are associated with ringmasters, circuses and freakshows. It's easy to enjoy The Greatest Showman, but look at the real life of PT Barnum for some twisted inspiration.  
Steampunk Vintage Tailcoat
Looking at these two jackets really shows how much variety there is in steampunk. This steampunk vintage tailcoat is clearly much more gothic and would absolutely change the overall impression of the wearer's outfit. There's nice detail on the material that whispers wealth instead of flaunting it. It could also, with careful coordination and accessories, work very well as part of a steampunk pirate outfit
Steampunk Men's Shirt
Obviously, you'll need something to wear under your coat, so try this shirt
Do you want to look like a sexy vampire highwayman? I mean, really, who doesn't? This steampunk men's shirt is light and comfortable and can be dressed down (for the vampire look) or up to fit in with almost any other outfit. It's extremely versatile without being plain: the drawstring at the front and ruffles on the side give nice details, and the string could be changed to a different colour to coordinate with a waistcoat (make sure it's cut correctly) or with another person's outfit. 
Steampunk Men's Waistcoat
If you like to layer, adding a waistcoat can really enhance a look and is an easy way to add colour or gravitas.
Remember the different genres of steampunk? This steampunk waistcoat has some serious blacksmith energy – I'd trust anyone wearing this to put shoes on my horse and fix my airship! It's actually not made of leather, which makes it much more affordable and makes it low maintenance. The pockets are not real, so you'll need to find somewhere else to store your pocket watch, but getting creative and making alterations are a huge part of steampunk's appeal.
Steampunk Trousers
Obviously, you'll need something for your lower half and your jeans probably won't work too well! Try some steampunk trousers, like the ones below, to keep your look consistent. 
If there's one thing steampunk is famous for, it's endless buckles, buttons and chains. They're associated with clockwork and machinery, and they create interest on clothing. These trousers won't work with every outfit, but if you're looking for a slightly darker, more kinky look they might be great. Take care to pick the right colour as this really highlights the different elements.
Steampunk Boots
The other big thing is boots. There are lots of different types for different steampunk sub-cultures, and relatively plain boots work with most outfits, but we think that doing something interesting on your feet is a great way to finish off a look.
These steampunk boots are great for anyone who likes sturdy footwear but still appreciates a little bit of decoration. Buckles and pockets are always popular in steampunk so you can wear these again and again. They're also pretty unusual and are sure to draw in lots of admirers. Finally, they're well built and will give the wearer a little boost in height, which is fun and empowering. 
Steampunk Accessories for Men
Feel like your outfit isn't quite complete? Try these accessories – they're gorgeous and perfect for making your steampunk outfit even steampunkier!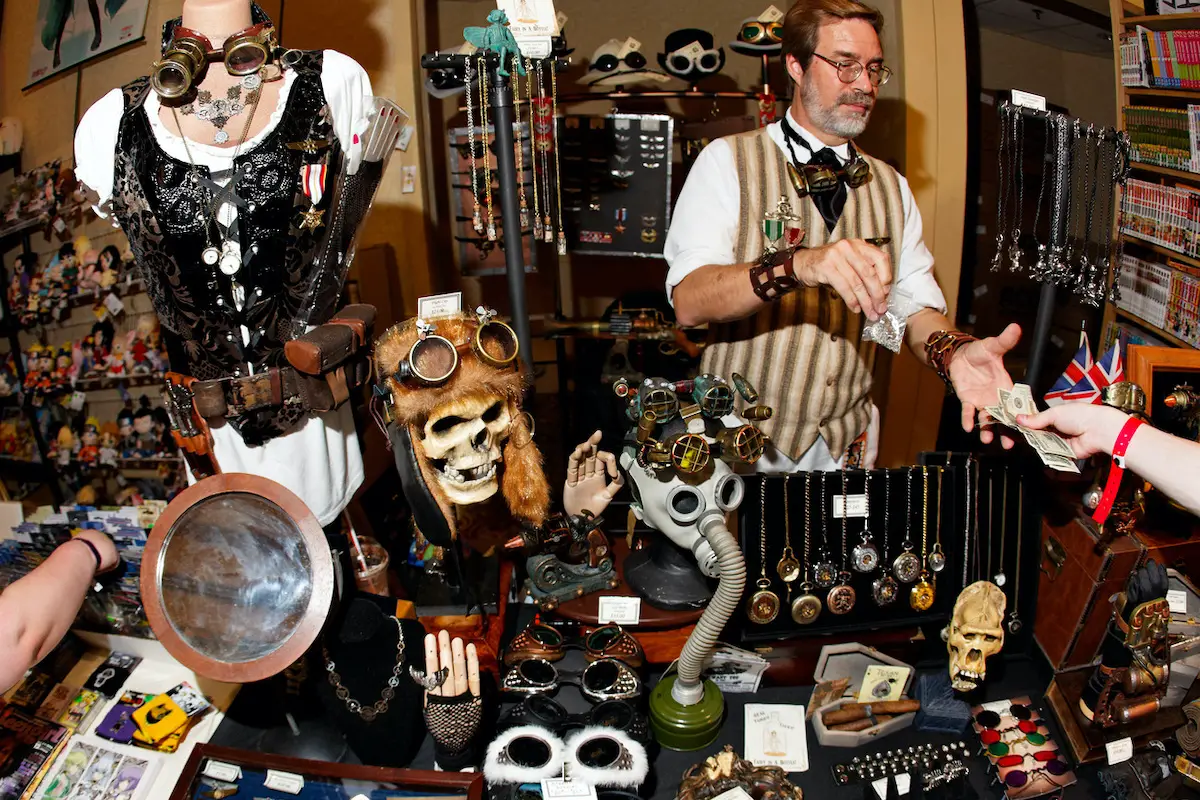 Steampunk Shoulder Armour
If you'd like something a little protective, why not consider shoulder armour. It's available in a few different colours and will really add to the rebellious, Mad Max-esque side of steampunk. 
Steampunk Cravat
If you're looking to class up an outfit, try a cravat. And no, they're not the same as ties!
Remember what we said earlier about finding opportunities to coordinate colours on your outfit or with your friends? This is the perfect way to go! There are lots of different colour options and your cravat can match your handkerchief. You'll need something to fill your waistcoat pockets, and a pocket watch will only do for one. Try a bandana in a similar colour for a pirate steampunk look or a waistcoat in a corresponding colour for a steampunk merchant. Cravats are a great way to make a look more flashy, and we think these are a lot of fun.
Steampunk Braces
If you prefer something more reminiscent of newspaper officers in the 1920s, try braces. No, not the ones you put on your teeth! These can hold your trousers up, but it's much more fun to stick your thumbs underneath the fabric and ping them onto your chest… just watch your nipples! These steampunk braces are also decorated with cogs and jewels, and will be nicely eye catching over a plainer shirt. 
Steampunk Goggles
Steampunk Goggles are an essential item for any steampunker! I love the retro-futuristic styles…
Thank you for reading! We absolutely love steampunk styles, regardless of who is wearing it. There's loads of opportunities to get creative, meet new people and try new things, and why not start by checking out the rest of our website?