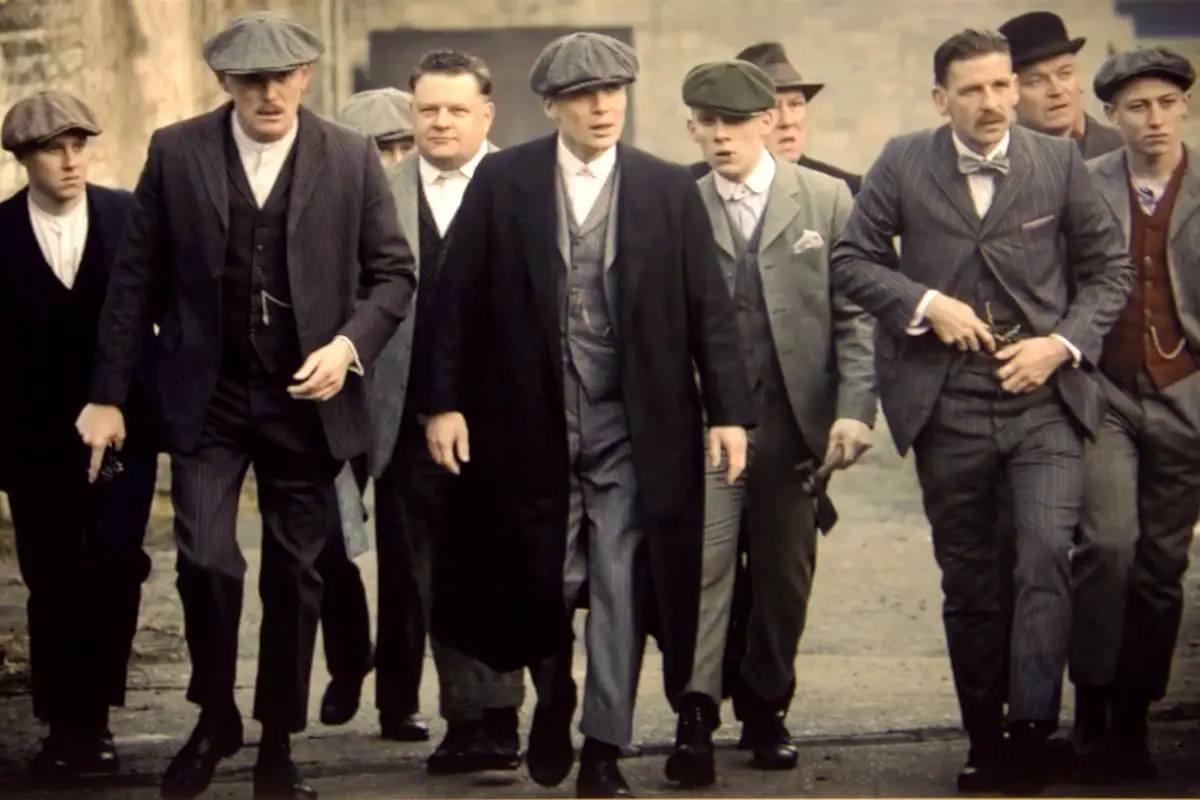 steampunker.co.uk is a participant in the Amazon Services LLC Associates Program and other affiliate advertising programs designed to provide a means for us to earn fees by linking to Amazon.com and affiliated sites. Affiliate links may be used on this page and in steampunker.co.uk articles, but they do not impact on the price that you pay and they do help me to get this information to you for free. Read my privacy policy for more information regarding affiliates.
After first airing on the 13th of September, 2013 on the BBC, 'Peaky Blinders' became a firm favourite amongst TV drama lovers. So many people all of a sudden wanted a Peaky Blinders suit!
Introducing the Peaky Blinders
The story centres around aspiring Birmingham gangster, Thomas Shelby who is played by popular actor, Cillian Murphy. After taking many opportunities, Shelby climbs through the ranks and rises with his newly formed gang, the Peaky Blinders. This gang is also a family business featuring John Shelby (Joe Cole) and Arthur Shelby (Paul Anderson).
Furthermore, in the series, we see the Shelby brothers' aunt, Elizabeth "Polly" Gray who is played by Helen McCrory who is the gang's treasurer as well as the antagonist of the series, Chief Inspector Chester Campbell who is played by Sam Neill. Created by Steven Knight, 'Peaky Blinders' is based off a real gang of the same name.
It has become popular amongst viewers for its excellent creation of tension as well as strong, female characters. The show leaves the audience pondering and questioning every moment and how it may develop.
The show is set in Birmingham, England, in 1919 just a few months after the end of the first world war in 1918. In history, after the war, Birmingham council began to build modern houses around the city which rehoused poorer families from the slums. Also, the cities boundaries were expanded bringing new areas such as Aston, Handsworth, Erdington, Yardley and Northfield which allowed for more housing to be built.
How to Dress like a Peaky Blinder
Having made such an impact on the BBC and then a further impact after being brought to Netflix, many people have been inspired to dress up as one of the popular characters. Each character has a different costume which reflects their personality One particular character is the protagonist, Thomas Shelby. Shelby's suits are very obviously tailored as they fit him very well. In this era, there was a very dark colour palette of whites, greys and blacks which gave a feeling of smartness. Shelby also stuck with this traditional colour scheme. During winter months, Shelby can be seen wearing a charcoal or black overcoat which is often paired with one of his tailored suits with the famous Shelby cap or the patterned trousers and a shirt.
Peaky Blinders Suit
First, you need to find a peaky blinders suit. TruClothing offers a three-piece, tweed, grey suit. This suit is 50% wool and 50% polyester and is perfect for any formal events such as weddings and parties – or to simply dress as Thomas Shelby himself. Of course, the suit is tailored meaning it should be a good fit for its wearer.
On the other hand, you could invest in a three-piece, navy blue, tweed suit from Amazon for just under £200. This suit comes from House of Cavani and is in a Carnegie style.
Peaky Blinders Shirt
Next, you need to find the perfect white shirt. Again, looking to Amazon, you can get yourself a White, Penny Collar shirt from Jack Martin for just under £30. As well as this slim fit, white shirt, the clothing also comes with a golden button on the top to add that extra peaky blinder look. The shirt is made in the EU and has a combination of 60% cotton and 40% polyester. The manufacturers, Jack Martin, are known for creating traditional British shirts which are versatile and well designed.
Peaky Blinders Cap
Of course, no peaky blinder would ever be complete without the famous cap. You can find a newsboy cap on Amazon from ASVP. The cap has a flat peak making it very similar to the hat worn by Thomas Shelby in the hit tv show. The cap also has soft lining material meaning it can also be worn in the summertime. It was manufactured using high-quality material making it very comfortable and durable and it is also available in various sizes and colours. You can bu the gap for around £30.
Peaky Blinders Coat
Finally, to finish the look, you'll need to get yourself a cool looking trenchcoat. Coming to Amazon, you can find many styles and colours of trenchcoat for between £60 to £80 and these are manufactured by APTRO. This Peaky Blinders Trenchcoat is made of top quality wool and is bested suited for Winter, Spring and Autumn. Also, it is advised that when your trenchcoat arrives, you iron it as it may have some folds in it from being packaged and delivered. If you take a look at the coats on the Amazon website, you can find size suggestions based on your height and weight.
Going on the TruClothing website, you can also find various ties to complete the Shelby look as well as a vintage pocket watch and chain for just under £10. Lastly, there are also Herringbone leather and tweed ankle boots for £44.99.
You might like to read more about Steampunk Cosplay ideas such as steampunk Harry Potter and Assasins Creed Cosplay.