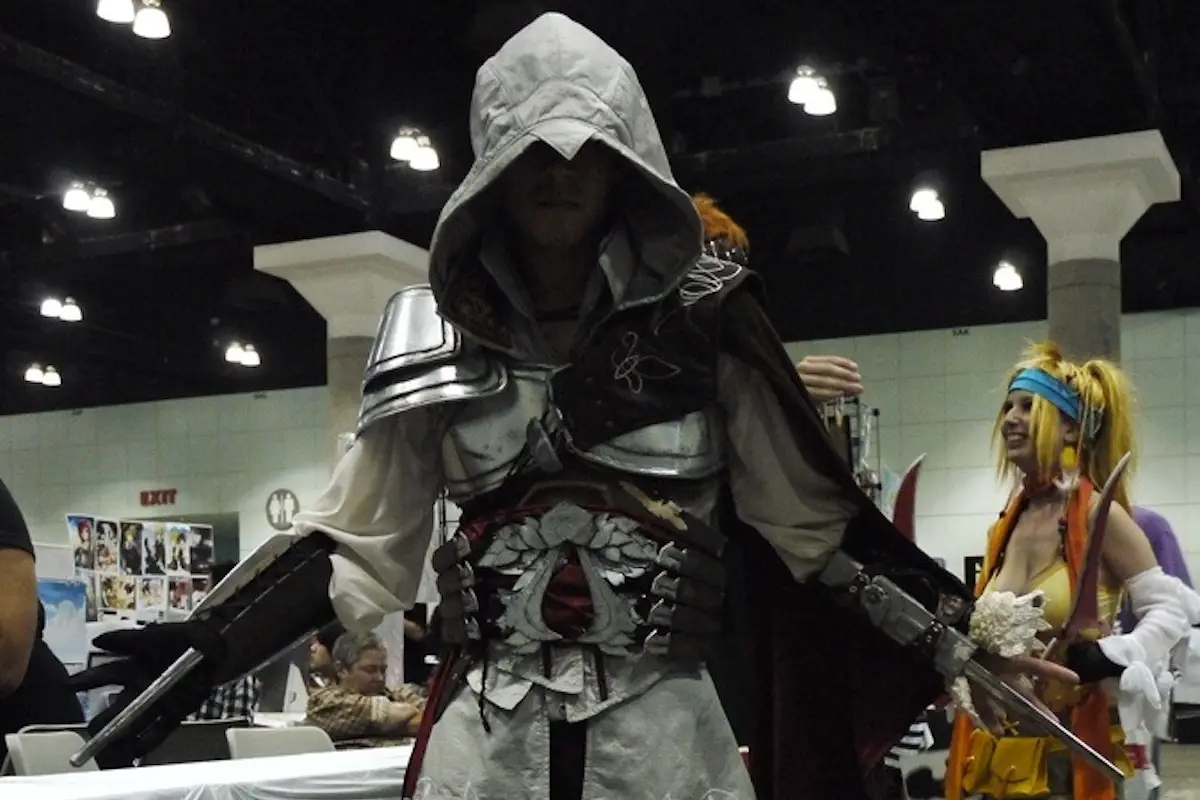 steampunker.co.uk is a participant in the Amazon Services LLC Associates Program and other affiliate advertising programs designed to provide a means for us to earn fees by linking to Amazon.com and affiliated sites. Affiliate links may be used on this page and in steampunker.co.uk articles, but they do not impact on the price that you pay and they do help me to get this information to you for free. Read my privacy policy for more information regarding affiliates.
There are many popular games series from Halo to Call of Duty, however, one of the most popular video game series has got to be Assassin's Creed from Ubisoft. Today's blog is all about Assassins Creed Cosplay and how to pull it off.
Introducing Assassin's Creed
The first game in the series was simply titled 'Assassin's Creed' and was released on the Playstation 3 and Xbox 360 in November 2007. Fast forward to now where we have 12 games with the 13th, 'Valhalla', due later this year.
When to Wear Assassin's Creed Cosplay
Due to the popularity of the series, many fans have been inspired to dress up and cosplay as their favourite characters. A popular place to go for these cosplayers is the ComicCon around the UK in areas such as London, York, Glasgow, Cardiff and Belfast.
Who are the main Characters?
The game centres around one, or in recent games, two, protagonists. The first assassin in the game Altair Ibn-La'Ahad. Through time, we were then introduced to Ezio Auditore de Firenze, Connor, Haytham Kenway (technically a Templar but plays a key role in 'Rogue'), Edward Kenway, Arno Victor Dorian, Jacob and Evie Frye, Bayek of Siwa and Kassandra and Alexios. The idea of all of these games is the player plays as one of the assassins who have various targets. In each game, there is an in-depth mystery which, once the game is completed, the player will solve. In addition, while playing, the characters come across many prominent figures such as Florence Nightingale and Blackbeard due to each game's historical setting.
Each character has their own unique style which matches their period in history. For example, Edward Kenway from 'Black Flag' has a distinct pirate look as he is indeed a pirate in the Caribbean while the Frye siblings are best suited to a steampunk, Victorian London. So, when choosing which character to be for Assassins Creed cosplay, you can both pick your favourite assassin and time in history.
Ezio
The first costume is an Ezio costume which can be purchased on Amazon for around £30. The outfit comes with a jacket, belt, a shoulder sash and trousers with boot covers. An important thing to note is that this costume, coming from Palamon, is only one size with this being extra large. However, this costume does look create and really makes you feel as though you belong in one of the games.
You can also buy the Ezio bladed cuff separately as an accessory…
Connor
Next, we have a costume best suited to Connor. This outfit can be bought on Amazon for just under £40. It is an excellent quality of polyester and, also, this costume is officially licensed to be used and to represent the popular games series. For your purchase, you will receive a jacket with a vest and a belt attached, a detachable hood, a glove and a gauntlet. The colour scheme of this costume really accentuates Connor's Native American heritage and further makes it's wearer feel as though they truly are the character.
Edward Kenway
Another costume we have from Amazon is an Edward Kenway outfit. This costume is amazing quality making it more expensive than those previously mentioned – this costume's price starts at just over £140. However, the price is most certainly worth it. This costume is 100% polyester and comes with 9 pieces; a hood, a faux leather vest, a zipper front shirt, crossbody strap, skull and buckle crossbody gun strap, a belt with an ornate buckle, a waist sash, a belted satchel and arm gauntlets. Leg Avenue Costumes have really ensured this product is brilliant quality and that the resemblance to pirate assassin Edward Kenway is as it could possibly be.
Arno
The last outfit is also from Leg Avenue Costumes but is instead based on the protagonist of 'Unity', Arno. This Arno outfit is also a little bit cheaper and can be purchased from Amazon for around £105 but, just because the price has decreased doesn't mean the quality has done the same. Once again, you are getting great value for money with this costume coming with items such as a button-front shirt, a hooded zipper vest, trousers, cummerbund, a faux suede cap with a crossover chest strap, a glove and an arm cuff.
If you enjoyed this article on Assassins creed cosplay you might also like to read about steampunk cosplay ideas.