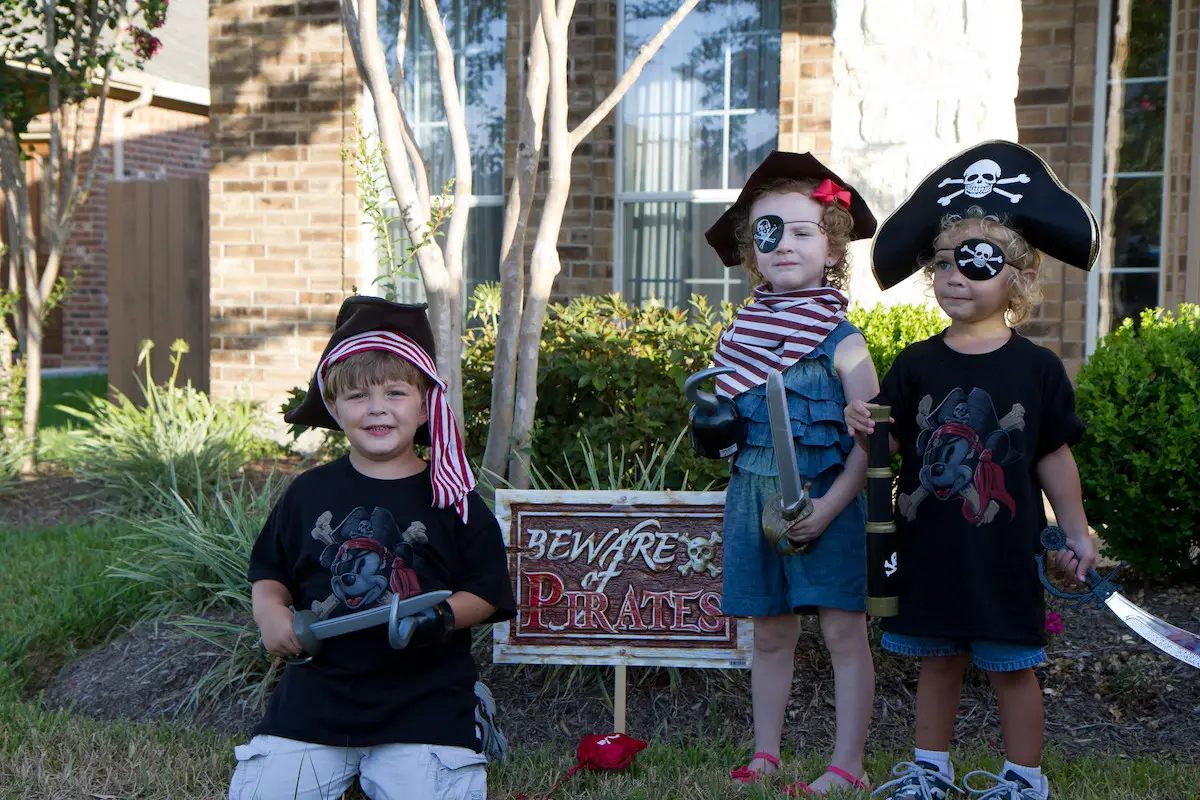 steampunker.co.uk is a participant in the Amazon Services LLC Associates Program and other affiliate advertising programs designed to provide a means for us to earn fees by linking to Amazon.com and affiliated sites. Affiliate links may be used on this page and in steampunker.co.uk articles, but they do not impact on the price that you pay and they do help me to get this information to you for free. Read my privacy policy for more information regarding affiliates.
Pirates have always been a popular character for children to dress up as. With events like ComicCon and other conventions drawing in younger attendees, the pirate costume is a go-to for these events. Also, the pirate is a favourite for children at Halloween. Whether it be at a party or out 'trick or treating' you're bound to find a young swashbuckler or two looking for treasure – or sweet treats! It's no wonder a pirate is such a popular choice for young children. After all, we see the success of the 'Pirates of the Caribbean' movie franchise with Johnny Depp as Captain Jack Sparrow and the Disney Classic, 'Peter Pan' which features Captain Hook. For younger children, we also see tv shows such as 'Jake and the Neverland Pirates' which has a mix of male and female pirate characters. Here are our best pirate costumes for kids.
Joyin Inc Pirate Accessory set
The first product we have from Amazon is this pirate accessory set from Joyin Inc. This brilliant accessory set can be purchased for just under £8. With your purchase, you will receive a pirate hat with dreadlocks attached, an eye patch, a plastic sword, an earring, hook. The excellent manufacturing of this product means it is designed to be able to fit all children as well as most adults. The recommended age for this product is 3 and above.
Pirate Costume 3-10 Lingway Toys
Next, on Amazon, we have an amazing pirate costume from Lingway Toys. This product, with a price of around £15, is perfect for Halloween, cosplay or any other event. The costume itself is a pirate top with the iconic skull and crossbones, a stripy pair of trousers and a bandana. However, as well as this, you get a wide range of accessories such as a treasure map, sword, eye patch, gold coins, a coin pouch and a compass. This product has various sizes meaning it can cater to most children aged between 3 and 10.
Forum Novelties Seven Seas Pirate Children's Costume
In addition, we have an incredible costume on Amazon for £17. This outfit is made by Forum Novelties and can easily be compared to Captain Jack Sparrow. The costume has a jacket with some faux details, an attached shirt with a faux leather vest, a waist sash, a hat with an attached scarf and some pull-on boot covers. An important thing to note is that, although this costume looks great, it does not come with any extra accessories.
Pirate Costume Kids Deluxe Costume from Anntoy
If you'd rather have a costume with accessories, a great choice is this deluxe pirate costume on Amazon from ANNTOY. This costume features a pirate hat, shirt, vest, belt and trousers. Also, you will get an eye patch, a sword, a compass, an earring, coins, a coin purse and a medallion. This costume is great for fans 'Jake and the Neverland Pirates' as it has a great resemblance to the main character. The recommended age for this costume is 4 and up.
Rubie's Girl's Pirate Costume – Princess of the Seas
Moreover, we have a product that has been designed with girls in mind but of course, children of any gender can wear any costume they wish. On Amazon, for around £17 you can find the 'Rubie's Let's Pretend Princess of the Seas Costume' which is for ages 4 to 6, 8 to 10 and 12. This costume has a red and gold shirt with an attached belt and a skirt with layers of red and black. A hat is also included with this costume. This costume from Rubies is a brilliant choice for Halloween.
Pirates of the Caribbean Costume – Forum Novelties
If your child is perhaps looking for a more rugged, 'Pirates of the Caribbean' look then this costume is a perfect choice. From Forum Novelties again for just under £14 on Amazon, this is one of our favourite pirate costumes for kids. The costume includes a headscarf, a shirt with an attached vest and arm ties as well as a belt. The recommended age for this costume is 4 to 12.
Pirate Accessories by Brybelly Holdings Inc
If your child already has their costume but is in need of some pirate accessories then Brybelly Holdings Inc. offers a brilliant product. By purchasing their product on Amazon for just under £10, you will receive a sword, hook, a spyglass telescope, a pistol, an eye patch and a cloth bandana. These items are an amazing choice to complete the pirate look.
Pirate Party Set
Finally, perhaps you may be interested in hosting a pirate-themed party for your child and their friends. Well, manufacturer Funny Pirate Hat has a brilliant product. By purchasing on Amazon for just over £22, you will receive a 48 piece consisting of 12 cardboard pirate hats, 12 telescopes, 12 eye patches and 12 inflatable swords. These accessories – in particular the swords – are sure to create a very fun party for young children as well as adults.
If you enjoyed this article about
pirate costumes for kids you might also like to read about steampunk cosplay.