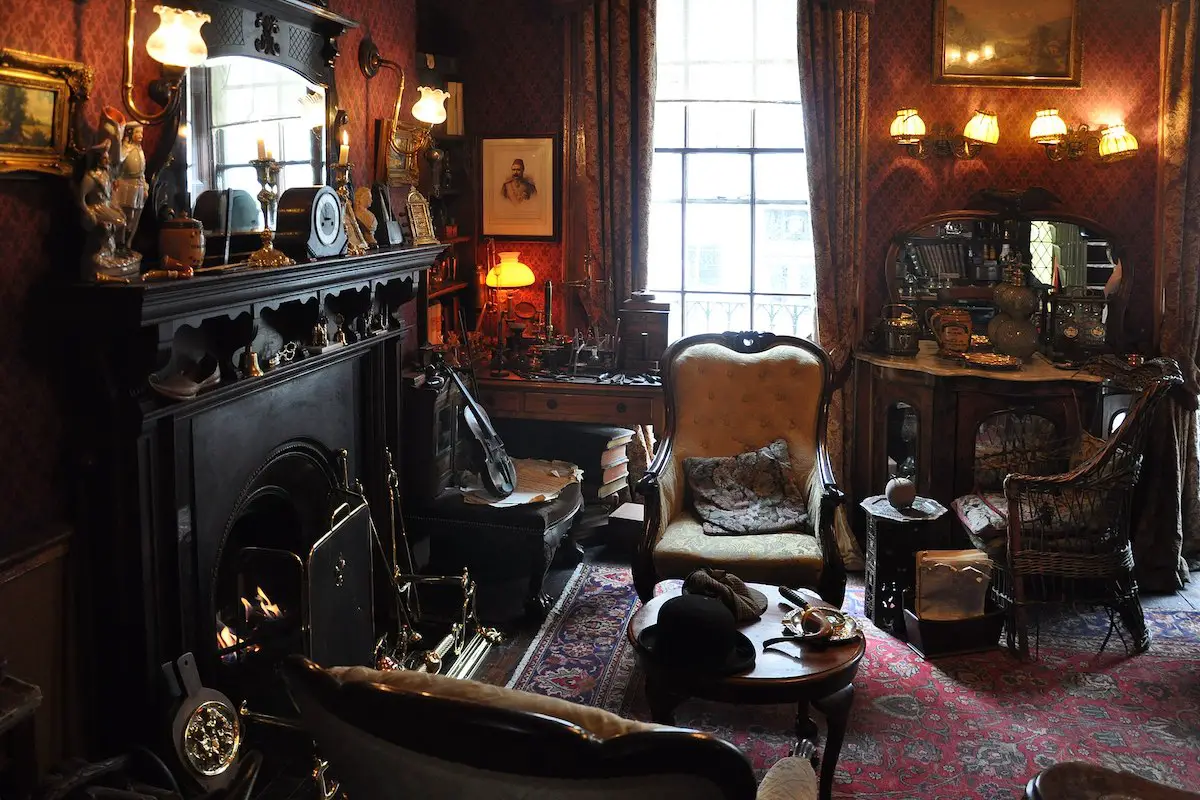 steampunker.co.uk is a participant in the Amazon Services LLC Associates Program and other affiliate advertising programs designed to provide a means for us to earn fees by linking to Amazon.com and affiliated sites. Affiliate links may be used on this page and in steampunker.co.uk articles, but they do not impact on the price that you pay and they do help me to get this information to you for free. Read my privacy policy for more information regarding affiliates.
Be just like Sherlock Holmes with a classic Sherlock chair. It's a steampunk home essential. This comfortable high backed chair is smart and refined, with a touch of class. Sherlock chairs come with and without studs, in leather and fabric. They also come in different dimensions.
The classic Sherlock chair is also know as a 'Chesterfield' and a great place to start would be second hand shops or Ebay. You may be able to pick up a nice second hand Sherlock chair like this gorgeous Ox-Blood red one. However, you can still get these style chairs new on Amazon and other stores.
GDF Studio Elizabeth Tufted Charcoal Fabric Recliner Arm Chair
GDF Studio Elizabeth Tufted Charcoal Fabric Recliner Arm Chair
The two main deciding factors on your Sherlock chair will be comfort and style. A nice high back studded chair is popular in steampunk living rooms, but if you are bothered about issues such as height and back support it's always best to try before you buy. Some excellent steampunk colours are grey, black, brown, bottle green and ox-blood red.
Stone & Beam Appleton Farmhouse Leather Recliner, Brown Leather
Nothing beats a brown leather recliner. This one is Amazon's own brand. Stylish and comfortable the chair is 35″ in width. It also has a push back reclining mechanism.
No products found.
Christopher Knight Charcoal Grey Fabric Recliner
This comfortable wingback design chair will make you feel like Lord and Lady of the Manor. This is Amazon's choice of sherlock chair and it reclines easily so that you can sit back and relax and put your feet up. The combination of it's antique style and charcoal grey fabric makes it an excellent choice for vintage lounges. It comes with a 1 year warranty.
GDF Studio Elizabeth Tufted Charcoal Fabric Recliner Arm Chair
This recliner is sure to make a statement in any room of your home. The shape and height of the back command attention while the armrests and cushioned seat allow for comfort. Perfect for entertaining or relaxing, this recliner will offer an intelligent design touch to your home.
Includes: One (1) Recliner
Material: Fabric; Fabric Composition: 100% Polyester; Leg Material: Birch; Color: Charcoal; Leg Finish: Dark Brown
Dimensions: 88.3 D x 71.1 W x 104.8 cm H; Seat Width: 52.1 cm; Seat Depth: 54.6 cm; Seat Height: 48.3 cm; Arm Height: 62.9 cm
Assembly required
You might also like to read my quest for the best steampunk clock.