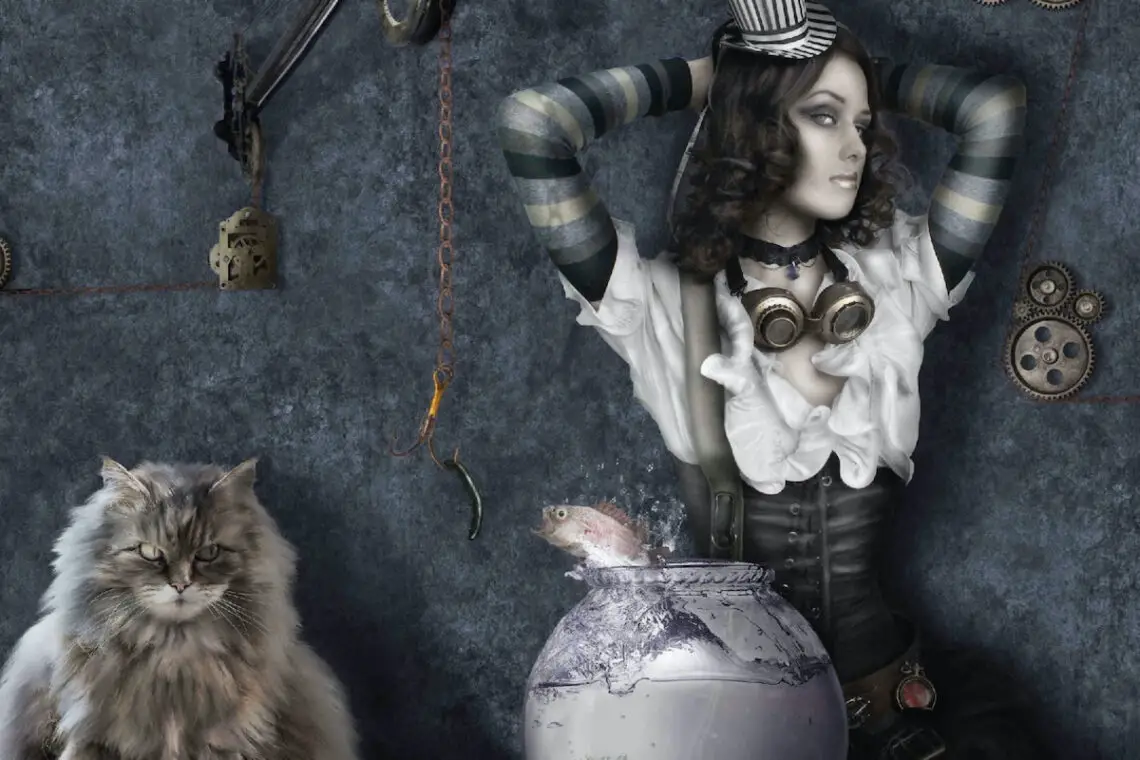 steampunker.co.uk is a participant in the Amazon Services LLC Associates Program and other affiliate advertising programs designed to provide a means for us to earn fees by linking to Amazon.com and affiliated sites. Affiliate links may be used on this page and in steampunker.co.uk articles, but they do not impact on the price that you pay and they do help me to get this information to you for free. Read my privacy policy for more information regarding affiliates.
Gothic steampunk is a subculture within a subculture: within the steampunk movement there are several niches, including gothic steampunk, fantasy steampunk and wild west steampunk. These niches often borrow from other, non-steampunk subcultures- in this instance the gothic. Gothic steampunk is usually darker (both physically and metaphorically) than just steampunk and the clothing is usually black and lacy whilst still including classic steampunk elements such as top hats and goggles. Both gothic and steampunk fashions often feature corsets, so gothic steampunks often have a good selection to look through. 
Because of the nature of the subculture, it's difficult to categorize anything as specifically steampunk, gothic or gothic steampunk. Therefore, one cannot point conclusively at a starting moment for gothic steampunk and it is also difficult to identify any novels or films that are purely gothic steampunk, as many overlap between different genres. Even the most influential steampunk writers are often described as science fiction: although it's fun to consider what is and what isn't steampunk, it's often best to realise that there are some common elements overwhelmingly people will categorize media according to their own experiences.  
With that said, these are some things that we think epitomise gothic steampunk fashion. Let's start with something straightforward: a black corset.
Black Corsets
Pure steampunk often involves brown and bronzed colours, so finding an item that is only black often points to some gothic influences. This gothic corset also has some lace detail which may be found in Victorian style steampunk items. The final touch is the embossed roses which add a nice texture and add another classically beautiful idea to the corset. 
Steampunk Victorian Gothic Dress
Even if you're planning on dressing mostly in black, I would recommend looking at the pictures of this dress in lighter colours so you can get an idea of the detail. This steampunk gothic Victorian dress is great because you can either wear it with or without a corset style belt, and it can be dressed up into a cosplay piece or just become part of your everyday wardrobe. It's got a wonderfully feminine shape that enhances the wearer's curves and has a nice gothic feel with the lace trim.
Victorian High-Low Skirt
This Victorian High Low skirt is a lot of fun. It'd be easy to dance a can-can in and is short enough at the front to show off any garters or lace stockings you'd enjoy. Don't overdo the accessories, though: there's plenty of interest in this skirt already! Critics of the gothic steampunk look might argue that it can be a little drab and boring at times, but this skirt offers the chance to add a little colour through pinstripes – another steampunk classic, and adds a fun pirate vibe. 
Gothic Steampunk Dress
This gothic steampunk dress really has it all: the typical steampunk shape and inclusion of a corset, the dramatic lace skirt and loose, off shoulder sleeves of gothic fashion. It perfectly balances between the two movements and does so gorgeously. The colour options are also great: it's predominantly black, but you can add details in white, red or purple to add interest whilst not losing any of the gothic feel. The top part gives this a sexual, sultry feeling and if you can get away with no bra and untied hair you're sure to draw admirers. 
If you'd prefer something more traditionally masculine, keep reading…
Men's Gothic Steampunk Shirt
If you're a fan of gothic literature you're likely to have read Bram Stoker's Dracula. The opening scenes are set in a castle in Transylvania, where Count Dracula feeds on blood. In illustrations and drawings inspired by Dracula, vampires almost always wear loose fitting white shirts like this one. If you'd like to have more of a steampunk air you can add goggles, but this works perfectly as both a steampunk and gothic shirt or underlayer. 
Steampunk Gothic Tailcoat
A coat can completely make or ruin an outfit. This steampunk gothic tailcoat we think will make it. There's the button details and straps that push this more towards the traditional steampunk look and hints towards steampunk's more sexual, kinky origins. The cut takes the jacket in a different direction, though- it could easily work for a ringmaster or a pirate.
Steampunk Gothic Waistcoat
This gothic steampunk waistcoat is completely the opposite of the previous coat: it's very proper-looking, almost to the point of being prim. Much like some of the corsets we looked at earlier it's made of silk with patterns embossed on it, meaning they could easily match- perfect for couples! The waistcoat is double breasted and the additional buttons call easily to steampunk, but the cut and material give the overall impression of a well dressed young vampire. 
Aristocratic Waistcoat
Although it's more conventional for goths to wear black, it doesn't have to happen every time. If you'd like to switch over to a dash of colour, this aristocratic waistcoat would be perfect: it's red and gold pattern stand out much more than the alternative black-on-black and could easily be a part of a pirate look as well as a goth one. It's cut to a regular length, allowing the wearer to show off any trouser details and it's high necked enough that you won't need a cravat or tie. 
Gothic Steampunk Accessories
And now for the accessories…
Chokers are, like corsets, enduringly attractive. They may come in and out of style but there is something timeless and beautiful about them. They're often considered an essential part of the goth look, and this gothic choker one crosses over into steampunk with its cog detail. The bronze chain is an unusual part that adds just enough imperfection to make the whole thing work better. 
Gothic Steampunk Hat
This gothic steampunk hat mixes two brilliant steampunk pieces: the top hat and goggles. Both of them are seen as iconic and essential parts of steampunk fashion, so it's wonderful to see them working well together and bringing in a clearly gothic influence. There's also the fun mix of the Victorian/neoVictorian hat and the Industrialist goggles, making this an unmistakably gothic steampunk piece. 
Gothic Motorcycle Boots
For boot enthusiasts, the lack of shoes and recognition of their role is a terrible tragedy in steampunk fashion. Imagine any of our earlier looks finishing with something as mundane as a pair of trainers and you'll realise that a true gothic steampunk look absolutely has to have the right shoes. These gothic steampunk boots are the best. They're clearly influenced by counterculture staples Doc Martens, and they actually push the steampunk a little further with the details and pockets around the edge. 
Thank you for reading! The gothic elements of steampunk help define the movement as a whole and we don't see why all steampunk looks shouldn't have at least a nod towards the gothic. If you'd like to see more steampunk and gothic steampunk looks, why not check out this article on what is steampunk fashion?