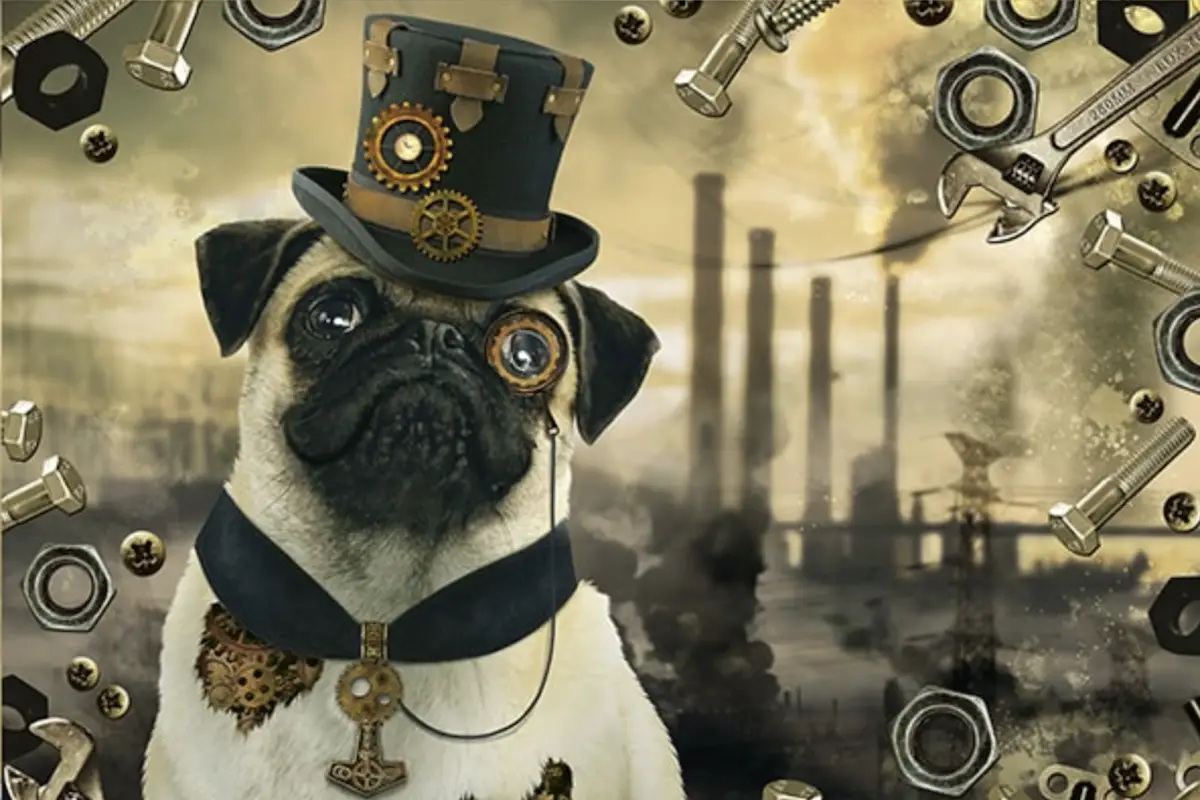 steampunker.co.uk is a participant in the Amazon Services LLC Associates Program and other affiliate advertising programs designed to provide a means for us to earn fees by linking to Amazon.com and affiliated sites. Affiliate links may be used on this page and in steampunker.co.uk articles, but they do not impact on the price that you pay and they do help me to get this information to you for free. Read my privacy policy for more information regarding affiliates.
I first learned about 'Steampunk Style' fashion when I saw a great episode of 'The Guild'. I was inspired to combine this with my other passion – dogs! The Steampunk dogs in this post feature great accessories – you will be sure to see the odd top hat and monacle! But for dogs, Steampunk is all about the goggles…should dog goggles be called doggles?! So, here goes my hunt for the best steampunk dog items that you can buy online!
Please note – I own my own patterdale terrier and do not endorse dressing up dogs if they are uncomfortable or suffering in any way. Many of the dogs featured in this article are trained pups or used to being on camera and enjoy what they do. Some of the images are computer generated and the dogs did not actually wear what you see! No steampups were harmed in the making of this blog!
Steampug Puzzle
The steampunk pug that you see in the featured image is actually a puzzle! This steampunk dog puzzle has 1000 pieces and is a great relaxing family activity. The finished size is 75cm X 50cm.
If you're more interested in wall art than puzzles, here's a fantastic steampug to hang in your steampunk house!
Steampunk Dog Coasters
This steampunk dog coaster set is available on amazon.co.uk. Let your steampunk guests drink their tea using aviator St Bernard or monacled spaniel coasters! There are 10 9x9cm coasters in this pack with a non-slip bottom and a high gloss finish.
Airship Pilot Duvet Set
Get tucked in with a canine airship pilot every night with this fantastic duvet set from FUBIO. Contains 1 Double Size duvet cover – 200*200cm and 2 pillowcases – 50*80cm.
Mechanical Daschund
This steampunk sausage dog is a lovely mechanical dog figuring made from resin. H: 18cm W: 31cm D: 9cm. It's available to buy on amazon.co.uk and ships to all UK destinations.
If you enjoyed this steampunk blog you might also like to read: