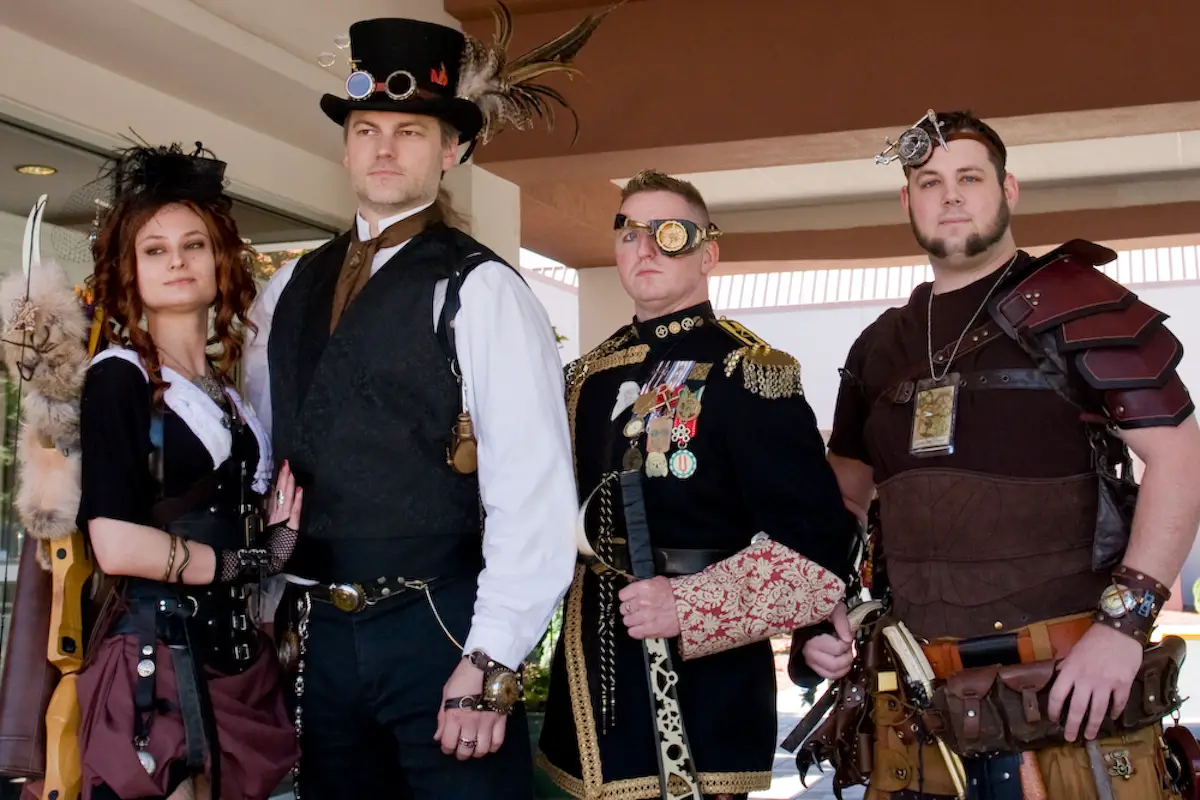 steampunker.co.uk is a participant in the Amazon Services LLC Associates Program and other affiliate advertising programs designed to provide a means for us to earn fees by linking to Amazon.com and affiliated sites. Affiliate links may be used on this page and in steampunker.co.uk articles, but they do not impact on the price that you pay and they do help me to get this information to you for free. Read my privacy policy for more information regarding affiliates.
The steampunk movement seems to be growing year on year! There are some fantastic steampunk festivals that take place annually where people can dress in their favourite steampunk clothing and show off their style. Some people simply go to admire the fashion and costumes of others. But let me tell you this – there are no limits. Some even show up in their blimp or time machine! Here are the best steampunk festivals around the world….
Table could not be displayed.
Steampunk Festivals UK
The most popular steampunk festivals are Assylum in Lincoln, the Whitby stemapunk festival and the recently growing Time Quake Steampunk festival in Manchester.
Lincoln Asylum Festival
The Asylum Steampunk festival in Lincoln is the biggest steampunk festival IN THE WORLD! It takes place annually throughout various venues in the historic quarter of the city and is a celebration of steampunk clothing, literature, music and comedy. This is steampunk on a BIG scale so expect people turning up on steampunk motorbikes, Victorian bicycles and time machines!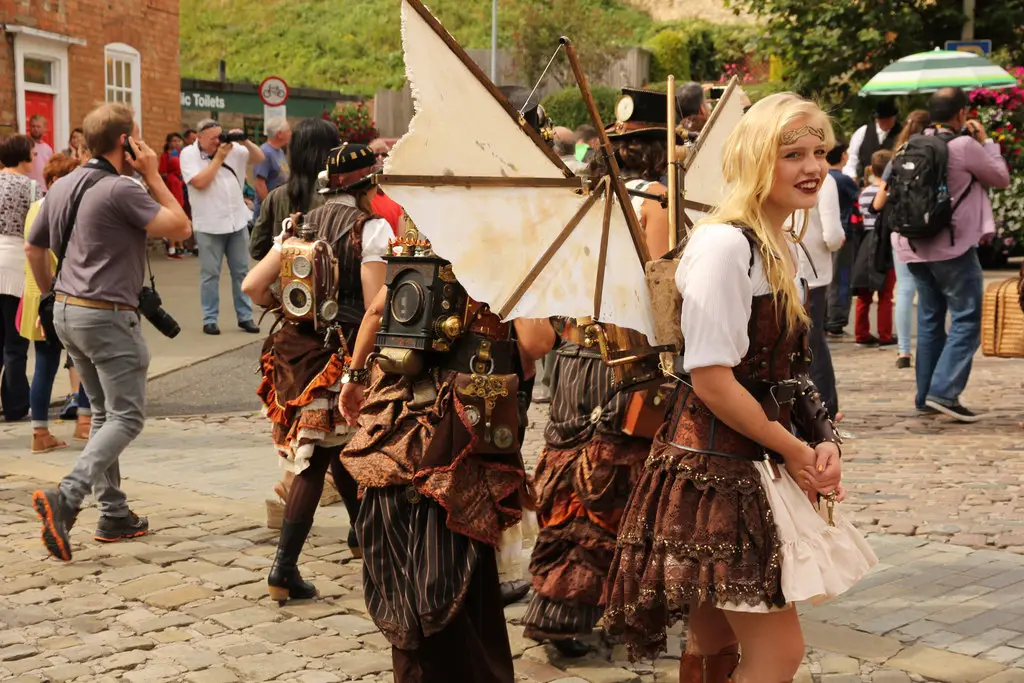 The next Asylum Steampunk Festival will be in Lincoln  in 2021.
You can join the Facebook group here:  Welcome to the Asylum.
Whitby Steampunk Festival
The Whitby Steampunk weekend is the second largest steampunk event in the UK and arguably the friendliest. It is held twice a year in February and July. It's full of activities, presentations and steampunk stores (over 80 steampunk retailers!). Activities range from DIY prop making to beginners burlesque. There are also evening activities available such as the steampunk masquerade ball. It's held in the Whitby Pavilion and admission is free!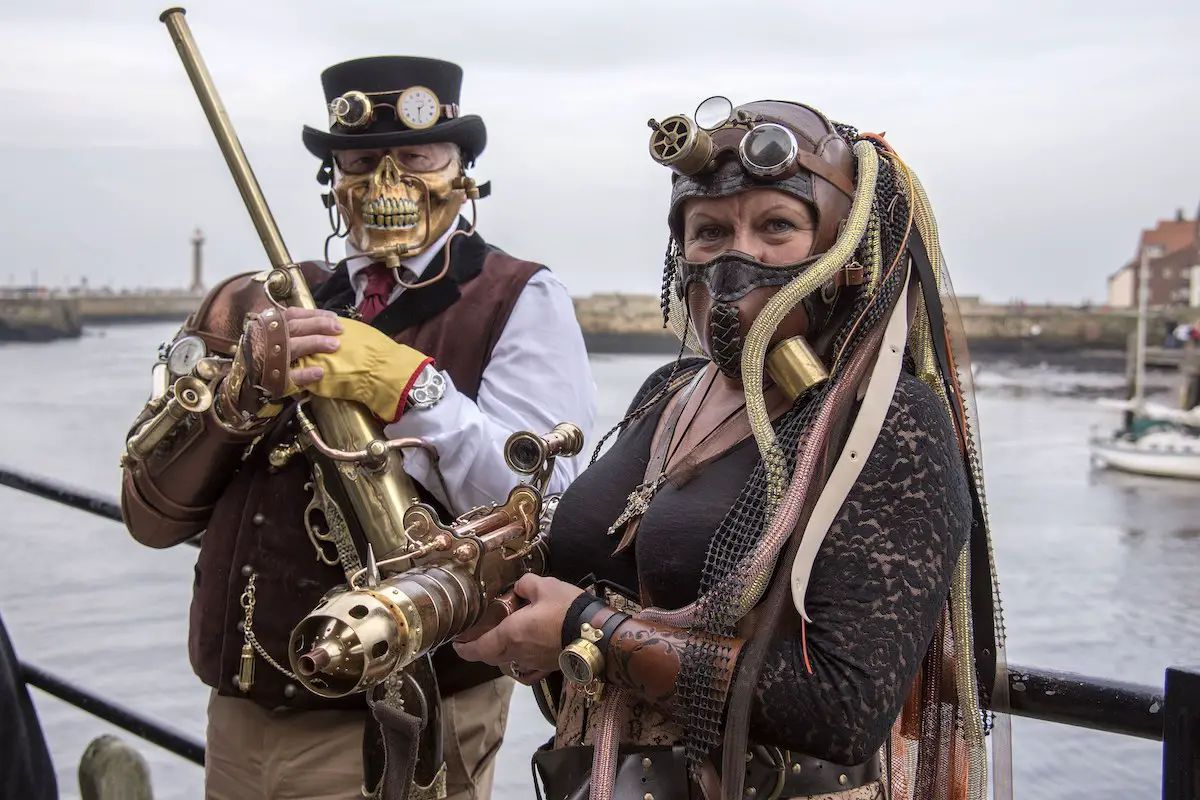 The next Whitby Steampunk Festival will be in Whitby Pavilion 12th-14th February 2021 and again from 23rd – 25th July 2021.
The same organisers will be holding a 'Race The Waves Steampunk Weekend' in Bridlington Spa and Beach from 15th & 16th May 2021
You can join the Facebook page here:  Whitby Steampunk Weekend.
Time Quake Manchester
Time Quake is one of the newest steampunk festivals in the UK, which premiered in 2018. It's a steampunk driven event that hosts prop sessions, exihibits, entertainment, games and photo opportunities, not to mention some of the best retailers in the industry. The exhibitions and creations are immense, just look at this steampunk VW Campervan that was there last year!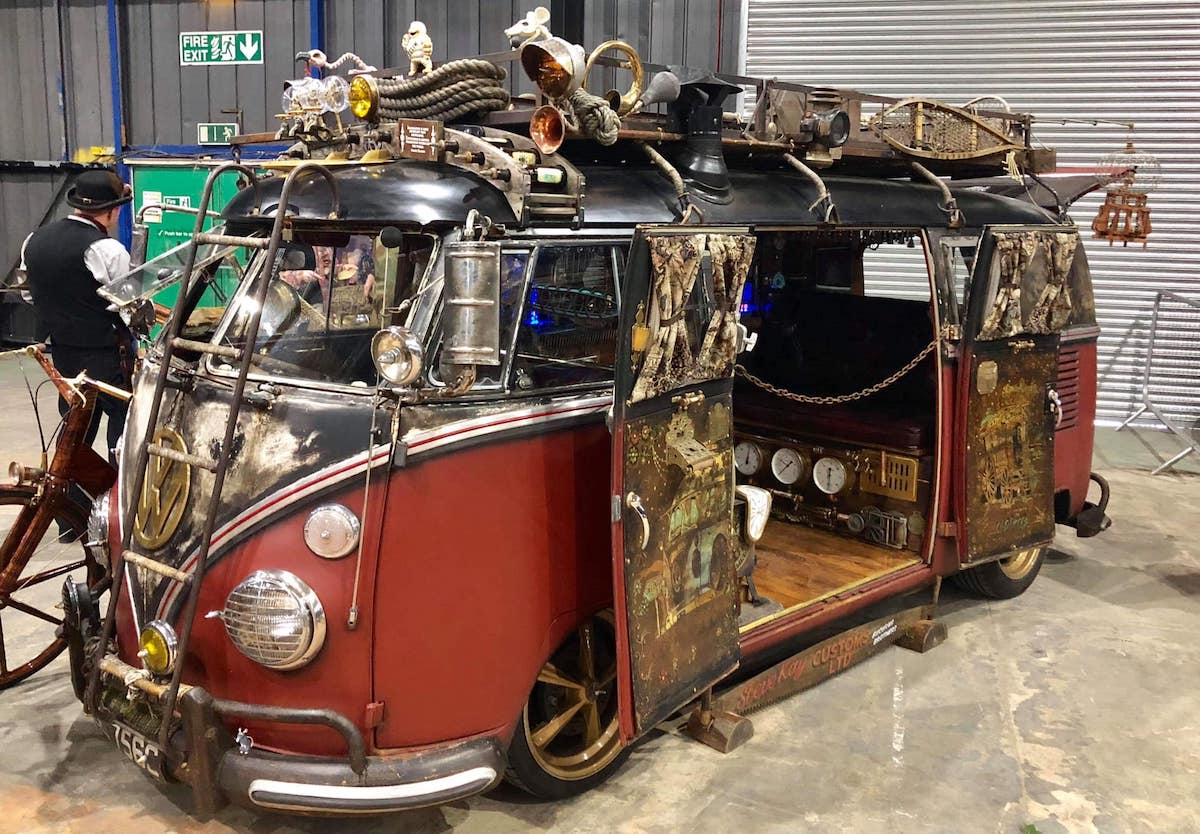 Time Quake seems to extend to a fantasy world with it's 'Apocalyptic Zone' for modern steampunk warriors and the 'Western World' for budding steampunk cowboys. Here are the highlights of Time Quake 2019…
Desolation – Steampunk Post Apocalypse Zone!
Deadman's Gulch – The Western World where Wild Wild West meets Cowboys vs Aliens!
SteamWars – where a galaxy far far away is actually here celebrating the struggle between empire and rebellion but with a steampunk twist.
TimeLords – time travel has been a feature of steampunk since its inception and TimeLords is the ultimate steampunk time travel world.
Darkhold – A fantasy Zone for magical steampunk creatures!
The next Time Quake Steampunk Festival will be in Manchester  in 2021.
You can join the Facebook page here: Time Quake Steampunk.
Steampunk Festivals USA
The USA holds some fantastic steampunk festivals and conventions from Texas to California. I'm going to outline the very best including Steampunk World's Fair (New Jersey) and The Big River Steampunk festival in Missouri.
Here you can find a full Steampunk Calendar for the USA.
Steampunk World's Fair
The Steampunk World's fair held every May in New Jersey is one of the World's biggest Steampunk Festivals. It's full of musicians, performers, vendors, artisans and authors all influenced by the Steampunk Genre. The fair was founded in 2010 by Jeff Mach, Josh Marks, Erin Tierniegh, and Jack Manx and has been running ever since. It's now attended by thousands. Here's a taster of what you can expect…
Costume competitions and parades
Steampunk style Murder Mystery
Theatrical Performances
Live Steampunk Music
Role Playing
Social Opportunities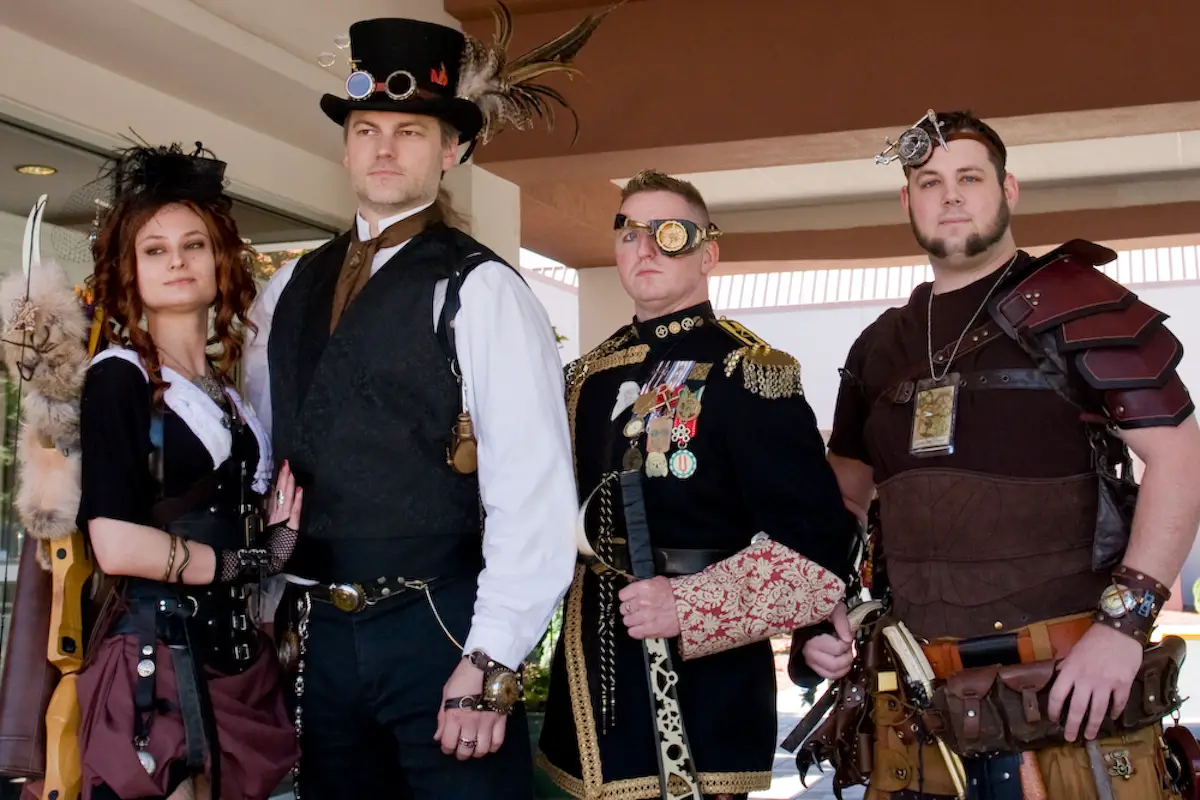 Big River Steampunk Festival Missouri
The Big River Steampunk festival is held every Labor day weekend in Hannibal, Missouri. The Festival is produced by Ken and Lisa Marks, co-founders of the Hannibal History Museum, and proceeds from the event go towards the upkeep of the museum. Celebrate the delights of the Victorian era along the banks of the Mississippi River! Immerse yourself in steampunk as you parade down pedestrianised historic Main Street. It's free to all and hosts over 50 stalls retailing steampunk clothing and paraphernalia. Expect to see steam powered river boats which really make this festival special.
Visit the Facebook page to read all of the latest news about the Festival.
Wild Wild West Steampunk Convention Arizona
Introducing one of the Wildest Steampunk Conventions in the USA! This is America's only Steampunk convention and festival that takes place in a western-themed town and amusement park. Calling all steampunk cowboys and cowgirls – WWWC is the biggest Western Steampunk Convention in the United States!
Clockwork Alchemy – San Francisco
San Francisco is home to its very own steampunk festival Clockwork Alchemy, which used to be part of FanimeCon but is now independent in its own right. It's a ticketed event that usually costs around $99 per ticket. Clockwork Alchemy boasts music, makers, dancing, writing, crafting, fashion, and fun related to steampunk.
International Steampunk Symposium – Cincinnati
The international steampunk Symposium is held annually in Cincinnati and is a family friendly event celebrating all things Victorian and steampunk. The full weekend ticket costs approximately $70 per ticket. The symposium features bands, lectures, entertainers, workshops, vendors and exhibitions in steampunk style. Fund raising events donate funds to support mental health charities. Each year is themed – last year the theme was "Steamtastic Beasts"!
Steampunk Festivals in Canada
Gan Steampunk Festival – Gananoque
Gananoque is the perfect location for Canadas most popular steampunk event – the Gan Steampunk Festival. The festival takes place in this historic Victorian industrial town in eastern Ontario. Activities take place at multiple locations, including the town bandstand and The Royal Theatre (King Street East).
If there are anymore steampunk festivals around the world that you think should be on the list, please comment or email me and I will see what I can do about adding them in!
What to Wear for Steampunk Festivals
You don't have to dress up for steampunk festivals, but the truth is that you will enjoy it more if you do! Don't forget your steampunk festival essentials including steampunk hat, goggles and walking cane!
No products found.
For outfits, women should go for steampunk corsets with Victorian skirts and boots. Men can go for leather trousers with waistcoat and neckerchief. Here's an article on Steampunk clothing that you might find helpful. If you fancy going in steampunk cosplay there are lots of characters that you can do including Amelia Earhart, Long John Silver or Steampunk Batman!
You might also like to read about other Steampunk Festival Lincoln.