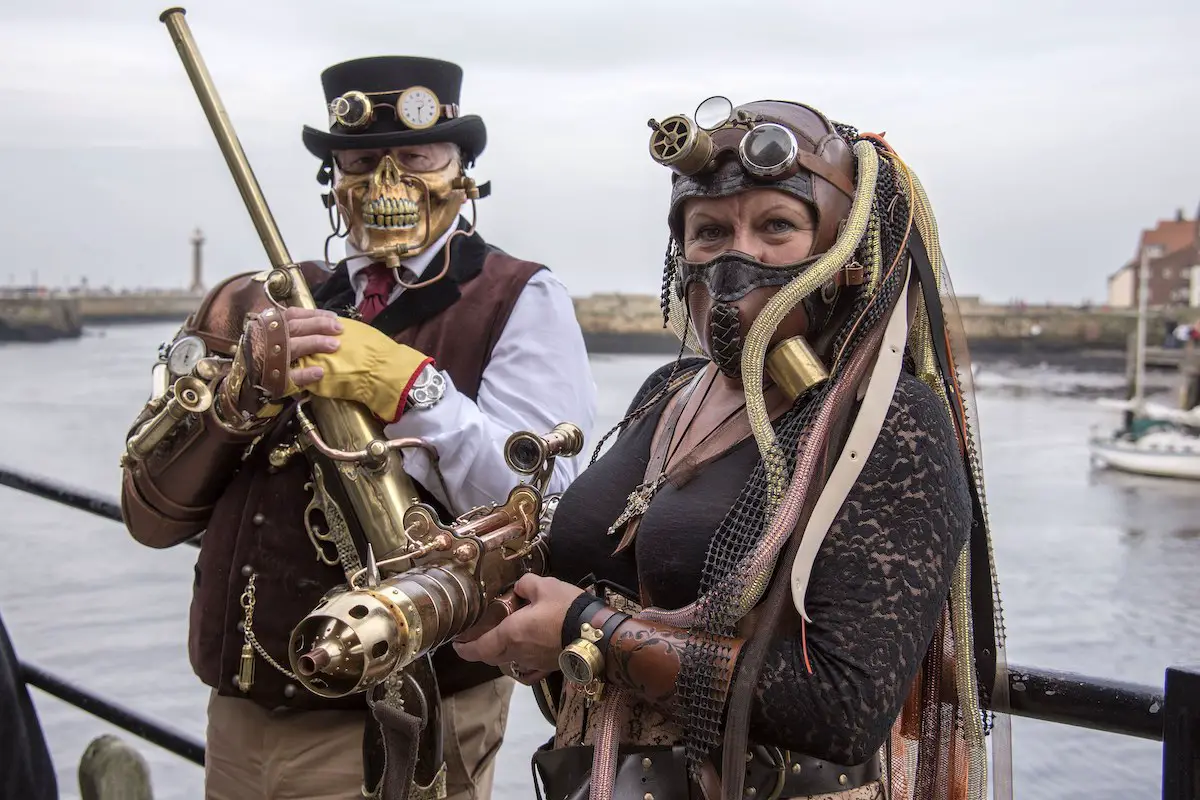 steampunker.co.uk is a participant in the Amazon Services LLC Associates Program and other affiliate advertising programs designed to provide a means for us to earn fees by linking to Amazon.com and affiliated sites. Affiliate links may be used on this page and in steampunker.co.uk articles, but they do not impact on the price that you pay and they do help me to get this information to you for free. Read my privacy policy for more information regarding affiliates.
It seems very apt to be writing about steampunk masks during the pandemic! I shared a video on Facebook this week of a guy in the car park of an American supermarket. He was sporting full plague doctor costume with plague doctor mask! Whether you are looking for something to wear during the pandemic or looking for steampunk cosplay ideas, join us today in search of the best steampunk mask you can buy online…
Medical Disclaimer – These masks are not medically approved for stopping the spread of viruses. Use at your own discretion.
Simple Steampunk Masks and Face Coverings
Steampunk Face Covering
This skull Face covering is a cloth covering that cover both mouth and nose. It's comfortable to wear and can be used as day wear or for cosplay.
Punk Leather Motorcycle Mask
I love this leather steampunk cosplay bikers mask. There are holes in this mask for ventilation and it is decorated with cogs and gears. There are many variations of this mask including a black version of this mask plus variations with rivets, nose rings and zippers. Check them out on Amazon!
Skull Pattern Leather Steampunk Mask
I love this skull print leather steampunk mask. It is comfortable to wear and the straps are adjustable. It's a practical mask again for motorcyclists and will protect against dust and bugs while riding.
Steampunk Masquerade Eye Masks
Heading to a steampunk masquerade ball? These eye masks are perfect for finishing off your costume in steampunk style.
Vintage Steam Punk Mesh Eye Mechanical Men Venetian Mask
I love the retro-futuristic feel to this asymetrical mechanical man Venetian eye mask. It's an 'Amazon's choice' product.
Mechanical Men Venetian Mask for Masquerade
This half mask is available in gold, silver and black. It's perfect for a steampunk Phantom of the Opera!
Steampunk Cat Masks
Steampunk Cat Mask with Monocle
This gold Attitude stuio half cat mask has mechanic detail and a steampunk goggle monocle! This vintage gold design will be easy to pair up with a steampunk hat and is great for Halloween, festivals and cosplay events.
Steampunk Cat half Mask
This fabulous Antiqued plastic style cat half mask comes with built in Goggles. Great if you're feline steampunky!
Steampunk Plague Doctor Masks
The Plague Doctor is a popular steampunk option which actually pre-dates the Victorian era and goes back to 17th Century Europe. Plague doctors covered themselves head to toe and wore a mask with a long bird-like beak. Plague masks were based on many misconceptions about the disease as they did not have the medical technology that we have today. Check out these amazing steampunk plague doctor masks.
Classic Black Leather Plague Doctor Mask
This classic black plague doctor mask is made from leather and has inbuilt goggles.
BUZZYFUZZY Plague Doctor Mask
This plague doctor mask is made with black comfortable material and embellished with copper effect studs and goggles. A uses a buckle strap making it adjustable so it can fit most head shapes comfortably.
Attitude Studio Steampunk Bird Beak Half Mask
This one is possibly my favourite of the plague doctor masks. that I've found so far online. It's kind of an amalgamation of the bio steampunk plague doctor and a mechanical robot! It's sturdy yet light to wear. The vintage rustic bronze design is easy to pair with a hat or use as Halloween decorations for Venetian, renaissance and medieval themes.
Steampunk Gas Masks
Over the course of the 1800's, many lung protectors and respiratory devices were trialled. In 1871 British scientist John Tyndall patented a device that allowed firemen to breathe in smoky environments while rescuing people. This was then developed into the WW2 gas mask in the early 1900's. Gas masks are popular in steampunk, deiselpunk and post-apocalyptic sub-cultures.
Antiqued Gold Retro-Futuristic Gas Mask
I totally love the steampunk retro-futuristic gas mask in antiqued gold. It's a unisex steampunk mask great for masquerade balls or steampunk festivals.
Ghoulish M3A1 Steampunk Gas Mask
This brown steampunk gas mask takes inspiration from the vintage industrial style of the Neo-Victorian genre. It's made from high quality cosmetic degree latex and features a simulated respiratory filter. It works great steampunk cosplay as biohazard scientists, dystopian heroes, or alternate history soldiers.
Arsimus Steampunk Gas Mask with 4 Fans
This Arsimus steampunk gas mask features propellers for an authentic steampunk look. The elastic headband is adjustable and comfortable to wear. It's available in gold and silver.
Masquerade Gas Mask Bullets Respirator Jaw Mask with Hose Tube
This might just be the ultimate steampunk gas mask! This quality Resin base mask is 100% hand painted and super comfortable – plus with it comes complete with cogs and bullets!
Steampunk Doomsday Muzzle
The cosmetic latex steampunk doomsday mask is a big hit with 5* reviews all round! This Steampunk gas muzzle takes inspiration from the vintage industrial style of the Neo-Victorian genre. Blurring the boundaries between biological and mechanical, this might just be what you need to survive the apocalypse!
If you enjoyed this blog you might like to read about other steampunk accessories.