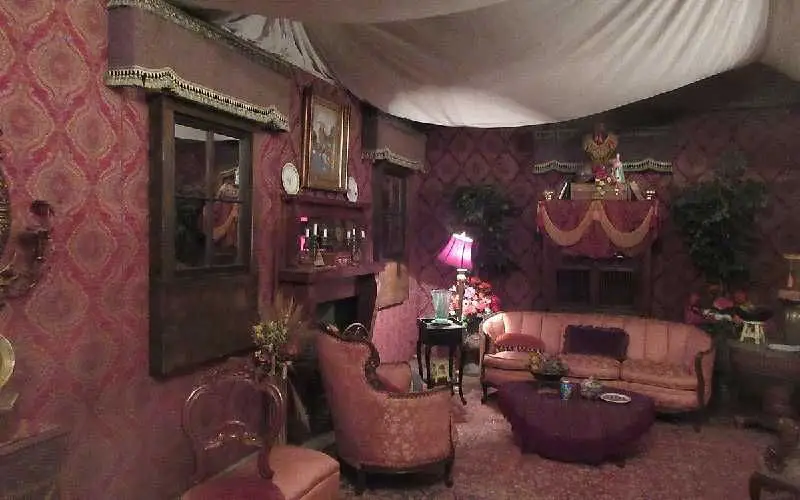 So many people have been asking me lately for steampunk furniture and home ideas! There are so many ways to 'steampunkify' your home. Some of my favourites include a Sherlock Chair, Victorian Roll Top bath and industrial style desks or shelving.
1. Sherlock Chair and Chesterfield Sofa
A Sherlock chair and Chesterfield sofa are the epitome of the Steampunk living room! A wingback chair is exquisite and comfortable – my favourite piece of Steampunk Furniture. Many steampunk fans go for Sherlock chairs and chesterfield sofas in some of the traditional colours suck as brown, cherry red or bottle green. You can buy brand new Sherlock chairs from places like Next and Ikea, but if you want an aged look with a spot of authenticity, pick one up at a second hand store or a charity shop. We got our from the British Heart Foundation shop.
2. Roll Top Bath
No bathroom can pass as steampunk without a Victorian era roll top bath. You can buy them new but also it's possible to get restored and reclaimed pieces from specialist restorers. To add to the steampunk style bathroom you can choose vintage or Victorian style bathroom accessories such as toilet roll holders, light cord pulls and door knobs.
3. Octopus Coffee table
I am totally obsessed with Octopus Coffee tables! The best one I've seen was a circular glass coffee table with Octopus tentacle legs that you can see through the glass!
4. Industrial Side Tables and Shelving
There is a great deal of well designed industrial shelving and side tables. You can also get industrial style desks. Go for ones with lots of industrial piping that connects the steampunk furniture together or attached it to the wall. Again you can get some great second hand industrial style side tables or desks. I also found some fantastic industrial furniture here on price crash furniture which can be delivered within the UK.
5. Steampunk Lighting
Lighting can make a massive difference to a room. There are plenty of options for varying designs including gothic wall lighting and industrial ceiling lighting.
6. Steampunk Cushions
Steampunk cushions can finish off a living room or bedroom nicely. I love the steampunk cushion designs with cogs and wheels. Ancient world map cushions with brown, cream and amber tones work well. You can also find some really unique pieces such as steampunk owls and dogs!
7. Steampunk Mirrors
Steampunk mirrors are my last fabulous idea to revamp your home in a steampunk style. The most popular kind of mirrors are Octopus Mirrors, submarine porthole mirrors and industrial style mirrors, but some people choose to go for a more gothic feel. You can check out our favourite steampunk mirrors that you can buy online here.
I hope that you enjoyed this blog on Steampunk Furniture. If you would like to read more, check out these blogs….