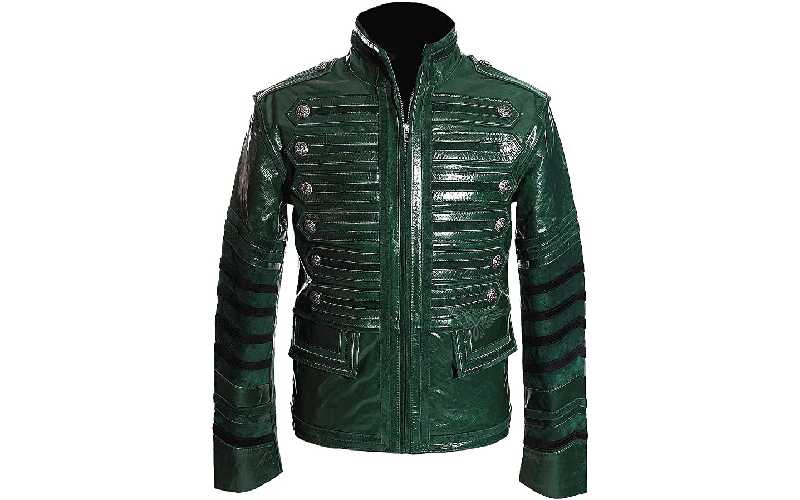 steampunker.co.uk is a participant in the Amazon Services LLC Associates Program and other affiliate advertising programs designed to provide a means for us to earn fees by linking to Amazon.com and affiliated sites. Affiliate links may be used on this page and in steampunker.co.uk articles, but they do not impact on the price that you pay and they do help me to get this information to you for free. Read my privacy policy for more information regarding affiliates.
Leather jackets are frequently worn amongst Steampunk enthusiasts due to their versatile nature. They are perfect for air pirates, and military costumes as well as a range of others. This article will help you to find the perfect Steampunk leather jacket for you.
Noble House Focke-Wulf FW 190 Leather Jacket, Horsehide (S) Brown
Noble House Focke-Wulf FW 190 Leather Jacket, Horsehide (S) Brown
Bottle Green Leather Parade Jacket
No products found.
This bottle green leather effect parade jacket looks straight from a military parade. It has buttons down the front either side of the jacket and also one button on either shoulder of the jacket. The sleeves also have a strip of what appears to be suede with black suede stripes. The jacket has a slightly gothic appearance but it is perfect for wearing as part of your military Steampunk outfit. This parade jacket will look great open or closed and will give your outfit an extra hint of the military aesthetic at your next convention.
Brown Steampunk Leather Jacket
No products found.
This jacket is more expensive, but only because it is made out of real cowhide. The jacket itself is relatively plain, it is made of light brown leather and has a tailcoat effect at the front where the silver buttons start a quarter of the way up the coat. There are two pockets on either side of the jacket, and the collar is quite large and extends far. The two sleeves also have two silver buttons on them at either side. It brings a smart and casual look to your outfit and will definitely be able to be added to a range of outfits to spruce them up.
Gothic Black Leather Jacket
No products found.
This next leather jacket has a lot more of a gothic vibe, so if gothic is your goal, then this jacket is definitely for you. The jacket is made from black leather and it is quite long in style with a slight train down the back. The inner jacket has a waistcoat style where it zips at the front. However, the outer jacket can also cover this section by being buttoned up. The jacket has an overall biker style, but the length definitely adds to its Victorian-gothic look. The sleeves are covered in buckles and straps as well as lacing and buttons. It will look great as an overcoat for your Steampunk outfit, especially paired with a top hat and some goggles around the top hat. It may also work as part of a Steampunk cowboy outfit. Just pair it with some cowboy boots, a cowboy hat, and a holster belt.
Explorer/Aviator style Steampunk Leather Bomber Jacket
This leather jacket definitely screams military or explorer. The Steampunk jacket is made of brown leather and has a furry collar that is light brown in colour. There is a zip pocket on the right hand side of the jacket as well as one pocket either side at the waist, and a belt that goes around the bottom of the coat. The fur collar in the coat is also removable, leaving a simple brown leather jacket. The inside of the jacket is also made of a furry cream material that makes the jacket extra comfortable to wear.
Carrie CH Hoxton Women's Military Style Battalion Jacket 100% Leather Parade Studded Style 4252 (14)
Made from soft sheep Napa leather the jacket sits perfectly on the body and feels comfortable to wear
Jacket Features: Stand collar, Zipper front fastening, Two Columns of decoration military style buttons at front with suede patches.
Jacket Comes with Two outer pockets, Fully Inner Polyester Lining- YKK Strong and reliable zipper used.
Red and black suede patches on sleeves to give extra classic Military look. Military casual style leather jacket is good for casual, sports, party and outdoor activities.
This Leather Jacket is Handmade using full grain Leather - Dry clean only.
This leather jacket is a military style parade jacket with the iconic buttons that line up along the chest and the high collar. There is one pocket either side of the bottom of the jacket, and the sleeves have red wavy lines over the top of the black material. The jacket is perfect for a military Steampunk outfit, so if that's your thing then look no further. The red on the sleeves add an extra unique twist.
Steampunk Leather Jacket
This jacket is a trench coat with a biker style collar, it is a dark red colour with hints of black throughout – including on the biker style collar and at the shoulders. The black patches have belts and buckles as well as silver studs. There is also an inner black leather waistcoat that zips up. It definitely has a gothic vibe but it will work well for a range of Steampunk outfits. 
If you love steampunk coats and jackets you might also like to read this blog – Steampunk Trench Coat and Steampunk Tailcoat