steampunker.co.uk is a participant in the Amazon Services LLC Associates Program and other affiliate advertising programs designed to provide a means for us to earn fees by linking to Amazon.com and affiliated sites. Affiliate links may be used on this page and in steampunker.co.uk articles, but they do not impact on the price that you pay and they do help me to get this information to you for free. Read my privacy policy for more information regarding affiliates.
Tailcoats are a great part of any steampunk outfit. They work well for men and women, and can be dressed up into a fancy industrialist look or down into a Dickenisian ruffian cosplay. We've collected a group of our favourites to fill the wardrobes of every enthusiastic steampunker.
Victorian Tailcoat – Halloween Carnival
Let's start with a real fancy-pants look. There's no denying that this Victorian Tailcoat is great for a devilish gentleman/gentlewoman and would look fantastic with a pair of nicely tailored trousers and potentially a ruffled shirt. The black and silver give the coat a gothic feel but the cut of the coat and the integrated waistcoat still plays true to steampunk.
https://www.etsy.com/uk/listing/690105056/mens-steampunk-tailcoat-jacket-gothic
Mens Gothic Steampunk Tailcoat Jacket on Etsy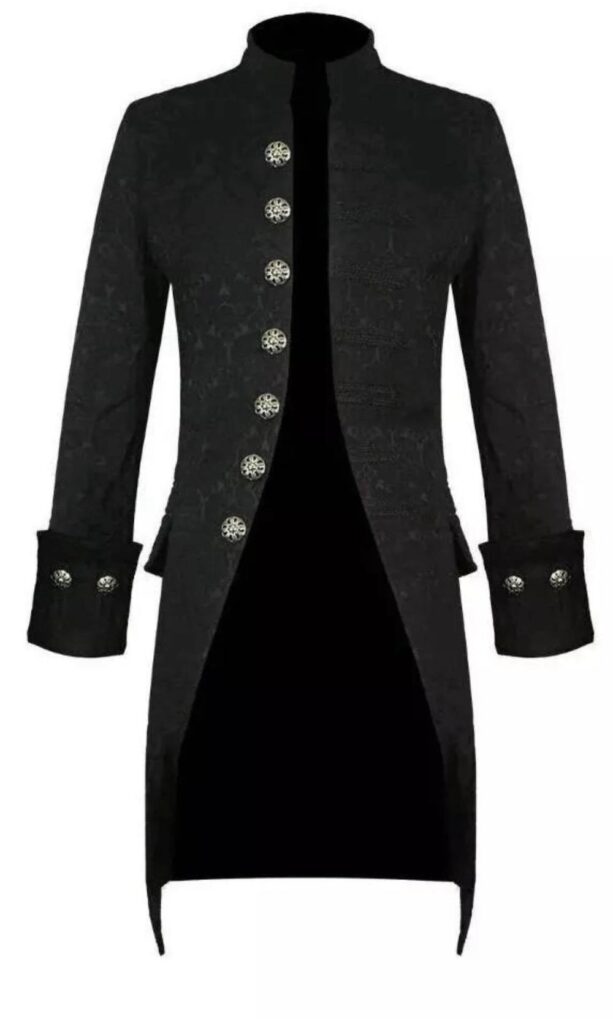 This next look is much simpler and could be worn on a daily basis without looking particularly unusual. But the sleeves? Glorious. Who knows what you could tuck into them. The possibilities are endless. Try to think of this as a great base to build a steampunk look around and know that it'll work well with almost any steampunk 'job' or style. It's a tailcoat that doesn't demand a top hat, and that's good.
Detailed Gothic Tailcoat on Etsy
https://www.etsy.com/uk/listing/746179248/mens-steampunk-tailcoat-jacket-gothic Changing gear again to this immaculately detailed tailcoat. The cut is very conventional, and the coat's uniqueness comes from its embroidered fabric and buttons, which are intricately decorated. The overall effect is excellent: it's not overwhelming or too understated. 
This coat takes the detailing of our previous look and makes it more overt by adding in some colours. It's not neon or garish, though: the browns, bronzes and golds are found through steampunk fashion and compliment each other nicely. The integrated waistcoat also matches and removes the need for a second piece. 
This coat is great because it's extremely versatile. It's decidedly upper class: unless you were willing to 'distress' it, you would not be able to cosplay as a down-on-their-luck ruffian. However, you can match it to almost any colour and know that it's going to work spectacularly. The main material of the coat is a mix of bronzes and golds and the design and detail is gorgeous. The trimmings are a luxurious black which makes the buttons stand out much more.
There is absolutely nothing understated in this coat. Let's walk through the different elements, from most obvious to most subtle. Firstly, the material used on the outer layer of the coat is brilliant. The colours compliment each other; the patterns are gorgeous and the overall effect is eye catching. Next, we have the tailoring. It's cut brilliantly in a way that will flatter the wearer's figure and allow the tails to stand out. There's always something 'carnival' in a tailcoat, and the cut of this is particularly reminiscent of a ring master. Moving on to the lapels and the lining: black velvet and black satin, respectively. They enhance the decadence from the outer brocade and show luxury when one looks closer. Finally, the buttons: not the most noticeable, but still there, pulling everything together and knowing that the look wouldn't be quite complete without them.
If our previous option whispered 'circus', this coat projects it in the loud, clear voice of a ringmaster. The red and black are staples, but here add a devilish flare. Either way, we think the go-to accessory with this might be a fiddle and a mysterious backstory. It's gorgeously cut, too: much like the previous option it emphasises the wearer's chest and provides the right amount of swish in the tail. 
So, there we have them! These coats are gorgeous and interpret the idea of what it means to wear a tailcoat and explore it in a variety of ways. There are opportunities to dress them up or down as the wearer requires and you could wear them out on an ordinary day, or make them into a truly iconic cosplay or costume for a steampunk party.