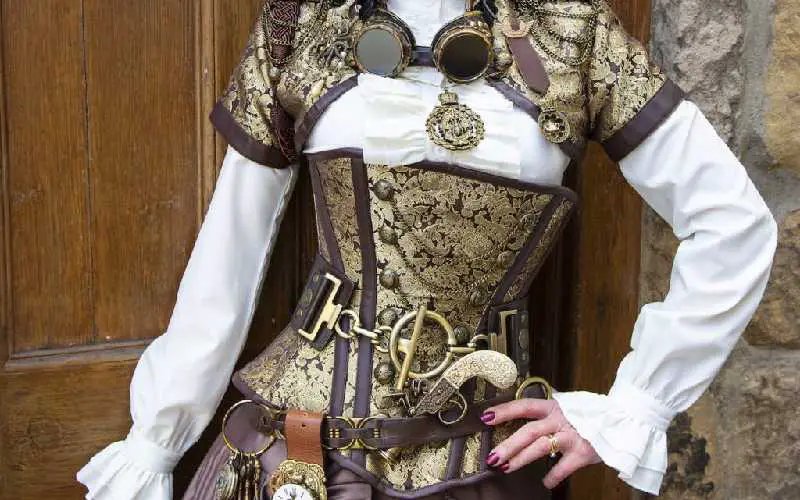 steampunker.co.uk is a participant in the Amazon Services LLC Associates Program and other affiliate advertising programs designed to provide a means for us to earn fees by linking to Amazon.com and affiliated sites. Affiliate links may be used on this page and in steampunker.co.uk articles, but they do not impact on the price that you pay and they do help me to get this information to you for free. Read my privacy policy for more information regarding affiliates.
Steampunk corsets should be at the top of your list of essentials if you are getting into steampunk fashion. Join me in my search today for the best corset steampunk style! But first of all, here's a bit of an introduction to steampunk fashion.
What is Steampunk Style?
When someone says 'steampunk' several things spring to mind. Helena Bonham Carter, spiky goggles and Morlock Knight, for example, or the understanding of something that is both clearly based in the past but obviously looking to the future. Steampunk fashion is usually based on adaptations of Victorian dress, including the corset, stockings, boots and top hats but with mechanical upgrades that people living in the industrial revolution may have considered 'futuristic', like telescopes, pocket watches or clockwork arms. There's also the understanding that polite Victorian society would have been horrified at the corsets and garters of the steampunks, and steampunk's inspiration from burlesque and fetish fashion, and the juxtaposition of both tradition and sexuality would not truly fit in either the Victorian or modern era. Therefore, a strange nostalgia is created for a time that didn't actually exist. It's both hauntingly sad and a lot of fun, especially when people dress up and create things for SaloonCon, the Steampunk convention. 
Corsets embody the confusion between past and future possibly better than any other steampunk item. On the one hand, they're associated with extremely restrictive women's clothing, where they're forcibly laced up into something so tight they can't breathe and causes damage to their organs. On the other hand, they're just so incredibly sexy. Most steampunk fans, cosplayers and fashion historians will point out that the history of corsets is much more complicated: when done correctly, they're wonderfully supportive and won't hurt the wearer- the problem was tightlacing and extreme corsets- and can be versatile, fun and gorgeous.
There are several different styles of corset, so we're going to run through them quickly. Corsets go great with Victorian ruffled skirts, blouses and steampunk leggings.
Steampunk Corset – Underbust
Firstly, there's the underbust corset. This is pretty straightforward: it goes from the wearer's hips to directly underneath the breasts. This will not offer them any support, so wearers may still want to use a bra. This corset does help straighten the posture and is great for 'beginners' who haven't tried corsets before.
Steampunk Corset – Overbust
Next, there's the overbust corset. It's fairly similar to the underbust corset but it comes up higher on the wearer and partially covers (and lifts) the breasts. It also can reduce the waistline and support the back to give the wearer a great posture. These can come with a sweetheart neckline that curves over the breasts like the top of a heart. It's popular with corsets integrated into wedding and prom dresses, but can be used on steampunk corsets too!
Then, we have the Victorian and steampunk corsets. There's a lot of overlap between the styles, but generally Victorian corsets have more lace and frills, whereas steampunk corsets are often made of silk, leather or a combination. They're usually darker colours, too, which can massively change the appearance of the overall outfit.
We've picked out some of our favourite corsets for you to look at 
This corset is gorgeous, and has everything a real steampunk corset needs: room for a pocket watch, pinstripes and more buckles than could be technically necessary. The leather plays with a more kinky vibe but it isn't overtly sexual, and could be paired with something that either shows the breasts or hides them depending on the wearer's preference. The sash and small pocket keep the corset engaging, and it's busy and interesting enough that it can be worn as the main statement piece in a steampunk outfit and not seem underdone, although you certainly should try it with a top hat, goggles and a full, partially hitched skirt or tight leather trousers. There's also a strong pirate vibe, so you could see about trying it with a toy parrot for a halloween costume or a party.
This corset comes in three different colours and each has a distinctive and specific take on the design. The black has, unsurprisingly, a gothic feeling and the silver metal chains only enhance this- werewolves should beware the wearer! The brown is much more rustic and would work well with a natural hair colour. The bronze chains enhance the clockwork element of the design and nicely accentuate the corset's tones in a way that compliments them both. Finally, the multi colored corset has a gloriously fun carnival feel, making any wearer feel ready to read a fortune or cover a crystal ball to hide from a dark secret. 
All of the corsets have chains on the sides and fancy metal clasps at the front. It's details like this that really enhance the corset's steampunk feel. Try wearing this with another piece of fabric that correlates to the corset's pattern, possibly as a bandana or strap on goggles.
There's three interesting parts to this corset, and even without them it would be spectacular. The first is the little jacket, which buckles across the collarbone and could go well with a choker. The jacket itself makes the corset more of an outfit and the two combine pleasantly. The second part is the belt part at the bottom of the corset. It gives this corset a much more cowboy feeling and works nicely as a western steampunk vibe, instead of a gothic steampunk of the previous corset. Finally, there's a zip at the front instead of more conventional buckles or fastenings. This gives a much more modern twist to the corset and winks to the mix of both past and modern in a way that's also practical and more reliable than other fastenings.
There are so many details to love on this next corset. It's truly eye catching and somehow straddles pirate, steampunk and wild west styles all at the same time, whilst not overwhelming the wearer. The collar eliminates the need for any kind of choker and gives the corset a sexy BDSM look without getting overly kinky, and works into an asymmetrical shoulder piece that would look great with longer hair pulled over one shoulder. It's got great buckle details that draws the eyes all over, including to the breasts which pop nicely and won't look weird if they're slightly uneven. The main corset has panels of patterned material that adds interest to the corset without dominating it in colours that should match nicely with both creamy skirts or leather garments, depending on the wearer's style. The inserts also work as a gentle optical illusion of a smaller waist and larger breasts by narrowing and then widening. As a last touch there's fake leather sides with more buckles and studs to keep the more metallic aspect of steampunk present.
If you want to switch up the colours, look no further. Whilst a lot of corsets, especially for steampunk, come in browns or muted bronzes, this steals the show with gorgeous red silk. It's provocative and striking and very much tells the story of a madam in a western post apocalyptic future who throws back gin and no one knows her name, they just call her Red. There's the buckles and fastenings that you'd typically find on a steampunk garment, and, despite its colour and appeal it's actually more covering than most corsets. 
Looking to complete the look? We can't get enough steampunk clothing and accessories, so why not try some of our other steampunk clothing. We hope you've enjoyed the gorgeous corsets and feel confident to start to assemble your look. Remember to make sure they're properly fitted and make you feel as powerful, weird and steampunk as possible!