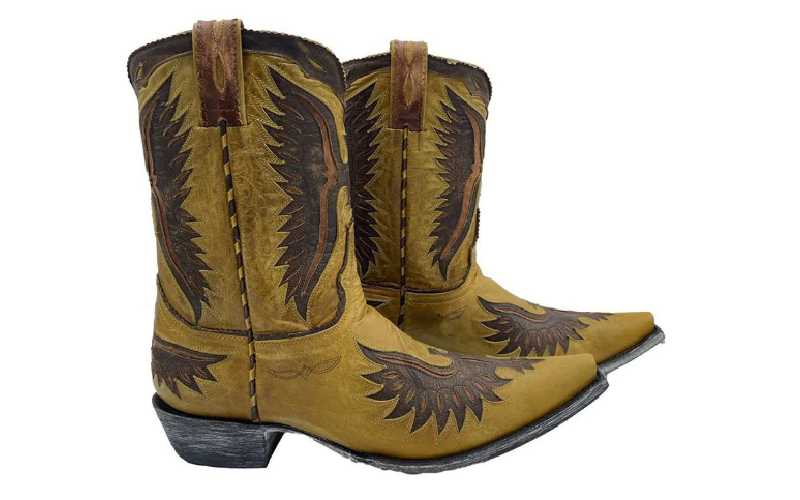 steampunker.co.uk is a participant in the Amazon Services LLC Associates Program and other affiliate advertising programs designed to provide a means for us to earn fees by linking to Amazon.com and affiliated sites. Affiliate links may be used on this page and in steampunker.co.uk articles, but they do not impact on the price that you pay and they do help me to get this information to you for free. Read my privacy policy for more information regarding affiliates.
Cowboy boots may be just the thing that you're looking for in order to better your Steampunk style. If this is the case then you're in the right place as this article will outline the best cowboy boots for you.
Ariat boots
Ariat boots are durable cowboy boots with rubber soles, they look genuine and top class. These are bound to stand out as part of your Steampunk outfit. They are also supposed to be super comfortable and there is no doubt that they are stylish. Boots are frequently uncomfortable, so Ariat boots are the perfect option for walking around your next Steampunk convention, and their price point is not too high for a good quality boot. 
Durango 
Durango is also a more affordable cowboy boot that offers durability and comfort for walking around at your next convention. The designs tend to be more modern in style, however, this may be exactly what you are looking for. The boots are also low and below ankle length, so if you're not a mid-length boot wearer who is looking for some modern cowboy boot/shoes then Durango bootsare perfect for you.
Old Gringo
Old Gringo also has some incredible looking boots in a range of styles. The brand is known for their iconic embroidery, promising a pair of boots that will stand out. They do have a higher price point than the other two boots spoken about so far, but they are beautiful and high quality boots that offer luxury and comfort as well as a unique and high quality design.
Justin
Justin are an extremely popular brand that specialise in cowboy boots. They are so popular in fact, that they are the official boot for the Professional Rodeo Cowboys Association (PRCA). They have many different types of cowboy boots, including work boots, ranch boots, and dress boots. You are bound to find a pair that take your fancy and they will no doubt add something special to your Steampunk outfit. The boots also promise to be comfortable and they are well priced for such high quality and sought after boots.
Lucchese
Lucchese was founded by an Italian and Italy is known for their quality craftsmanship of shoes and boots. The Italian influence is recognisable in the boots' design but they are also recognisably classic in style. 
Corral
If you are looking for a more unique and stand out boot, then Corral is perfect for you. They are massively influenced by the western world and there is bound to be a design that is perfectly suited to you. The range of styles and colours is perfect for anybody who wants their boots to be the standout feature of their Steampunk outfit. The Corral website has many ranges of boots that you can pick from and have a pair of unique and beautiful boots delivered to your door.
Rocketbuster
Again, if you are looking for a pair of stand out boots, Rocketbuster is yet another brand that offers just that. The boots are vintage in style, but they have a unique and colourful twist. The boots feature bright, bold, and vibrant colours with pretty and unique patterns and designs on them that are bound to have all eyes on you. You can even have a personalised design to match your Steampunk outfit perfectly. 
Ariat
Ariat are a well known brand that cater to equestrian athletes. The boots are designed for many different purposes including work boots and riding boots. They are classic in style and will offer a vintage, traditional look to your next Steampunk convention outfit.
Rios of Mercedes
Rios of Mercedes boots is a family business that crafts handmade boots, making your boots feel more personal and unique. The boots are said to be extremely comfortable and they come in a variety of colours and designs, mostly traditional in style. They will make your next convention outfit look and feel more personal and heartfelt.
Stallion Boots
This brand is fairly new and they are considered to be high-end boots. With famous clients such as Bob Dylan. They are expensive boots, but they are high quality and have an undoubtedly suave design. 
Lane Boots
Lane Boots are handcrafted and offer a range of styles from traditional, to more modern designs. They provide a high quality and high-end boot without the high-end price tag.
Black Jack Boots
Black Jack Boots also provide a stylish boot with an array of styles, colours, and designs. The designs are based on traditional styles, so if you are somebody to keep up traditions, but you like to wander a little, then Black Jack Boots are the boot for you. The boots are all made from leather and are handmade. 
Tony Lama Boots
These boots are a well known brand amongst cowboy boot wearers, and for good reason. They are great quality and they are supposed to be comfortable too. The boots look like they have a traditional style to them, so if that's your thing then Tony Lama Boots are perfect for your next convention.