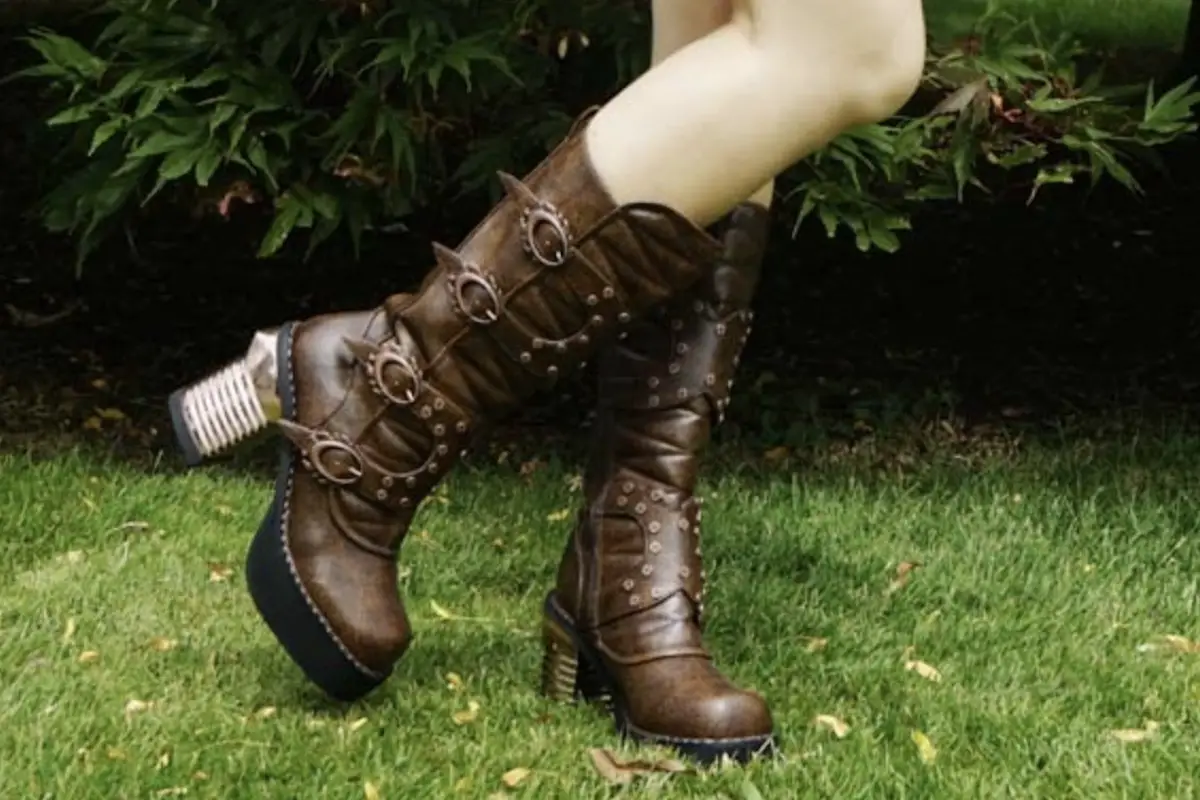 steampunker.co.uk is a participant in the Amazon Services LLC Associates Program and other affiliate advertising programs designed to provide a means for us to earn fees by linking to Amazon.com and affiliated sites. Affiliate links may be used on this page and in steampunker.co.uk articles, but they do not impact on the price that you pay and they do help me to get this information to you for free. Read my privacy policy for more information regarding affiliates.
The term 'steampunk' originates from science fiction novels. It's a subculture, a philosophy and a style. The movement is heavily tied up with fashion, taking heavy influence from futuristic technology and the cyberage as well as old fashioned Victorian era style. This hybridity blurs the boundaries of time and style and this is what the steampunk genre is all about.
Caribbean Pirate Black Costume Boots (Small 8-9)
Boots & Braces - 3 Loch Steampunk Gear Brass Rub-Off mit Schnalle, Black - Schwarz (Brass Rub-Off), 42 EU
Caribbean Pirate Black Costume Boots (Small 8-9)
Boots & Braces - 3 Loch Steampunk Gear Brass Rub-Off mit Schnalle, Black - Schwarz (Brass Rub-Off), 42 EU
Translating these subjective terms into actual garments and fashion pieces, the cyber, futuristic side involves metal, chunky boots, heavy adornments of buckles, thick laces. From the Victorian era influence, steampunk fashion showcases lace, leather, Clashing doesn't matter, this style is a reflection of industrialisation, full of contradictions and new developments.
You'll often see shoes or boots adorned with the patterns of gears and mechanical clock parts. In some ways, the focus on timepieces for decoration in the steampunk fashion breaks the forth wall. It is a metacommentary on the passage of time and the resistance to change and automation. It celebrates invention and machinery but also reminds us of times past and not to forget the many genres and philosophies that brought us to the current time.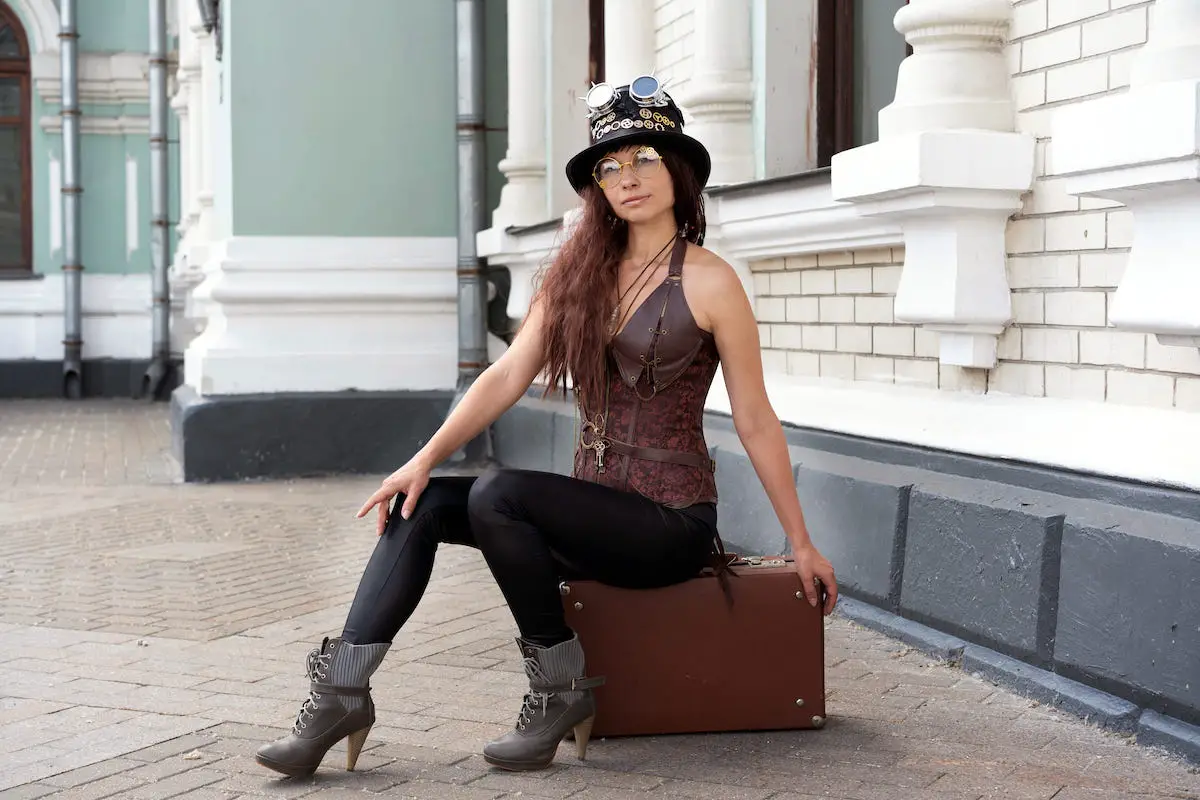 Women's Steampunk Footwear
Steampunk shoes for women include vintage brogues, Victorian style shoes, Mary Jane mid heels or kitten heels, lace effect heeled pumps. You can find these all over, from online stores to the high street to charity shops and online reselling apps. Often the best way to find rare and unique gems that could perfect a steampunk look is by hunting through the aisles of vintage stores and warehouses. However, you can also look online if you know what to search for!
Many womens steampunk shoes come with chunky heels, making a bold statement in a look. Female steampunk looks usually involve heels, so these Oxford brogues are a great example of a classic shoe-turned-heel. A classic flat brogue makes less of a statement and may not match the steampunk vibe as well as a brogue with a chunky heel. Colours usually are dark, deep greens, blues and browns are commonly seen in steampunk fashion, as well as black like black lace and patent details.
Vimisaoi Women's Vintage Oxfords Brogues Wingtip Chunky Block Heel Shoes, Lace-up Perforated Stacked Pumps Dress Saddle Shoes Gift
[High Quality]: Pu leather upper material and rubber sole material, comfortable to wear,durable and non-slip
[Fashion Shape]: Round closed toe and chunky high heel design could blend beauty and comfort
[Measures]: Block High Heels Oxfords Heel Height~6.5cm=2.55inch
[Easy On/Off]: Lace Up-classic, stylish
[Occasion]: Suitable for various outfits when you walk, travel, shopping, work, party, wedding, riding, daily, holiday, outdoor, spring, summer, autumn
Mary Jane heels are mid height shoes with delicate buckles across the foot. Keep an eye out for something with a true vintage look, with adornments such as lace, brass or noteworthy buckles. Steampunk fashion isn't subtle – the genre is made to stand out and be bold!
Womens Pumps, Popoti Leather Shoes Mary Jane Mid Heel Shoes Handmade High-Heel Ankle Boots Floral Lace Dress Shoes (Brown, 38)
Upper Material—First Layer Cowhide Synthetic; Inner material: synthetic leather; Sole: rubber. Side zipper Excellent handmade shoes. Perfect heel design, ergonomic design, wearing or standing will not get tired. Ideal for wearing in all seasons.
Fashion Design—Mid Heel (4-5CM). Casual Elegance Ladies Shoes Suitable. The stylish style can be easily combined with any outfit. Stylish and pretty, Handmade stitching, Perfect and sublime surfaces Flower design that lets you look unique and chic >>> Shoes (without box)
Shoe Width—Normal (Chinese / Europe Size), Please refer to the size chart on the links image page for size. It is for most ladies. All feet have different sizes and the size may vary from the standard size. Therefore, we recommend you to consider carefully whether to buy a larger code according to your actual situation. I suggest buying a big one is better than a little one. You can wear a pair of thick socks.
Perfect Gift—Ideal Wedding, Work, Business, Leisure, Party, Dinner, Holiday, Dating Dress etc.This is a Perfect Gift for All Men Ladies. For friends, girlfriends, at Christmas, Mother's Day, Brithday, Thanksgiving, Valentine's Day etc.
Non-Slip & Wear Resistant—These shoes have a certain non-slip function that is worn both inside and outside.This comfort these shoes have been put on and taken off in a few seconds.Excellent handcrafted shoes, Comfortable toe shape Features Will not push your toes.
Kitten heels are also a steampunk women's favourite. Little, low and delicate shoes are a feminine addition to a steampunk outfit, taking inspiration from wedding and burlesque fashion – a clash of raunchy, expressive confidence and innocence at the same time. Steampunk reveals the contradictory nature of our subconscious connotations in mainstream culture and utilises fashion to put them on display.
No products found.
Steampunk Boots for Women
Heels are one key area of steampunk footwear for women, but there's a whole other wardrobe out there in the form of steampunk boots. Women can enjoy the expression of retro boots, Victorian ankle boots, Victorian or military style knee high lace ups, gothic steampunk boots or mid-calf brogue boots. The options are extensive!
Steampunk boots can be simplistic and bold at the same time, like these tall black lace-up boots. These come in black leather or suede, the leather being the more traditional steampunk look and the suede giving a softer age, which would pair well with something hard and distinctive.
Aside from the plain leather lace up boot, there are many with patterns, decoration, attachments, embroidery or attachments which all contribute to the steampunk look. A good example of this enhanced version of the classic lace up boot is this pair of heeled boots with floral stitching. The lace look brings a twist and the combination of brassy hooks for the laces and pretty stitching is steampunk to a T!
Boots are always going to be a good way to express your personal steampunk style, because they always attract attention. Whether they be simple or heavily patterned, have a low or high, chunky or thin heel, or be decorated in some way with steampunk classic décor. Women's steampunk shoes are usually heeled, with leather, metal or lace and some degree of ornamentation. 
No products found.
Depending on the rest of the outfit, they can be the main attraction or just a complimentary side piece. It's all down to you! Steampunk was invented by science fiction writers and fans, so getting creative is at the heart of the steampunk genre!
No products found.
Men's Steampunk Footwear
Men's steampunk shoes include pirate boots, gothic boots, aviator boots. The look is often chunky and adorned with unique, unusual additions. Think motorcycle gear, but to a new level. 
No products found.
Look for men's boots that are tall with lots of metal clasps and buckles. Anything chunky and noisy is perfect. These can be found in the black leather more simplistic style, or they can take inspiration from fantasy and history, like pirate boots. 
Men's steampunk shoes have a big focus on the chunky sole. Good news is – they're often pretty comfy because of this! These aviator boots have a unique pattern on the sole, which helps with shock absorption and in the right weather they can be worn all day with comfort and ease!
No products found.
It's not all about the boots for men, smaller shoes can still be considered steampunk with the right decoration. A great example of a flat shoe for men that's as steampunk as they come is this brass, gear-adorned shoe with shine. The pattern elevates this shoe from a simple flat buckled shoe to a steampunk classic.
Steampunk fashion is fun. It's an exploration of identity from retro and historic ages to predictions and inventions for the future. It's historic and involves you with the past, yet it also looks to the future and gets creative. We hope this article was helpful for you to learn and understand how you can enjoy the freedom and expression of steampunk fashion. If you are interested in seeing more on how to incorporate a little steampunk influence in your life beyond just your feet – check this article on steampunk clothing. 
Throw pieces together with treasures from the vintage store, or new gems you find online. Now you have an idea of what kind of footwear is considered steampunk, get involved and have some fun!