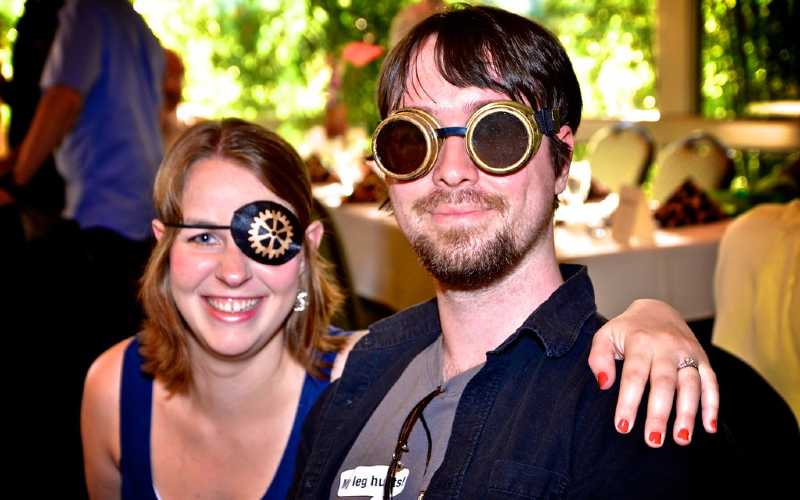 steampunker.co.uk is a participant in the Amazon Services LLC Associates Program and other affiliate advertising programs designed to provide a means for us to earn fees by linking to Amazon.com and affiliated sites. Affiliate links may be used on this Corset Dress Steampunk article and in steampunker.co.uk articles, but they do not impact on the price that you pay and they do help me to get this information to you for free. Read my privacy policy for more information regarding affiliates.
Your wedding day is an incredibly special day, it should be special and unique. Picking out your own decorations, accessories, clothing, cake, and invitations may be some of the most difficult decisions. These ideas are bound to help you to make your final decision for that special day:
Table could not be displayed.
Venue
The venue that you choose for your Steampunk wedding is likely going to be your first big decision that you make. Fitting in with the Steampunk theme is also likely to be a priority for you, you will have to decide on whether to have your wedding Gothic (at a cathedral or a castle), or more Victorian style (at a church or perhaps outdoors). These decisions all depend on the rest of your decor, for example if you are having an outdoor wedding, your decorations will of course need to reflect on that (e.g. a gazebo). Or if you choose to have your wedding venue in a cathedral, then you will need to have the decor matching that time period rather than modern Steampunk decorations. 
Steampunk Wedding Rings
Steampunk wedding rings are a decision that your partner and you will have to consider fairly early on in your wedding plan. There are many different styles and colours of Steampunk wedding bands. You will need to decide what kind of style you want, what material you want, and whether you want black, silver, gold, or gunmetal colour (as these are the most common colours available on the market). For the design, there are many designs available out there, from Celtic, to more modern Steampunk rings, to traditional. 
Invitations
One of your first important decisions will be your choice of invitations. If you don't have a lot of time on your hands, or your not too crafty, then your best bet is to look for 'Steampunk wedding invitations' on Etsy. That way, you can support independent artists while saving time and getting some incredible looking invitations that are perfect for your big day. On Etsy there are plenty of different designs available on a vast marketplace, you are bound to find one that you will fall in love with.
Your other option is to create the invitations yourself. You can buy card, ribbons, and decorations on Amazon and create unique, one of a kind invitations yourself. 
Dresses
There are many different options for your wedding dress, it all depends on your preferred style. You can get corset styles, or ones that are more loose fitting. You can also get ones that are princess style or ones that fall more naturally past your waist.
This dress is more loose fitting in style, it is a gorgeous dress that really takes on the Edwardian style that Steampunk is often inspired by.
This one is notably black in colour, another option that you may want to think about. It is a corset style, Gothic Victorian style dress and will look perfect at your Steampunk wedding.
No products found.
Or why not go for something even more different and try this half and half black and white wedding dress. The dress is Victorian in style and looks elegant, the two-tone is bound to turn heads.
Your bridesmaid dresses are also important, why not try something a little different:
This dress is made from beautiful green and gold velvet. It is in the style of a Victorian ballet dress and will look great paired with a cog necklace as shown in the image. 
Suits & Hats
As with dresses, Steampunk suits come in a range of styles. You get many different designed waistcoats, overcoats, and trousers. You may also choose to wear a hat with your suit. 
Waistcoats come in a variety of different styles, this one is a black pinstripe waistcoat with a cravat, and it has buckles and a pocket chain that really add to the Steampunk look. This will look great paired with some black trousers, boots, and a white Victorian style shirt.
A Steampunk hat will also look great at your Steampunk wedding, adding to the overall look of your outfit. You may even wear a top hat with goggles.
Accessories
To add to the Steampunk theme, you may wish to add accessories to your clothing, such as a gun in garter to really alter the period of time on your big day. Another consideration is Steampunk goggles, hats, and veils. All of these accessories can make your wedding seem just that little bit more special.
This gun in garter is a badass addition to your Steampunk wedding dress. It truly adds to the science-fiction element of Steampunk fashion. 
Steampunk Wedding Cake
There are of course many many different styles of wedding cake available to you. All will depend on the rest of your decisions. If you are having your wedding inside an old historic venue, then a traditional looking, heavily Victorian inspired cake will look great and fit the scene perfectly. Whereas if you are having your wedding outdoors, with more modern decor, then you may find it more fitting to have a modern Steampunk styled cake.