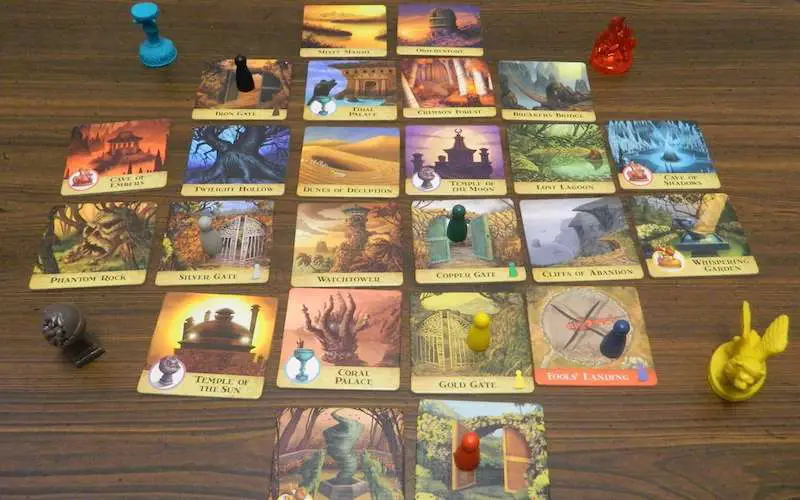 steampunker.co.uk is a participant in the Amazon Services LLC Associates Program and other affiliate advertising programs designed to provide a means for us to earn fees by linking to Amazon.com and affiliated sites. Affiliate links may be used on this page and in steampunker.co.uk articles, but they do not impact on the price that you pay and they do help me to get this information to you for free. Read my privacy policy for more information regarding affiliates.
If you're looking for a steampunk-themed, cooperative board game then 'Forbidden Island' is a perfect choice. I hope that you enjoy this Forbidden Island review.
Gamewright | Forbidden Island | Board Game | Ages 10+ | 2-4 Players | 30 Minute Playing Time
Gamewright | Forbidden Island | Board Game | Ages 10+ | 2-4 Players | 30 Minute Playing Time
Introducing Forbidden Island
As the title suggests, players are transported to the Forbidden Island, a mysterious island filled with lots of treasure. However, the island isn't stable and, throughout the game, parts of it begin to sink. The board game was designed by Matt Leacock and then published by Gamewright.
The game is played by 2 to 4 players and these players can choose one of 6 adventurer characters to play as. Each adventurer has their own specific set of skills which can be used to aid the player on their quest for the island's treasure.
Gamewright | Forbidden Island | Board Game | Ages 10+ | 2-4 Players | 30 Minute Playing Time
Join a team of fearless adventurers on a do-or-die mission to capture four sacred treasures from the ruins of this perilous paradise.
Forbidden Island is an adventure based collaborative play game involving problem solving and strategic thinking.
Several different levels of play are available in this multi-award winning game.
Race to collect the treasures and make a triumphant escape before you are swallowed into the watery abyss!
Suitable for 2-4 players aged 10 and up.
Steampunk and Co-operative – My Kind of Game!
The game board itself is made up of 24 tiles. Some of these tiles have treasure icons on them which means players go to these tiles to collect treasure once they have collected enough treasure cards. Two cards are collected from the treasure each time a player completes their turn. Then, players must look at the water level number and choose the corresponding number of cards from the flood deck. This can cause a tile's water level to rise or the tile to sink entirely so players must carefully follow the instructions on the card. Due to the flood deck being in play, players have a big chance of losing the game. This loss can come if the Fools' Landing tile sinks, if a player drowns or can no longer collect a piece of treasure or if the water reaches the Skull and Crossbones level.
Win by Collecting the Treasure!
The only way to win the cooperative board game is if all 4 treasure pieces are collected, all players make it to the Fools' Landing tile and a player discards a helicopter card. 'Forbidden Island' can be purchased on Amazon for around £17.50.
Alternative Co-Operative Game – Elder Sign
If your looking for more steampunk-themed, cooperative board games then Kevin Wilson and Richard Launius' 'Elder Sign' is a great idea. The board game is considered more Lovecraftian than steampunk but does have some steampunk elements. The game is played by 1-8 players and is a fast-paced, cooperative dice game. The players of the game are investigators who are racing against time to stop the imminent arrival of the antagonist, the Ancient One. A countdown begins as players explore the museum looking for elder signs. If the countdown runs out, the Ancient One appears and players must fight it!
No products found.
Alternative Steampunk Game – Steampunk Rally
Or perhaps you'd be interested in 'Steampunk Rally' by Orin Bishop. This board game sees players take on the role of various historical figures such as Nikola Tesla and Marie Curie. The players must construct machines that run on steam, heat and electricity in order to win a race through the Swiss Alps. At the start of each round, players carefully choose cards with various machine parts to add to their racing contraptions. Players roll their dice to activate their machine parts which can provide shielding, movement and more dice to activate more machine parts.
No products found.
Further Reading
Thank you for reading this Forbidden Island review! If you like the sound of these 3 board games and want to find out about more, click here to read about the top 10 steampunk-themed board games.