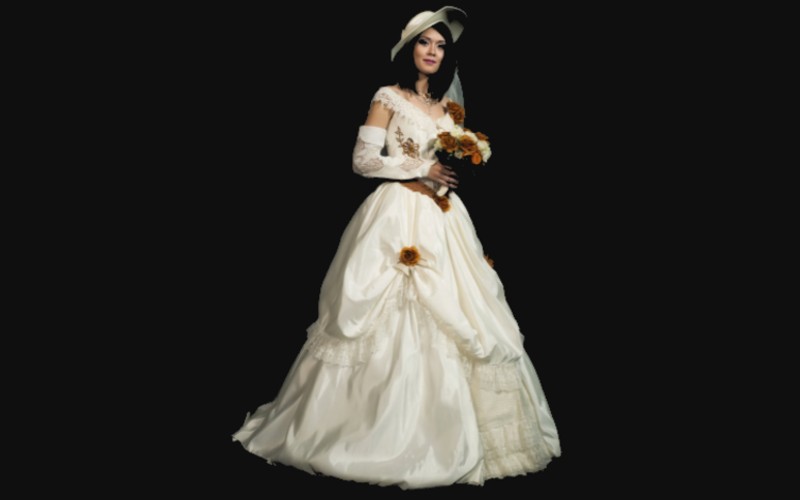 steampunker.co.uk is a participant in the Amazon Services LLC Associates Program and other affiliate advertising programs designed to provide a means for us to earn fees by linking to Amazon.com and affiliated sites. Affiliate links may be used on this page and in steampunker.co.uk articles, but they do not impact on the price that you pay and they do help me to get this information to you for free. Read my privacy policy for more information regarding affiliates.
If you're reading this, there's a good chance you're already a fan of steampunk and you're planning a wedding. Congratulations! Having a themed wedding can be a great way to make your special day unique and capture your interests.
Of course, you don't have to have all of your guests turn up with robotic arms and wearing corsets (although that could be a great conversation to have with your future father in law…) but taking a little piece of your passion and working it into your clothing can be great if you don't want to go all out. Or do!
Either way, you should be in something that you love, to marry someone you love. We've compiled a list of our top steampunk wedding dresses for you. Enjoy!
https://www.etsy.com/uk/listing/510026622/spring-wedding-steampunk-wedding-dress First up, we have the Spring Wedding Steampunk Dress. We adore the fairy vibes and the combination of lace, silk and ruffles. It's a little shorter than most conventional wedding dresses – but that just means you can show off your shoes! It's made to order, so it will fit your body perfectly, and you can change the colours and add a full torso corset if you like.
https://www.etsy.com/uk/listing/770473891/bohemian-high-low-gownlast-days-for High at the front, low at the back – don't worry, it's not a mullet! This silky gown has a shape that's been adopted, customised and adored by steampunk fans for years. You can flash your legs at the front and throw in a garter (a wedding and steampunk essential) and your favourite boots. Or a new pair! It is your wedding, after all. The tulle and lace ruffles contrast nicely with the bodice, and the colours all work perfectly together. The seller will make this just for you, so it'll be perfectly fitted to your figure and you could easily ask for things to be customised if you like. 
https://www.etsy.com/uk/listing/451081270/steampunk-wedding-dress-bridal-dress It's another high-low dress, but this one has a much more traditional wedding look. It's white, strapless and has uniform rows of organza. The upper half is also pretty close to the steampunk staple corset, and fits closely and flatters the figure. There's the option to get different colours or slightly alter the style if that suits you, but we think it looks great just the way it is. Goggles in your veil, anyone?
https://www.etsy.com/uk/listing/853517451/steampunk-outfit-victorian-dress-wedding If you're looking for an absolute showstopper, this is your dress. It's decadent, gorgeous and genuinely wouldn't look out of place at a fashion show. The bodice won't gape and adds a sexy feel whilst still looking classy, and the skirt is enormous! A lot of other steampunk wedding gowns skimp on the skirt, but this embraces it in all its glory. The dressmaker is willing to work with customers to get the perfect fit or make changes if necessary – but we really don't know how this could be improved.  
https://www.etsy.com/uk/listing/527989353/steampunk-wedding-dresssteampunk This goes into the steampunk conventions, hard. And we love it! It's the first option on our list that has a clear corset, and emphasises it. The skirt is great, too- somewhere between a tutu, a high-low and a full wedding dress skirt? Amazing. The colours compliment each other nicely and could easily match the rest of the wedding, or there's the option to get it in shades of white and cream if you prefer something more traditional. A great option for a steampunk themed wedding that is clear about its allegiances.
 https://www.etsy.com/uk/listing/668297876/evelyn-steampunk-wedding-gown-steampunk You know, you could always blend the themes of your wedding. Curious? And curiouser. This dress balances three ideas, and does so excellently. Firstly, there's the Alice In Wonderland detail on the bodice. Based on the illustrations in Lewis Carrol's masterpiece, and including two of the best-loved characters, this is perfect for a bride with her head in the clouds. Secondly, there's the steampunk influence: the corset-like appearance of the bodice, and a Victorian hand can be seen in the bustle. Finally, this is still very clearly a wedding gown, with the full white skirt. You probably wouldn't wear this to the shops, but you'll look amazing at your wedding. This can be customised and fit to you if you're a different size to the stock.
https://www.etsy.com/uk/listing/95267137/steampunk-wedding-dress-alternative Much like no.5, the steampunk elements are all over this dress. There's the corset, the cogs, the mix of fabrics and the chains. There's no ambiguity, and the dress is unapologetic in its steampunkiness. It's also not a conventional wedding dress in any way: it could easily be worn at a convention or festival, and other than its colour there's no reason to assume that it's a wedding dress. Each of these are handmade and the designs vary because a lot of the material is upcycled. 
https://www.etsy.com/uk/listing/231917670/steampunk-wedding-dress-custom-made There's something almost autumnal in this dress. Perhaps it's the colour scheme? The rustic, bronze alongside the cream is perfect for brides and nods to the steampunk origins of the gown. The ruffles in the skirt are evocative of woodland mushrooms, beautiful and delicate. There are also large bronze flowers with cogs and sprockets, a steampunk staple. Alterations are available, and you can work with the designer if there's anything you'd like to change.
There we have them! Wedding dresses are supposed to be a lot of things, but the only one that really matters is how you feel in them. If you're enjoying yourself, and are comfortable, supported and beautiful then you're ready to go and wow the love of your life. Congratulations!