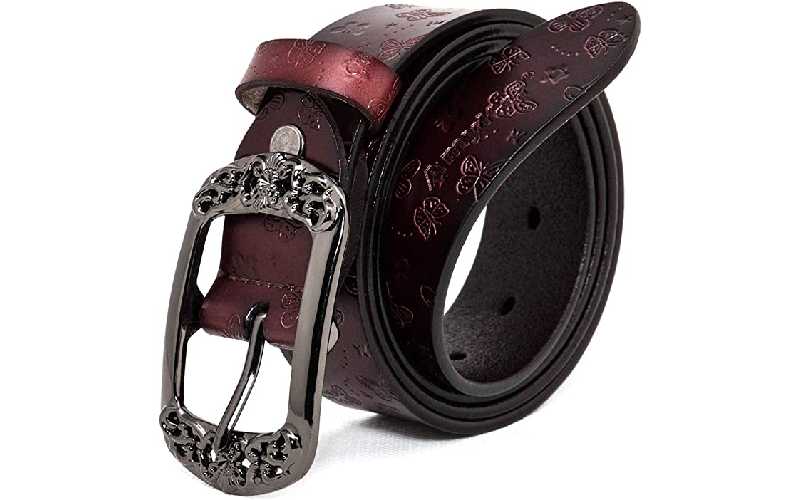 steampunker.co.uk is a participant in the Amazon Services LLC Associates Program and other affiliate advertising programs designed to provide a means for us to earn fees by linking to Amazon.com and affiliated sites. Affiliate links may be used on this page and in steampunker.co.uk articles, but they do not impact on the price that you pay and they do help me to get this information to you for free. Read my privacy policy for more information regarding affiliates.
Angoter Womens Pu Leather High Waist Belt Steampunk Wide Elastic Stretch Corset Valentine's Day Gift
AmyKer Women Vintage Genuine Leather Belts With Embossed Buckle Belts for Jeans Pants Dresses Gift Box Ak011 Brown 43 inch 110cm
Boland 00579 Cowboy Holster and Belt
Angoter Womens Pu Leather High Waist Belt Steampunk Wide Elastic Stretch Corset Valentine's Day Gift
AmyKer Women Vintage Genuine Leather Belts With Embossed Buckle Belts for Jeans Pants Dresses Gift Box Ak011 Brown 43 inch 110cm
Boland 00579 Cowboy Holster and Belt
Steampunk belts are an accessory that are frequently used in Steampunk fashion. Belts are a good way to add some Steampunk elements to a more simple outfit. So here are some of the best Steampunk belts available on the market.
Angoter Womens Pu Leather High Waist Belt Steampunk Wide Elastic Stretch Corset Valentine's Day Gift
Wide belts are made with good PU leather; elastic and metal High quality material contributes to durable wearing.
Metal press stud button closure on the back makes it easy and convenient to wear and take off just with little press.
The lace up belt can shape your waist well, great for cosplay and casual wear.
Easier and comfortable wearing. Thanks to the elastic materials, it is pretty convenient and easy to wear or take off. Adjustable belt band fits regular waistline. Transform your clothing look in seconds. Simple and Smooth.
Perfect for dress and outfit and suitable for daily wear as well as special occasions.
This thick, high waist belt is elegant while also being badass. The belt has a black leather effect, and around the front it has long lace entwined through the brass loopholes and may eventually form a bow at the bottom with brass tassels. The good thing about this belt is that the back of it is elasticated and buttons together, meaning that it is easy to fit to yourself and it is also comfortable.
No products found.
This utility style belt is made from a material that looks like suede. There are three pockets that have tassels on the bottom of all of them, the largest pocket has a zip on it as well. The belt features brass studs which look great on the light brown suede material. This belt looks pretty badass, the many pockets are not only handy, but really give off the vibe that your Steampunk persona is not to be messed with.
AmyKer Women Vintage Genuine Leather Belts With Embossed Buckle Belts for Jeans Pants Dresses Gift Box Ak011 Brown 43 inch 110cm
1.100% genuine Cowhide--AmyKer's belts are all made of 100% real Cowhide, not pig skin, not PU, not PVC, great ideals for Ladies fashion, perfect match your dress, jeans or formal wear, etc.
2.Dimensions--Amyker's leather belt width 1.3"(33mm),That is medium thin, ensuring comfort while maximizing the durability of the belt. Trim to Fit: providing a range of sizes and an easy way to trim the length (Detailed instructions in the manual).
3.Alloy Buckle--Strong, wear-resistant, non-deformable, and will not easily break and fade. The quality of a Amyker's belt is the best choice for you.
4.Exquisite brand packaging--Offering amazing gift box, gift bag and a punching tools, can be a great gift for your friends, family and colleges. (Please refer to the picture).
5.Order with Amy-Global--AmyKer's swift exchange policy enables you to purchase without hesitation! 100% satisfaction guaranteed, 30 days'full refund or a free replacement, whichever you prefer.
This leather belt has a slightly maroon tinge to the dark brown material. The belt is patterned all over with butterfly patterns, and the buckle is silver with elegant floral patterns. The belt as a whole is fairly simple, but on a busy outfit, or as part of a Steampunk western outfit, it will look great and add an extra little bit of detail without being too much.
No products found.
A cowboy belt fit for a Steampunk western outfit. This Steampunk belt has double holsters and is made of a black leather effect material. The belt is thicker than a regular belt and it features three silver buckles, one at the front, and one on either of the holsters. The belt also includes bullet holders on the belt that provide a little extra something. As part of your Steampunk western outfit, this belt will definitely provide some added detail.
Sale
Boland 00579 Cowboy Holster and Belt
Are you still missing the right accessory for a cowboy appearance?
With this dark brown cowboy set, from Boland, you will become the right gaucho and can compete to the next duel
The set consists of a belt and the matching halter (a gun is not included). It is made of imitation leather
No matter where you perform with these accessories, the ladies will go in their hands and your opponents will solidify with awe
Combine the Boland Cowboy Set with a matching costume (not included) to complete your party outfit
This is another holster style belt, but this time it is dark brown in colour and it only has one holster. The belt is a leather effect and again, it is slightly thicker than your average belt. The holster has a buckle on it and also tassels at the end to allow you to tie it around your thigh. The buckle on the front of the belt is silver and there are bullet holders featured on it for some extra detail. The belt will look great for a Steampunk cowboy outfit, but also for a range of other outfits.
No products found.
This belt is most definitely unique. It is a thick brown leather effect belt that buttons together at the back with nine brass buttons. The front of the belt displays a clock made from brass, copper, gold, and silver in an elegant and inherently Steampunk design. There are gears and floral patterns surrounding the largest clock in the middle. The belt is undeniably Steampunk and may be your solution to adding more Steampunk vibes to your outfit.
No products found.
This brown leather belt has a smoky blackness throughout the leather belt. The belt is thick and features two long straps that buckle with a brass buckle. The belt also features brass studs. At the front. The back of the belt has an elasticated section that will make sure that wearing the belt is a comfortable experience. The belt is thicker at the front than at the back, the front is shaped in a curved fashion and it does look like it would look great as part of a Steampunk pirate outfit.
No products found.
For a more simple belt, this belt's only detail is in the buckle. The belt itself is dark brown with a leather effect and the buckle is a sort of gunmetal colour with a wood effect with rusted sides and a protruding crow featured in the middle with gold wings, gold feet, and gold goggles on the eyes. The gold sections of the crow feature gears that make the belt Steampunk. The Steampunk crown is a subtle but effective look that will work well on a busier Steampunk outfit.
No products found.
This belt is brown in colour and has a leather effect to it. It kind of crosses at the front, meaning that the belt sits in a kind of 'v' shape above your hips. The belt has two silver studs either side. There is also a large horseshoe shaped silver hoop that joins one side of the belt to another through the silver hoop on the other side. The waistband is also elasticated making sure that it sits right and fits you comfortable at your next Steampunk convention.
No products found.
This utility style belt looks badass. It features two pockets with brass stud buttons and the thin straps of the belt feature brass loopholes throughout. The brass clips are a unique addition and are what hold the belt together. This belt looks great and will definitely suit a range of Steampunk outfits. Why not give it a go at your next convention?
Badiya Soft Leather Waist Bag High Quality Couples Multi-Function Travel Black Waist Bag Money Pouch Adjustable Bum Belt Bag
Material: High quality synthetic leather
Waist pack top size 10.9" and bottom size 7.6", the outside pocket size 3.9" x 6.1"( it can be holding iPhone 6s plus, iphone 6 etc)
You don't worry about carrying a purse in one day! *You don't worry to forget your bag anywhere cause it's always on your waist. *You will fell in love with this waist bag!
A total of 6 holes on the belt, each hole is about 1.56" apart. Waistband Length: 21.5"(right) + 14" (left), Strap will adjust to a maximum of 17.4"--21.3"
International products have separate terms, are sold from abroad and may differ from local products, including fit, age ratings, and language of product, labeling or instructions.
This belt has a more elegant look to it. The brown leather effect material features a brown waist pack at the front that has both a zip and a pouch on it. The back of the belt simply buckles together. If you're looking for something more simple in style to let the rest of your outfit do the talking, while also providing a hint of 'ready for anything'.
If you enjoyed this article on steampunk belts you might also like to read about some of the other popular steampunk accessories and Steampunk Half Mask.