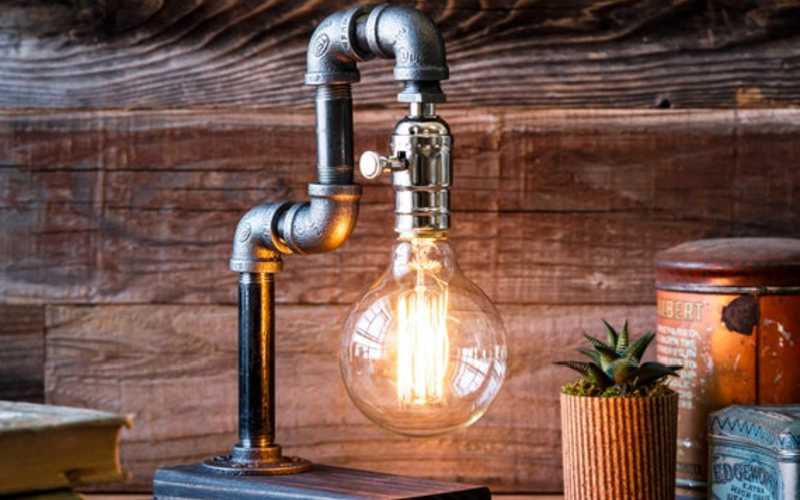 steampunker.co.uk is a participant in the Amazon Services LLC Associates Program and other affiliate advertising programs designed to provide a means for us to earn fees by linking to Amazon.com and affiliated sites. Affiliate links may be used on this page and in steampunker.co.uk articles, but they do not impact on the price that you pay and they do help me to get this information to you for free. Read my privacy policy for more information regarding affiliates.
People often think of steampunk as a way of dressing and not as a whole movement that includes literature, music and decorations. If you don't like dressing up regularly, or don't have the opportunity to, having some small furnishings is a great way to keep the steampunk in your life. You might want something big, like a whole library with telescopes, globes, compasses and clock or you might prefer something low key, like a lamp. Luckily, we've collected a supply of different lamps to give your room a great steampunk vibe without requiring too much space or cost. 
https://www.instagram.com/p/B9OIX1yF9Zz/
There are some great lamps which are clearly inspired by steampunk, like these ones from my favourite industrial lamp instagram account Lightbulbies. A lot of them are absolutely unique and made using recycled metal and pipes that gives them a great post-apocalyptic vibe whilst still actually functioning as a lamp and lighting a small area. Some of Lightbulbies' are even shaped like animals or telescopes to bring in other elements. If mechanical hearts are popular in steampunk jewellery, why wouldn't mechanical dogs make great steampunk pets and incorporate clockwork and cogs to really emphasise the look?!
https://www.instagram.com/p/CEMkyIZjp0s/
1) Elegant Wooden Industrial Office Lamp on Amazon
This first option is an elegant wooden industrial office lamp. It's understated and simple. The positioning of the bulb means the user will get direct light to whatever is directly beneath it, which is perfect for reading, writing and will offer a glow to the surrounding area that won't overwhelm but instead create a cosy aura. It's small enough to fit on a desk or bedside table, so it's great for bedrooms, reading nooks or libraries.
No products found.
2) CO-Z Rustic Desk Lamp Black Adjustable, Industrial Style Metal Task Lamp
The aged bronze on this lamp really brings out its steampunk/industrial influences. This couples well with the neck, which is mechanised for two reasons: firstly, it adds to the decor of the lamp and secondly, it allows the user to angle it as required. This lamp would be perfect for anyone looking to make shadow puppets, or look closely at texts, or the fine details in drawings. The bell-shaped cover of the lamp calls back to Victorian streetlights and adds to the steampunk feel. 
3) Modern Industrial Table Lamp
This Modern industrial lamp also has a streetlight vibe, but because of the cage around the bulb. The rest of the lamp is very simple: the base is marble with its natural patterns, the neck is thin and elegant, but the bulb itself is the lamp's selling point. The unique cage will cast some shadows on the room but in an even, ordered way. The light is not captured and the room will still glow.
No products found.
4) Savage Metal Edison Steampunk Lamp
This Savage Metal Edison Steampunk lamp leans much more heavily towards steampunk than the ones we've previously seen. It looks like it's made from old pipes and other pieces of machinery- because it is! The company repurposes old equipment and welds them into lamps, which is great for reducing waste and creates a great look. This would work especially well in a room specifically designed for steampunk equipment, but would make a good point of interest elsewhere too.
Edison Steampunk Lamp
Industrial Decor: Our unique, industrial, rustic designed lamps are the perfect decorative compliment to any living room, bedroom, office, desk, nursery room, kitchen, cafe, bar, shop, balcony, dining room or even in an entryway.
Materials & Measurements: Handmade in America, this item is created with authentic, reclaimed steel gears, gas pipes and 3/16'' welded round bars. Includes cloth and toggle switch on base. Dimensions are 5 x 5 x 15 inches and weighs approximately 9 pounds depending on gear base.
Bulb NOT Included: Savage Metal recommends using an Edison style LED bulb to complete the overall, steampunk, rustic look (Normal socket size, standard E26) (Lamp is not Dimmable).
Family Owned and Operated: Located in the heart of El Paso, Texas, Savage Metal LLC specializes in the creation of industrial metal decor that is sure to stand out in any living space.
International products have separate terms, are sold from abroad and may differ from local products, including fit, age ratings, and language of product, labeling or instructions.
5) HAITRAL Industrial Bedside Light
Much like the lamp above, this HAITRAL Industrial bedside light looks like it's made from old pipes. This gives it a sturdy design which might make it less suitable for desks and better for workshops. As steampunk characters are often aviators and mechanics, having this in a place where you can work on designs and focus on details seems extremely appropriate. Why not add this to your workbench?
No products found.
6) Handmade Retro Industrial Style Lamp
This retro steampunk lamp will light up the area, but the most noticeable thing is its human-like shape. Any steampunk fan should love this tiny light robot, and he would make a great addition to any room. He can also be posed in a variety of ways which will both alter the amount of direct light given (there are dimmer settings) and means he can be as alert or relaxed as you like. Funny, quirky and cute- this lamp will truly light up your life.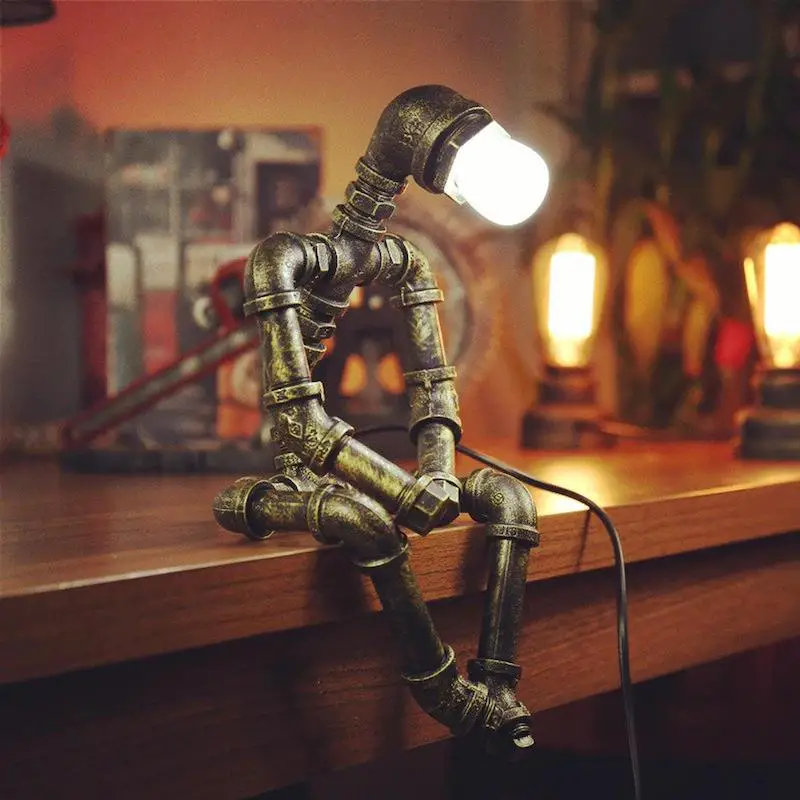 7) Rustic Steampunk Pipe Desk Lamp
This lamp is nice, simple and straightforward. The light won't get blocked at any angle and it will light up the surrounding area nicely without any issue. It's made to look like old pipes, so it will go well anywhere with exposed brick and an urban-rustic feel. You could easily add this to a mantelpiece in your home or at the centre of a table for eating or studying. The base is made of wood, which enhances the simplicity and is available in different colours so you can match it to its surroundings. 
These lamps would all work well as decoration in any room, and serve a practical purpose. Try pairing them with burgundy and bottle green items (airships in bottles, anyone?) to enhance the steampunk feeling and make a creative, beautiful space in your home. We found the best industrial lamps on Etsy.com….
Further Reading on Steampunk Interior decor
If you enjoyed this blog on choosing an Industrial Table Lamp you might also like to get a steampunk clock or some of these Octopus Wine glasses. Another classic idea for a steampunk style room is a Sherlock Chair. Enjoy your renovation project!