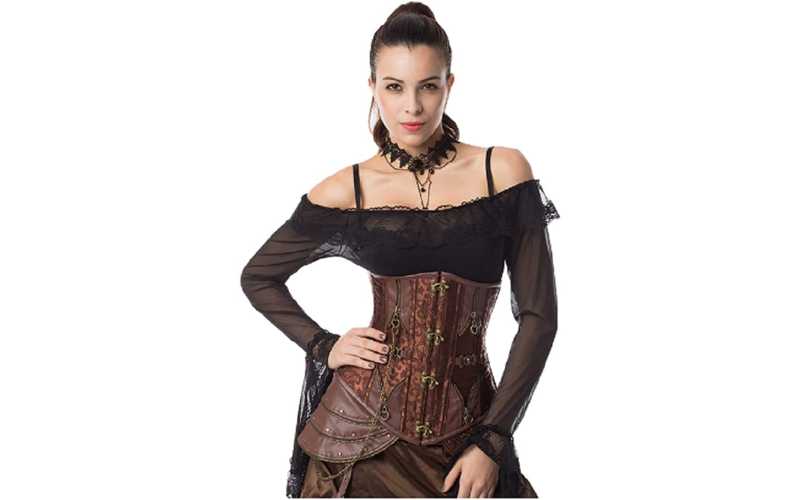 steampunker.co.uk is a participant in the Amazon Services LLC Associates Program and other affiliate advertising programs designed to provide a means for us to earn fees by linking to Amazon.com and affiliated sites. Affiliate links may be used on this page and in steampunker.co.uk articles, but they do not impact on the price that you pay and they do help me to get this information to you for free. Read my privacy policy for more information regarding affiliates.
Steampunk waist cinchers are a great way to bring out the most in your outfit. They are adaptable and multi-dimensional in the sense that they can look great as part of many different Steampunk outfits such as a Steampunk pirate or even as part of a more elegant style. This article will help you to pick out the right Steampunk waist cincher for you.
warm-smile Women Elastic Wide Band Tied Waspie Corset Waist Cincher Belt 4 Colors (Brown)
warm-smile Women Elastic Wide Band Tied Waspie Corset Waist Cincher Belt 4 Colors (Brown)
So what is a waist cincher? Well, a waist cincher is a thick/wide belt that is worn around your waist. They are made from elasticated fabric and are worn to create the illusion of a smaller waist. Essentially working as a more comfortable type of corset. Short corsets are essentially what they are, with elastic in the back and some sort of closing on the front such as clasps. As well as giving a slimmer look, they are also known to give extra back support. However, most importantly they will look great as part of your Steampunk outfit and offer a slightly more comfortable alternative to the typical corset. 
Corsets and cinchers are an important aspect of women's Steampunk fashion. They are quite a popular addition to any Steampunk outfit as they are extremely versatile and can easily bring the Victorian fashion element out within your clothing. Wearing corsets and cinchers on top of a blouse for example adds an extra level of badassery that will suit your character at your next convention well. They tend to be in either brown, black, or cream when looking at Steampunk options due to the Steampunk colour palette. 
So with the varying options available, let's take a look at some of the best waist cinchers available on the market:
This waist cincher is beautiful. It is made of cowhide with brown leather stitching and brass hinges on the front and also brass studs and loopholes where the cincher can be tied at the back. It is quite a slim cincher, looking more like a wrestling belt than a corset, but the style will look great at your next Steampunk convention. The hinges secured to the front of the cincher look inherently Steampunk as though it has been engineered. It is a great looking belt with a bold look that will make your outfit just that little bit more special.
A darker brown shade than the belt before. This belt is beautiful, elegant, and unique. It is in a more corset style and ties at the front, where there is a plate of leather that features four brass cogs and two elegant brass patterns. There is also a leather strip at the back of the cincher that also features two brass cogs like those at the front. This belt is bound to add the Victorian element to your outfit, but it will also undeniably add the Steampunk aesthetic with the brass cog features, they are subtle, but undeniable.
This steampunk waist cincher is also dark brown in colour with a leather plate at the front of the corset styled cincher where the cincher ties. If you are looking for less clutter on your outfit and need something a little more plain, but still elegant, then this is the perfect choice. It will look great worn on top of a white blouse and may look perfect if your outfit is that of an air pirate.
No products found.
This brown steampunk waist cincher is more sexy in style and is on a whole other level of badass. It features five strands of black leather on either side of the belt, joined together at the back and also at the front where they are connected by five gold hoops. The strands each have three studs on the front of the cincher. This cincher is not very Victorian in look, but if you wear this on top of a fully Victorian outfit, then it will most definitely bring the Steampunk element and make for a bold and brave choice.
No products found.
This one is elegant and traditional looking. It is black, with black leather wrapping around to the front where brass button loops are in place to connect the ribbon that holds the cincher in place. The ribbon opening is quite vast, stretching along the front of the cincher, providing a very elegant and effective look. The ribbon also features two brass beads on the end that give an aesthetically pleasing look. The cincher is definitely simple but incredibly effective.
No products found.
This cincher is much more detailed and has a more rustic look than the others so far. It is dark brown leather with patches of lace floral patterns on top of a bronze material. The cincher hooks at the front with brass hooks and there are many more brass elements with this cincher. There are brass studs, dotted around the flaps that protrude at the bottom-sides of the cincher, and there are other brass loops and a brass chain hanging from one of the loops. The feel of this cincher is perfect for that of many different Steampunk characters. It looks elegant, with the badass element still very much present.
No products found.
This cincher is very similar to the cincher above, although it has zips and the floral and elegant pattern is much more prominent. There is also a skull and crossbones on either side of the front of the cincher in a brass colour.
Oyccen Womens Lace-up Wide Girdle Decoration Waistband Elastic Cincher Corset, Brown, One Size
Material: Faux leather, Alloy, Polyester
Length: 63cm/24.8", width: 9.5cm/3.7", Fit for waist 63cm-85cm/24.8"-33.4"
With wide and elastic band, shape your waist well. Press-button closure in the back, convenient to wear and take off
Perfect for decorating with all kinds of clothes as you like. Easily match your formal or casual dresses, overcoats, sweaters or other clothes
Great gift for girlfriend, wife, lover and female colleagues as birthday gift or anniversary present
A frilly cincher that is elegant and light brown in colour. This cincher features a frilly elastic that is slim and connects to a leather plate on the front in which a bronze ribbon tightens the cincher. This is a very simple style, but the frills give it a little something extra that makes it not too simple. It is perfect for a range of Steampunk characters and is therefore versatile. Pair it with an air pirate outfit and it will look badass, or pair it with an outfit of elegance and it will still look the part.
No products found.
This is a slightly unusual cincher design that has the four double elastics crossing over each other and coming together at the front to form an 'X' shape where the corset ties, but also zips together. It is relatively simple at first glance, but also has a flare to it that will make sure it isn't too simple.
No products found.
This one has a slight edge to it that the others don't. It gives off the impression of being slightly jagged and worn. The dark brown worn leather and jagged edges give the impression of danger, perhaps perfect for if you are trying to accomplish the air pirate look. It ties at the back and the design also has four silver buckles and antique silver studs, as well as two antique silver skulls hanging from the front. 
If this article on the best steampunk waist cincher been helpful, why not check out our underbust corset blog.